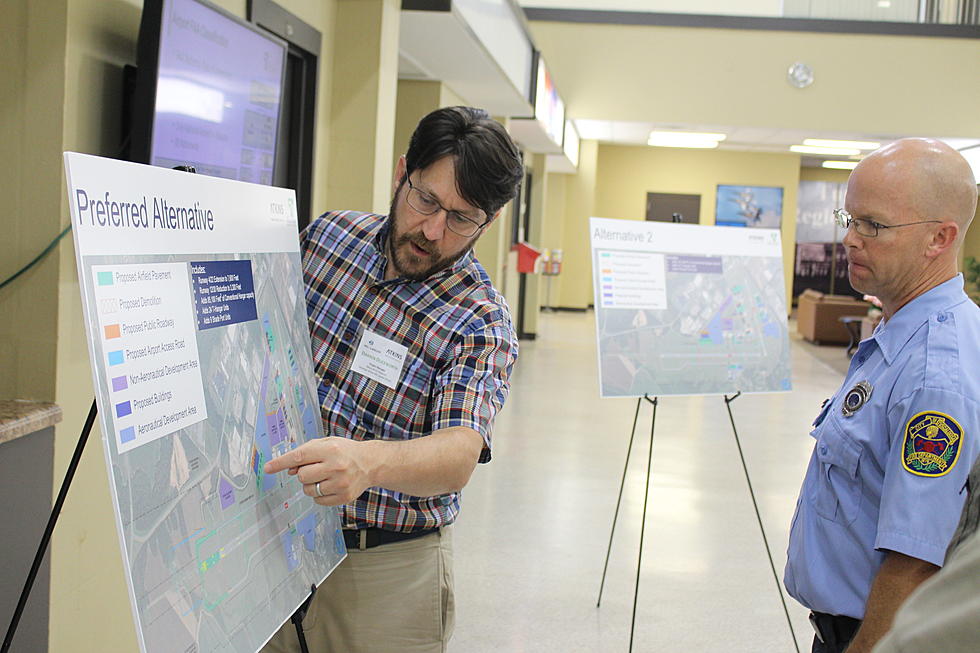 Tuscaloosa National Airport Hosts Open Forum About Master Plan
(Noah Lueker, Townsquare Media)
The City of Tuscaloosa hosted a public open house Monday to discuss updates to the Tuscaloosa National Airport's (TCL) Master Plan, a 20-year comprehensive vision to grow the airport's goals and meet growing demand.
The main purpose of the meeting was to talk about the airport's sustainability and how to bring commercial and business travel to Tuscaloosa, according to Jeff Powell, Airport Manager for TCL.
Eventually, the plan will highlight infrastructure and operational needs for the airport to the Federal Aviation Administration, which will then match between 90 to 100% in grants for projects.
"We're not gonna plan this in a vacuum. We want to see what the public thinks of the things we are providing from a technical standpoint," Powell said.
Representatives for Atkins North America, Inc., the City's appointed team brought in to assist with the Master Plan, were there to speak to citizens with questions and take suggestions on changes to the plan. These revisions have been under development since 2019, and are approaching their conclusion.
The Airport and the City alike are actively pursuing ways to make TCL more friendly for commercial airlines, which is being done by expanding the landing strips to accommodate larger planes that could bring in more cargo. Powell said that implementations like adding 85,000 square feet of conventional hangar capacity could be enticing to industrial companies like Mercedes-Benz U.S. International. As of Monday afternoon, the proposal included 24 T-Hangar units and nine-shade port units, which he said could increase business traffic to Tuscaloosa exponentially over time.
There are a handful of proposed construction plans, but Atkins' said his preference would be to expand TCL's larger runway, Runway 4-22 by 900 feet, making it 7,600 feet in length. This would reduce the 12-30 runway to 3,300 feet.
"The biggest aspect of our forecast was our cargo operations," said Connor Haskin, a planner with Atkins Aviation. "So emphasizing on the cargo capabilities, we also proposed a larger cargo operation at the airport to kind of facilitate Mercedes and all the other cargo operators that are in the community ... it's easier to use an airport than to truck it in."
Preparing this Master Plan study cost roughly $485,000 - 90% of which was covered by a FAA grant, 5% by an ALDOT grant, and the last 5% from a match by the City of Tuscaloosa. Powell was unable to say how much the implementation of this Master Plan project would cost, as their final renderings will be dictated by community response after this open house, and will ideally largely be funded by grants. The projects would also be completed over the course of the next 20 years, making it hard to predict how much they will cost.
"I would love to see commercial traffic back in the Tuscaloosa airport. The market I know is great," said Northport Mayor Bobby Herndon, who attended the meeting to hear comments from community members. "Not having a commercial scale really hurts our whole community. The economic impact, not just for Northport, but for Tuscaloosa, I think would increase greatly."
The final product for the Airport Master Plan will be completed this summer. From there, the FAA must approve the plan and how to implement it, as well as other feasibility reports before any work can proceed.
All information from Monday's meeting will be available Tuesday morning on the TCL website.
Top Stories From The Tuscaloosa Thread (6/21-6/25)
More From Tuscaloosa Thread