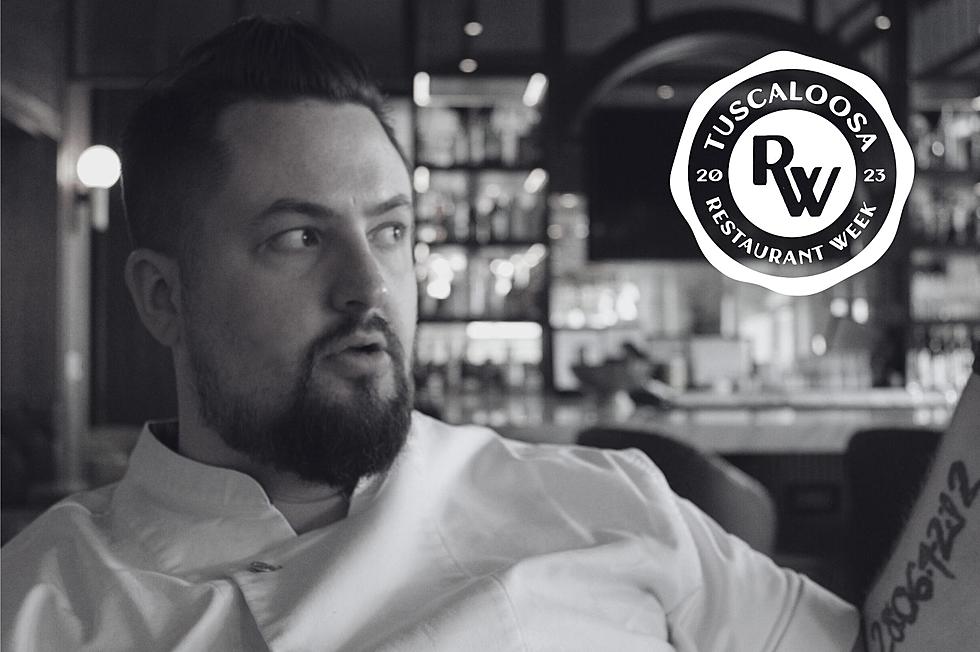 Tuscaloosa Restaurant Week: Jacob Stull Blazes the Trail at Forté
(Stephen Dethrage | Tuscaloosa Thread)
Good Monday morning and welcome to day two of Tuscaloosa Restaurant Week, where we are spending time with the newest culinary heavyweight town, Forté: Cuts & Cocktails!
Each day this week, the Thread and Visit Tuscaloosa will highlight the city's most in-demand dining locations and the hands that prepare our finest food in features published every morning.
Hungry for more? Over 30 participating eateries are also offering unique items or special discounts on their most popular orders all week long! Learn more and get connected now at TuscaloosaRestaurantWeek.com.
---
The Whole Purpose is to Change Things
Executive Chef Jacob Stull wants Forté: Cuts & Cocktails to be the first eatery of its kind in Tuscaloosa in every sense of the word - both locally unprecedented and a trailblazer for other establishments to follow.
The French brasserie opened last year on the ground floor of the ultra-luxe Alamite, a boutique hotel built downtown with the backing and blessings of Nick and Terry Saban.
There, Stull offers an ever-rotating seasonal menu that honors his own French heritage and strives to push the boundaries of what cuisine can be in a city with a reputation for a very different kind of food.
"At its core, Tuscaloosa is a college football town and there isn't really a huge food scene here - not what I'm used to, at least," said Stull, who has worked in Birmingham, New Orleans and Washington D.C. "It stems from this belief everyone has that the clientele strictly wants sports bars and fried chicken and barbeque, but a lot of southern cities that once were like that have really progressed in what they're doing now."
"Look at Charleston 30 years ago, it was the exact same thing before some chefs came in and charged things," he continued. "New Orleans was the same way. There was a lot of really bad tourist food until you had some chefs come in and update things and push the envelope, people who said there's a clientele who wants this, so we can do it."
Stull wants his work at Forté to catalyze that kind of growth here in town - to attract other master chefs and fresh concepts to the area so everyone is always challenged to advance the local food scene.
"The whole purpose of the hotel and the restaurant was to really change things, as far as the dining scene here, because Tuscaloosa has been almost like a food desert," Stull said.
A Different World
Stull told the Thread that Forté is hardly a unique concept, but unique to West Alabama.
"The fact of the matter is, this restaurant is not new, right? If you go to any city in America, to New York or Chicago, you're going to find something very similar to this," Stull said. "It's a modern French brasserie with a great wine list, good cocktails and a very Manhattan-style dining room that kind of mixes in with the Southern touches for a Great Gatsby thing."
It all comes together in a long, narrow European-influenced dining room flooded with natural light by day and a warm glow at night, all bouncing off tile and marble and brass in a space that feels more established than it should. The hotel and its restaurants are brand-new projects built on what was until recently a church parking lot. Even so, Forté somehow seems like it's been there forever.
"You step in, and you feel like you're in a different world," Stull said.
More than a Steakhouse
Inside the restaurant, Stull's menu is always changing in a way that not only keeps the food fresh but also aims to tell a story and honor his French heritage.
"Originally, we were kind of posed as a steakhouse and I don't really feel like that's a proper representation of what we do," he said. "Do we have three steaks on the menu? Yes, but every brasserie in the world has a filet, an au poivre and steak frites. But outside of that, we have a lot of room to play."
And play he does - Stull said he put octopus cassoulet on the menu despite warnings that it could never sell in Tuscaloosa only to see it become his top-billing entree behind the steaks.
Rabbit, duck, escargot, foie gras, Coq au Vin - the sophisticated menu is home to many exclusive offerings that rotate in and out with the seasons, so only the freshest ingredients are on offer at any given time.
"I think I delve into the world of making people comfortable in an environment but then serving food that makes them think," Stull said. "I don't want to make them uncomfortable, but I want to serve food that starts a conversation, because if you're not doing that, what are you doing? You're just recycling old ideas."
He said he tries to live by the advice of legendary chef Thomas Keller, who runs The French Laundry in California's Napa Valley, to always be a little bit better than yesterday.
Whether it's in something as conspicuous as an entirely new menu or as seemingly insignificant as the crispness of staff's aprons, Stull hopes patrons find Forté a little better each time they visit.
An Uncommon Commodity
Stull called himself an uncommon commodity in Tuscaloosa, where his level of experience is rare but attainable.
"Anyone can do this, I'm not special," Stull said. "I'm a kid from Western Maryland, almost West Virginia. My mom works for the government, my dad's a contractor, my grandfather was a mechanic. I don't come from this long line of chefs, but I did come from a family that loves food and had French heritage and a lot of culture."
Neither a stint in film school nor another in culinary school held Stull's attention for long, and he said he opted instead for a more European tradition of learning through unpaid apprenticeships with chefs he admired - a process called staging.
DC, New Orleans, Birmingham - Stull kept working and learning.
"What set me apart was like, I didn't care how much money I was gonna make, I wanted to work for the best of the best. I want to do whatever I can, absorb as much as I can," he said. "And when I wasn't working, I was reading, I was cooking, I was researching, I was going out and eating and trying to find my path because really that's the hardest part about being a chef, finding not just what you're good at but what you enjoy making."
Stull could prepare incredible tacos or roll sushi, but those are not his paths. Instead, he started first considering the ingredients he gravitated toward in his work - spring onions, leeks, English peas, fava beans, artichokes, parsley, tarragon.
"If you look at those ingredients, those flavors, they are just quintessentially French," Stull said.
So he leaned into his heritage, his own palate, his training in New Orleans and more to create the French-inspired staples that set Forté apart. With that clear vision and hard work -- Stull has those words tattooed across his knuckles -- he believes anyone can eventually stand out
"There's nothing that separates me from anyone else except just a willingness to do it," Stull said. "You have to have the work ethic involved with that and open your mind to more than just what's in front of your face."
One of Two Things
Stull has huge aspirations for himself and Forté - he sees the revolutions that chefs Frank Lee, Sean Brock, and Frank Stitt kicked off in Charleston, Nashville and Birmingham respectively, and said he believes our area is waiting for a similar trailblazer.
"Tuscaloosa's begging for more stuff like this, they just are," Stull said. "It takes one place to make that push, to show it's possible, to demonstrate the clientele are all about it and that other people can do it, too."
So how do you accomplish that? Easy, Stull said. Earn national recognition through something like winning a James Beard Foundation Award.
"Say next year, we get nominated and we win - that would change this whole town," Stull said. "You get a bunch of people putting more restaurants in, buying other buildings left and right and just doing a lot more."
"That was always my goal when we did this," he summarized. "This is either going to change everything or no one is going to care, right? It's going to be one of two things."
---
Forté is open in the Alamite Hotel on 6th Street and will be offering customers 10 percent off their tickets during Tuscaloosa Restaurant Week.
Stay connected to the Tuscaloosa Thread for more features every morning this week - we'll be back tomorrow with Sharon Thomas reflecting on five decades of barbeque at Thomas Rib Shack.
Restaurants and Retailers Who Opened, Announced or Moved in 2023
A running list from the Tuscaloosa Thread of all restaurants and retailers who have opened, announced plans to come to the area or relocated so far in 2023.
Top Stories from the Tuscaloosa Thread (6/12 - 6/19)
16 of the Top Stories published by the Tuscaloosa Thread during the week of June 12th, 2023.
More From Tuscaloosa Thread