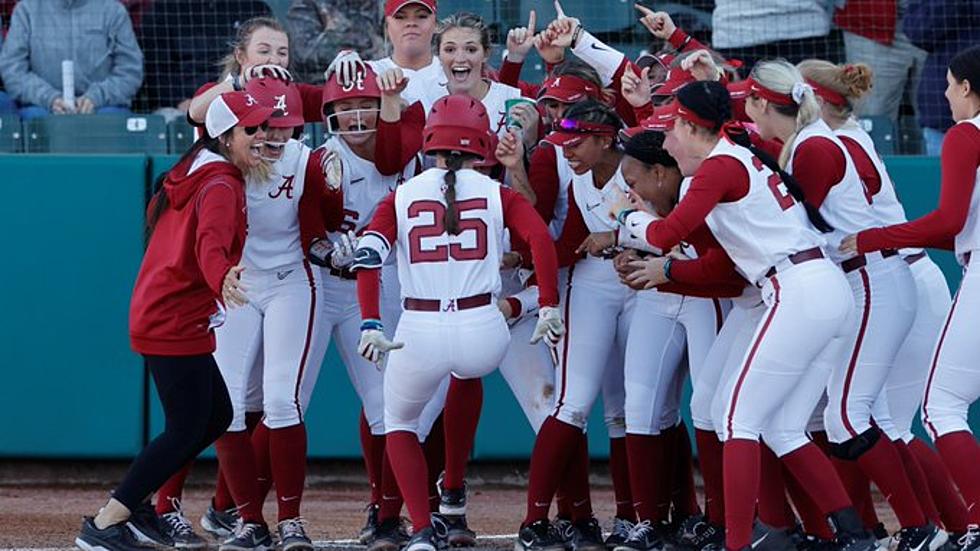 Courtesy of @AlabamaSB via Twitter
Alabama softball is off to a hotter start than the asphalt of the Rhoades Stadium parking lot on a scorching summer day.
Here are some numbers that display this team's dominance:
16
Even without Bailey Hemphill on the roster, Bama has gone unbeaten in its first 16 games.
Coach Murphy and the Tide are no strangers to strong starts. Since 2008, Alabama has won at least ten in a row to start a season seven times.
Last year Alabama won its first 19. The high water mark was three years ago when they won 33 in a row to start the 2019 season.
59
The number of innings Alabama played before surrendering its first lead.
The first time they trailed was in the first inning against Nicholls in the Mardi Gras Mambo on February 25. The team rallied to down the Colonels 5-2.
11
The number of complete games thrown by Alabama pitchers.
Reigning National Pitcher of the Year Montana Fouts leads the way with five. Sophomore Jaala Torrence and junior Lexi Kilfoyl have both thrown three.
9
The number of bags Dallis Goodnight has swiped. Last year Alexis Mack led the team with 25 stolen bases in 61 games.
The freshman has made her presence felt on the base paths and at the plate. Goodnight's slash line is a gaudy .477/.549/.659 through 16 games.
+3
The difference in Lexi Kilfoyl's runs produced vs runs allowed
Did anyone say "helping yourself?" Kilfoyl has knocked in three, scored twice and hit a home run in 13 at-bats. Meanwhile, she's pitched 19.2 innings and only allowed one run.
2
The number of home runs Megan Bloodworth hit in her Alabama debut.
Bloodworth wasted no time making a name for herself on Opening Day against Southern Utah in the Candrea Classic.
Her first at-bat in Crimson resulted in a grand slam. She followed it up with a solo shot two innings later. Welcome to Tuscaloosa.
10
The number of years since Alabama first and last hoisted the Women's College World Series Championship.
This year's team certainly seems to have its eyes on capturing a second.
How Alabamians Like Their Fried Bologna Sandwiches
The Definitive Ranking of Chicken Finger Baskets in Tuscaloosa, AL
Y'all ready for a deep-fried hot take? CLUCK YEAH! Meg Summers is ranking the best chicken finger baskets in the Druid City.
More From Tuscaloosa Thread