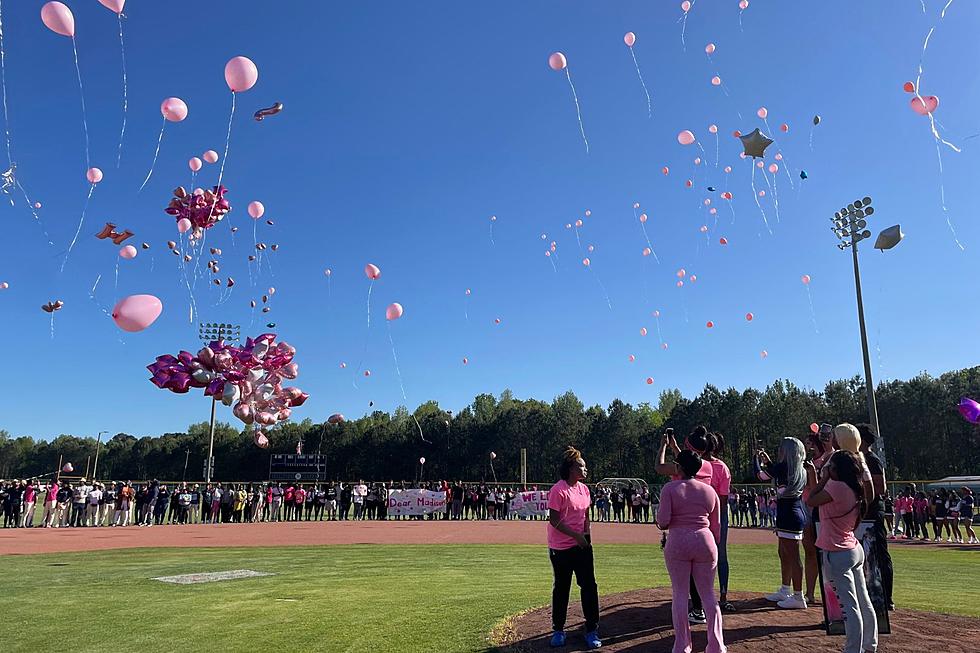 Balloon Release Held in Memory of Paul W. Bryant High School Student Killed in Crash
(Brittany Marshall|Tuscaloosa Thread)
The Paul Bryant High School community gathered Monday afternoon to honor fallen Stampede student, 11th grader Madison Sims, who was killed in a predawn car crash Saturday.
Students, faculty, staff, Tuscaloosa City Schools board officials and community members gathered and released pink balloons in honor of the color Sims wore to prom as they stood on and around the Stampede Diamond of the baseball field to pay their respects to her.
Bryant principal, Lydia Edwards, said Sims' passing "leaves a very deep void in our hearts."
"We stand Stampede strong and we stand representing for Madison," Edwards said. "We will push through. We will get through this."
Sims grandfather, Reverend Oscar Ford said he and his family appreciates the love and support they have received in light of this tragedy.
"Right now, I'm really full and I'm trying stay strong but to see and witness I saw today is really overwhelming," Ford said.
Ford encourages other young people to be mindful of there actions in all that they may do.
"They need to understand that this is life and it's real out here," Ford said. "They need to understand the choices that they make may be the last choice they make. They just can't go, thinking they got all the answers and not realize there are consequences that can come at an instant, just with my granddaughter."
Ford said Sims was happy to experience prom and asked him to participate in her pre-prom festivities. He said she was understanding that he could not attend.
"She was so loving and so calm that day," Ford said. "She wanted me to come have fun and take pictures with her like a family, something for her memories that she could treasure for a long time and I was busy and wasn't able to get away and I called her and she said, in her sweet mode, 'granddad I know,' and that's what I loved the most. I loved her. I still love her and I'll always love her."
Ford said the life Sims' lived and the way she passed is a teachable moment that youth and adults can all learn from.
"It should teach these young people that you can have life but if you mistreat life, it has a way of giving you some consequences. That's not just for young people, that's for us too."
Stay connected with the Tuscaloosa Thread for updates on this story as coverage continues.
Top Stories from the Tuscaloosa Thread (4/3 - 4/10)
13 of the Top Stories published by the Tuscaloosa Thread during the week of April 3rd, 2023.
More From Tuscaloosa Thread