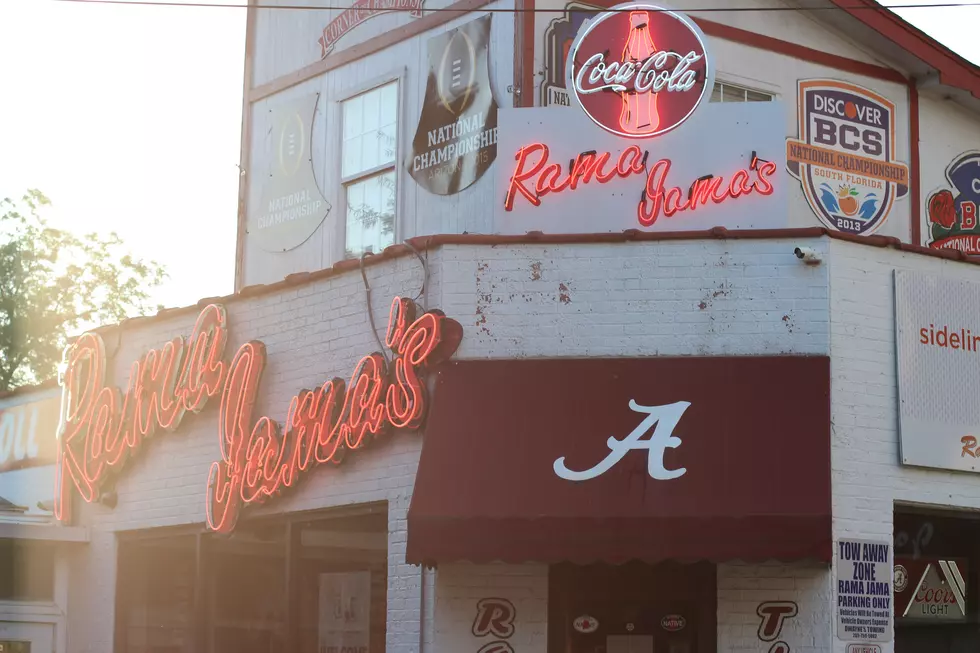 "Learning to Loaf": Founder of Tuscaloosa's Rama Jama's Restaurant Hangs Up Apron
(Noah Lueker, Townsquare Media)
After more than a quarter-century cooking hamburgers in the shadow of Bryant-Denny Stadium, Gary Lewis is hanging up his apron and trying to retire -- again.
Lewis founded Rama Jama's, now a Tuscaloosa institution, in September 1996 and has been involved with the day-to-day operations there in some capacity ever since.
In a Wednesday interview with the Thread, Lewis insisted the restaurant thrived in spite of him, not because of him.
"I was a hamburger cook at Rama Jama's, not some kind of smart business person," Lewis said.
His humility aside, the restaurant has become legendary for its hearty breakfasts, no-nonsense hamburgers and for the treasure trove of Crimson Tide memorabilia hung on its walls.
Although he "officially" retired last Friday, this isn't exactly the first time Lewis has tried to step away from Rama Jama's -- he said he sold the restaurant to a New York City insurance agent named Michael Hebron in 2017 but never quite got away from the grill, even after ownership changed hands.
"Really, I've been trying to do this retirement thing for five years but I was still there," Lewis said. "There were a lot of behind-the-scenes circumstances that made me continue to stay on – but really, it was hard just to walk away."
Still, Lewis said the restaurant is in good hands. When he first announced his interest in selling Rama Jama's five years ago, potential buyers came out of the woodwork looking to turn the place into a T-shirt store or some other deviation from the identity the place had developed over the years.
Hebron, Lewis said, had a daughter who studied at the University and fell in love with Alabama, its football program and the culture surrounding it. When he offered to buy Rama Jama's and keep its spirit alive, Lewis eventually came to believe he was the right man for the job.
Lewis, 71, said he thinks this time around he'll be able to "chill out a while before some last hurrah." He said he is kicking back, "learning to loaf," and enjoying time on the couch instead of in the kitchen.
Still, in an interview less than a week after his "last day on the job," he wasn't quite ready to commit to keeping away from the kitchen at the restaurant he led for so long.
"I've got a feeling, from time to time, I'll be there," Lewis said. "I've already to committed to Michael that if he needs me during a football Saturday, I'll be there, and on a football Saturday you need everybody you can get."
The Tide kicks off at home against Utah State in Bryant-Denny Stadium next Saturday, so Lewis won't have to wait long to learn if he's able to resist the Rama Jama's siren song.
Stay connected to the Tuscaloosa Thread for more exclusive coverage of restaurant and retail news as it develops.
Top Stories from the Tuscaloosa Thread (8/15 - 8/22)
21 of the Top Stories published by the Tuscaloosa Thread during the week of August 15th, 2022.
More From Tuscaloosa Thread