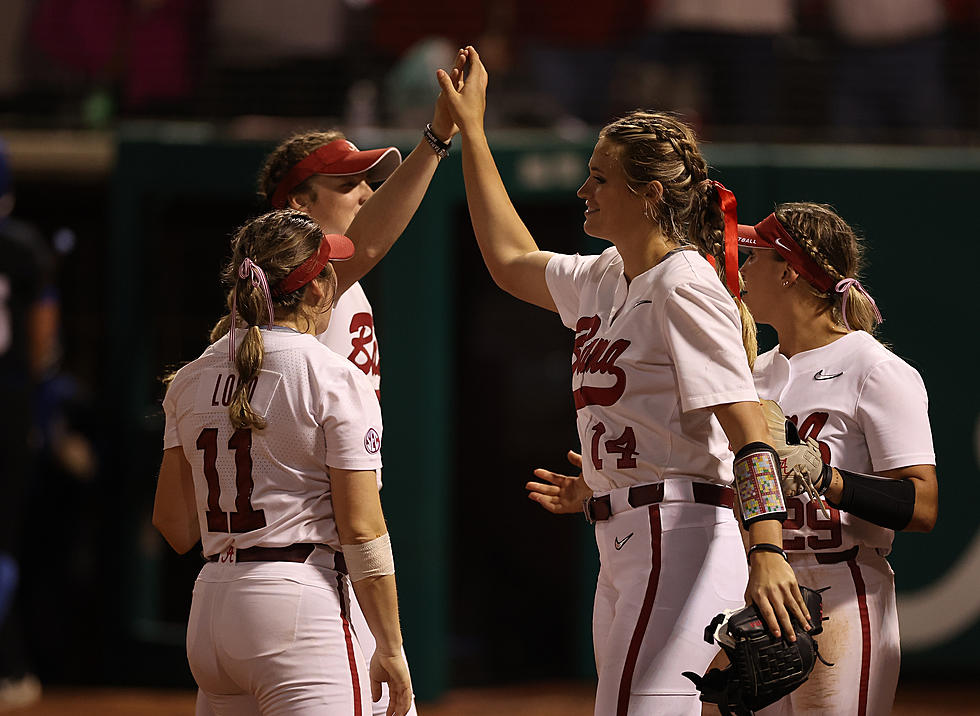 Alabama Softball Comes Back to Beat Kentucky, 4-2
Crimson Tide Photos / UA Athletics
The No. 3 Alabama Crimson Tide took down the No. 8 Kentucky Wildcats in a thrilling matchup at Rhoads Stadium Friday as nationally-renowned pitcher Montana Fouts earned her eighth complete-game win of the season. The game was close all night and runs were hard to come by, mostly coming off of mistakes made by either team, but the Tide managed to pull out a 4-2 victory.
Kentucky's only two runs came on a disastrous defensive breakdown for the Crimson Tide in the top of the third inning. It was a play that saw Kentucky sophomore Erin Coffel hit a single to right field where Savannah Woodard had some difficulty fielding it. There had already been runners on first and second for Kentucky and the one at second made it home as the ball was being sent to third. Coffel then made the single into a double and the ball was sent to second where rather than arriving in Jenna Lord's glove, it connected with an umpire. This sent Kentucky's second and final run of the evening home.
From there, Alabama's defense tightened up and put up 10 straight outs. Fouts, who was having an average night before, really heated up. Fouts says her first thought after giving up the lead was "so what? I think our team is so good and we have the best fans in the country and I knew we were gonna come back."
She ended the evening with 10 strikeouts and was named the player of the game. Ally Shipman made a case for the honor herself as she batted in three of the Tide's four runs.
The bulk of Alabama's scoring came when Kentucky swapped starting freshman pitcher Alexia Lacatena for sophomore Stephanie Schoonover. Schoonover took over in the bottom of the fifth inning with one out and runners on first and second base. She then struck Prange with her first pitch to load the bases and gave up a double to Ally Shipman to give up the lead and was promptly pulled.
Coach Patrick Murphy loved how aggressive his team was all night. According to the coach, Goodnight's decision to tag up at first and head to second on a Jenna Johnson pop fly was entirely her own. "That was just an over-aggressive freshman. Let's leave it at that," he said.
"To me, I don't fault aggressive play. I fault the opposite."
The Tide will need to continue to be aggressive this weekend as they play Kentucky two more times in the next two days. These two teams are very evenly matched and as Fouts noted after the game, the SEC has been won or lost by one game in years past.
Alabama Football's First 2022 Spring Practice
The Alabama Crimson Tide hit the practice field for the first time in 2022. It's Nick Saban's 16th season coaching at Alabama and the Tide are welcoming in several interesting newcomers.
Top Stories From The Tuscaloosa Thread (11/15-11/19)
Notable Bama Players to Play in the WNBA
More From Tuscaloosa Thread