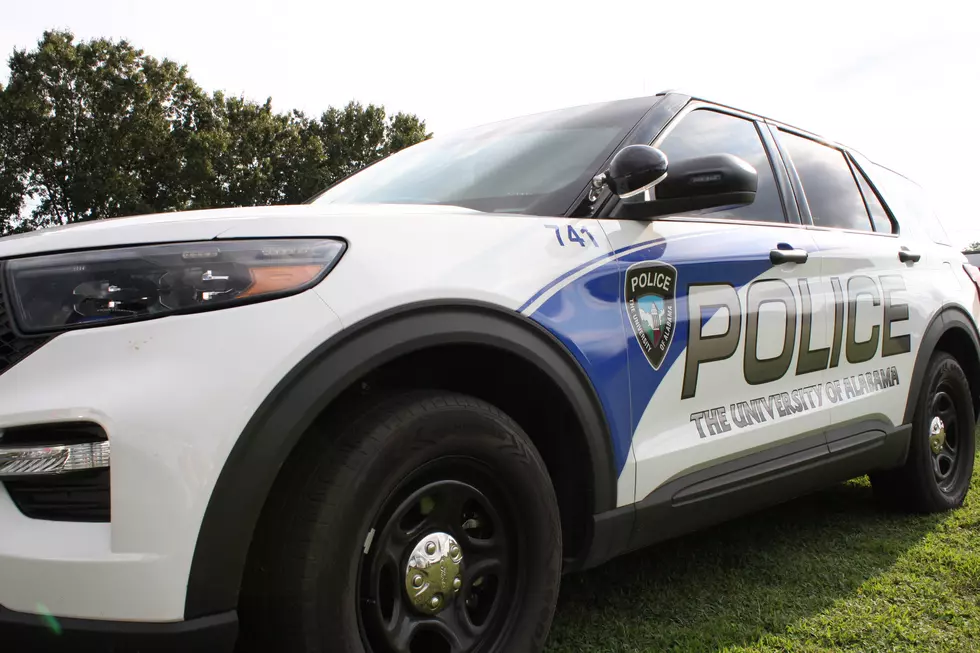 Woman Says Her Daughter Was Sexually Assaulted by Alabama Football Player on UA Campus
Photo courtesy of J.R. Moore/Townsquare Media
The University of Alabama condemned sexual misconduct but otherwise declined to comment after a woman alleged in a now-viral video that her daughter was sexually assaulted by a student-athlete on campus.
The woman, a Florence, Alabama cosmetologist named Ebony Clay, shared a video on TikTok this weekend calling for answers after her daughter was allegedly assaulted in her dorm on campus.
Mother Claims Athlete Assaulted her Daughter
"I'm coming to y'all today to talk about a situation that occurred on the University of Alabama's campus, by one of their student-athletes, to my daughter," Clay said. "My daughter was SA'd by one of the football players of the University of Alabama."
SA'd is shorthand for sexually assaulted.
The woman said her daughter, a student, had her car keys and dorm keys stolen and reported that they were missing to the University.
"They were very negligent in either helping her get the locks changed, get a new set of keys or anything like that," the woman said. "In the midst of all of this going on and her trying to handle it herself, she was SA'd by a student-athlete. We just had a scenario to occur where another black female was killed by a student-athlete at the University of Alabama."
Clay was referring to former basketball player Darius Miles, who was charged with capital murder last month after he allegedly aided and abetted the fatal shooting of a 23-year-old mother on the Tuscaloosa Strip.
Concerns of a Coverup
"I feel like in this situation that my child is being swept under the rug, her situation is being swept under the rug and I feel like they're about to cover this up," Clay said in the video. "So I come here today to put my message out there to reach whomever it needs to reach to get her the help she needs in this case because I understand Alabama football is important but the lives of these young girls on that campus for things other than football are important as well."
The video does not identify the student-athlete allegedly involved in the assault by name, and no criminal charges have yet been filed in the case. Clay also did not say where and when the assault allegedly occurred.
The Thread has made several attempts across multiple platforms to reach Clay directly for comment, but calls and messages have been so far unreturned.
#justiceformadi
In a follow-up video posted on Tiktok Tuesday, Clay thanked viewers for the overwhelming response to the first video, which has been watched more than 215,000 times. Clay also said the appropriate authorities have been notified of the alleged assault.
The allegations have also led to the creation of the hashtag #JusticeForMadi, which was gaining traction across social media platforms this week as students reportedly plan to protest of how the situation has been handled so far.
UA Condemns Sexual Misconduct
After the video began circulating Sunday, the Thread asked the University for comment.
Shane Dorrill, UA's assistant director of communications, released the following statement:
The safety and well-being of the entire campus community is our priority. We take any allegation of sexual assault or criminal activity extremely seriously, promptly respond to reports, and appropriately investigate through proper channels to hold perpetrators accountable. Our campus and the surrounding community provide numerous resources, reporting channels and support systems for anyone affected by any form of sexual misconduct, including counseling services, the Women and Gender Resource Center, UAct program, Title IX Office, Tuscaloosa SAFE Center, Turning Point services and more. The University cannot comment on current investigations but reaffirms its condemnation of sexual misconduct and its prioritization of the campus community's safety.
Police Decline to Comment -- For Now
When a sexual assault occurs in Tuscaloosa County, it is investigated by the multi-agency Tuscaloosa Violent Crimes Unit, which includes officers from four local law enforcement agencies who work together to solve sex crimes, assaults and homicides in the area.
The VCU declined to comment on the allegations in the video.
"We cannot comment on the status of any ongoing investigation," said VCU commander Jack Kennedy. "If any case results in criminal charges, certain information could be released after that time."
A spokesperson for the athletics department also declined to comment on the matter Tuesday morning.
This is a developing story -- no arrests have been made and no charges have been filed in relation to these allegations. The Thread will continue working to verify their validity -- stay connected for updates as they become available.
Top Stories from the Tuscaloosa Thread (1/30 - 2/6)
20 of the Top Stories published by the Tuscaloosa Thread during the week of January 30th, 2023.
More From Tuscaloosa Thread