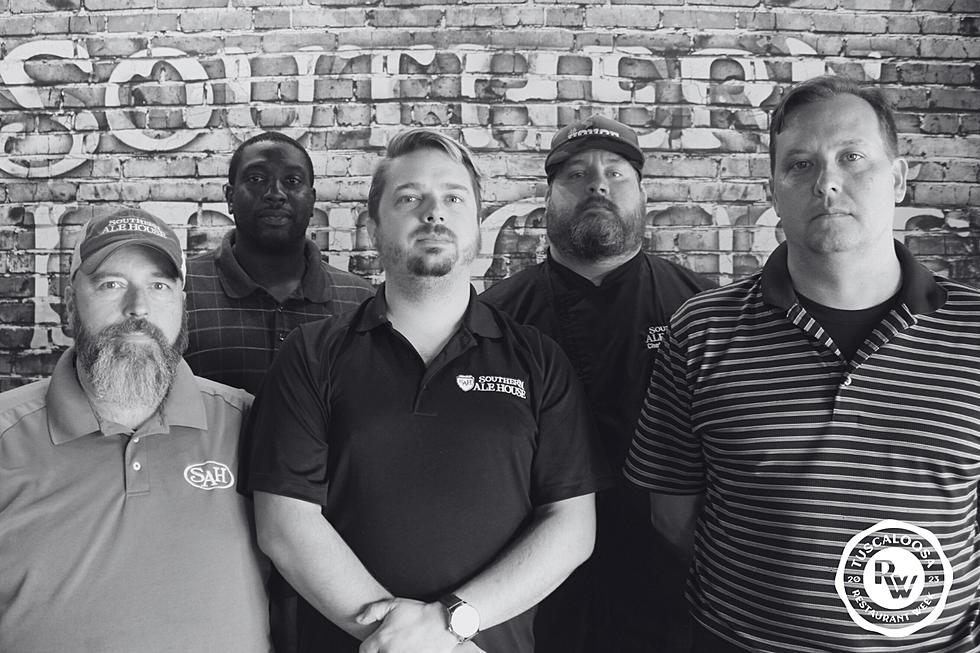 Tuscaloosa Restaurant Week: Southern Ale House Hits Their Stride
(Stephen Dethrage | Tuscaloosa Thread)
Good Wednesday morning and welcome to the fourth day of Tuscaloosa Restaurant Week, where we are profiling Southern Ale House, the north-of-the-river scratch kitchen hitting its stride in its 10th year in business.
Each day this week, the Thread and Visit Tuscaloosa will highlight the city's most in-demand dining locations and the hands that prepare our finest food in features published every morning.
Hungry for more? Over 30 participating eateries are also offering unique items or special discounts on their most popular orders all week long! Learn more and get connected now at TuscaloosaRestaurantWeek.com.
---
Our Thing, Our Way
Especially for visitors, most restaurants in Tuscaloosa fall into one of two categories.
First, you've got institutions that have been here forever, decades-old places that have become synonymous with the city itself. Then there's a second group, an always-shifting slate of eateries that might not have been open the last time you visited and may not be around whenever you return.
At Southern Ale House, a group of friends finds themselves somewhere in the middle of both extremes, overseeing a popular restaurant that has earned a loyal, local customer base since it opened in March 2014.
"Our goal has always been that this is a restaurant for everybody," Executive Chef Brett Garner told the Thread. "Anyone can come in here dressed however they are, at any point of the day, come in and eat, get a good meal at a good price and leave having had a good experience."
"We've gotten very comfortable in our own skin, in who we are as a restaurant," he continued. "We've got southern style, we're up-class, uptown, unique bar food and we're not really exploring a thousand different ways to do things, we're just going to do our thing, our way, with our twist."
Ask any Tide fan faithful enough to know the words to Yea, Alabama - there's nothing at all wrong with hitting your stride.
An Easy, Slam-Dunk Decision
Southern Ale House is the product of Garner's partnership with Justin Holt, son of Tuscaloosa businessman Cal Holt, and with general manager Brad Morris, who will eventually take the helm at the soon-to-come Deli Press.
The three have been together since the restaurant opened almost a decade ago and run it now with the help of kitchen manager Everett Bishop, front-of-house manager Taylor Hudson and bar manager Andrew Henson.
"We opened up with a plan to do unique bar food and it's kind of morphed a little bit into a place where we put our spin on classic southern dishes," Garner said. "Our concept and the way we do things is just a little bit different than how everybody else did."
Garner had been a manager at Desperado's, the steakhouse in the building off McFarland where Southern Ale House is now. Holt had been running Moe's Original BBQ restaurants in North Alabama.
"I've been in this business since I was 17 and I was tired of working for other people," Holt said.
"Yeah man, I was coming from a corporate standpoint where it was just a meat grinder, where sales mattered more than anything else," Garner said. "For me, to be around people where the food and the process mattered more than the numbers, it was simple for me to say yes and go full tilt. I needed a change, and working with the Holts made this an easy, slam-dunk decision."
And, for what it's worth, the numbers saw to themselves. Garner said on a good night, the restaurant earns what they used to dream of making in a week.
Humble Beginnings
Garner, Holt and Morris will be the first to admit Southern Ale House almost didn't survive its earliest days.
Their friends-and-family soft open drew more than three times the crowd they prepared for and the crew was scrambling, running out of food and wondering if they'd made a terrible mistake.
After closing each Sunday for the first six months they were in business, they finally opened for their first brunch the day after Alabama beat the hell out of Texas A&M in Bryant-Denny Stadium, 59-0.
"The whole city showed up," Morris laughed. "A billion people! More people than exist on the planet came to eat here."
As dozens of tickets stacked up, the exhausted staff again wondered if they'd bitten off more than they could chew.
"You can make the best plan on the planet but when it's slammed and crazy busy and you've never done it before, you just don't if it's all going to work or not," Garner said. "I've been in management for 17 years and nine years ago, even though I was halfway through my career, I had no idea what I signed up for."
Still, they persisted and found the people of Tuscaloosa rewarded their quality of food and service by forgiving any real or perceived growing pains during the eatery's earliest days.
Since then, Holt, Garner, Morris and the others have spent every day refining the concept, introducing new entrees as rotating specials that might eventually find a full-time spot on the menu and perfecting the dishes people keep coming back for.
Easy to Hold, Easy to Eat
Garner said their specialty, "bar food," sometimes carries connotations with it, but it surely should not be taken to mean low quality.
"What's better than serving 18 local, southeastern draft beers and even more bottles and cans so you can have a few, hang out with your friends, have food that's easy to hold and easy to eat, and go home?"  Garner said. "A Southern-style, family place where you can eat the food you grew up on?"
Whether it's the blackened redfish over crawfish etouffee Garner added to the menu for Tuscaloosa Restaurant Week or their best-selling bacon-wrapped meatloaf, the offerings at Southern Ale House are simple but of premium quality.
"One of the weirdest things that's happened here is probably that our bacon-wrapped meatloaf with homemade tomato jam over mashed potatoes became one of our signature dishes and I think it's because no one else is really doing it, at least not in our area," Garner said.
"It's like, I think our chicken fingers are the best in town or close to it, top three or four, but those tenders go through a brining process for days then get hit with our homemade batter and deep fried and that means it takes 24 to 48 hours before we even serve our chicken tenders. I think it's there's little bit more care than some people may see."
Garner said the menu is unpretentious, there's something on it for everyone and the managers are all on-site and eager to make things right for the customer if anything is off.
Something Special
Garner and Holt said the adventure continues to surprise and delight them. For one, both men had children within a year of the restaurant's grand opening, kids who have grown up with the brand and whose stories are deeply tied to Southern Ale House.
They also said finding the restaurant's identity - a place by locals, for locals - has been a satisfying journey all its own.
"We've never put ourselves in a situation where we told someone no, or where we pigeonholed ourselves about how we wanted the customers to be," Garner said. "We let the customers decide how they want to be and we adapted this place to what people were instead of the other way around. Once people realized they can come as they come, man, it really opened this up for us."
Meeting the customers where they are has drawn all kinds to Southern Ale House, and Holt said that's how he knows they're doing the right thing - hitting their stride.
"We know we have something going just based on what this restaurant looks like when it's full. A Saturday night in June, walk in here and it'll be packed, all different cultures." Holt said, clearly proud as he pointed to tables and booths around the room. "A family of four there, here a group with tuxedos and gowns on, over there some kids in their swim trunks who just came off the lake, then a group of eight or ten people, a birthday party for a 60-year-old. The amount of diversity that comes in and out, the comfort level, and how really, everybody seems to just know each other - we knew this was something special."
---
Southern Ale House is open at 1530 McFarland Boulevard North and is offering their new blackened redfish over crawfish etouffee for $26 at lunch and dinner every day during Restaurant Week.
Stay connected to the Tuscaloosa Thread for more features every morning this week - we'll wrap things up tomorrow with Erin Barfield, Brandon Hicks and Tori Crum from Chuck's Fish.
Restaurants and Retailers Who Opened, Announced or Moved in 2023
A running list from the Tuscaloosa Thread of all restaurants and retailers who have opened, announced plans to come to the area or relocated so far in 2023.
Top Stories from the Tuscaloosa Thread (6/19 - 6/26)
16 of the Top Stories published by the Tuscaloosa Thread during the week of June 19th, 2023.
More From Tuscaloosa Thread