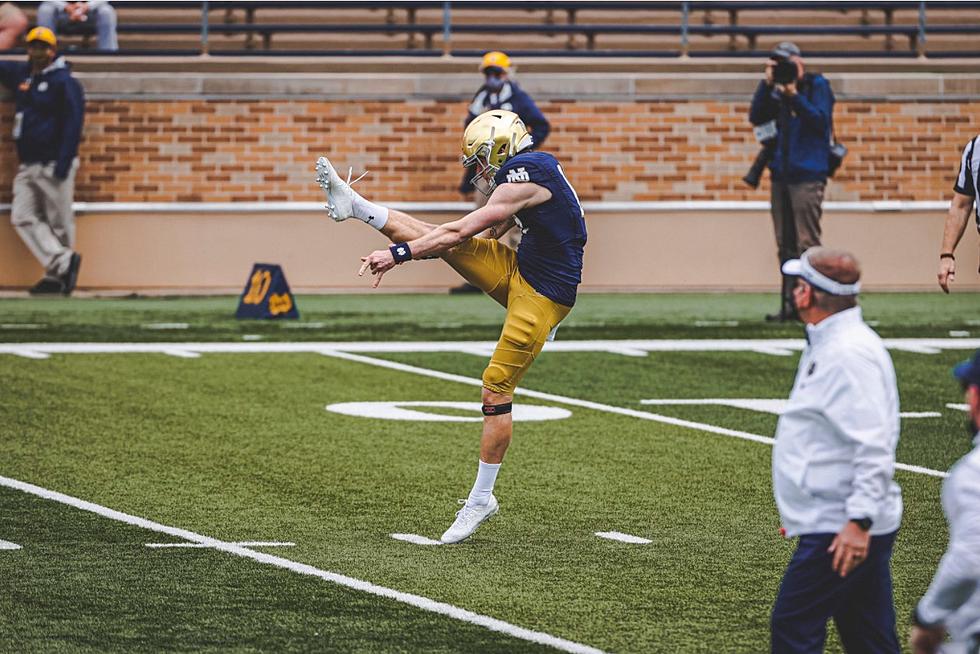 Tuscaloosa Native Takes His Talents To Baton Rouge To Punt For Tigers
Photo Courtesy of @jbram_15 Twitter
Former Hillcrest Patriot and Notre Dame Fighting Irish punter Jay Bramblett took to his social media on Monday to announce he will head to Baton Rouge to play college football and pursue a masters degree with the LSU Tigers.
Bramblett will reunite with former Notre Dame coaches Brian Kelley and Brian Polian at LSU but the Tuscaloosa-native was already considering the Tigers as an option before Kelley made his decision to leave Notre Dame.
"I made a decision to transfer from Notre Dame before they ever left and LSU was a potential landing spot prior to them being down there. Them going there obviously makes the situation a little better, a little sweeter, more convenient," said Bramblett. "So the location is ideal, I kind of love the area, love the coastal type stuff, the bayou, fishing and outdoors, that's kind of my thing away from football. It's four and a half, five hours away from home and you get to play in "Death Valley", I mean it's a pretty exciting deal."
Bramblett is one of the top punters in college football as he averaged 44.1 yards per punt as a junior. He booted the longest Fighting Irish punt since 1998 against the Wisconsin Badgers when he launched a 72-yard bomb. The Irish were 32-6 during Bramblett's three seasons as a punter and holder.
Bramblett's father, Mike, the head football coach at Brookwood High School, has been traveling to South Bend for the last three seasons to watch his son play but his parents never pressured him to transfer closer to home.
"My parents don't care where I play, I could go to Washington and they would come to every game, and it would be fine. For the folks saying I'm transferring to play in front of my dad, my dad comes to every game, that has nothing to do with it," said Bramblett. "This was for me, I was tired of being 10 hours away from home. I wanted to play in warmer weather. I wanted to play in the SEC, really, So that was the biggest things, it was never about that"
The Tuscaloosa-native was recruited by Alabama during his time in the transfer portal but the Tide wasn't able to offer the former Patriot a scholarship due to roster limits.
"They kind of jumped into the mix, probably three or four days ago and really just couldn't extend an offer. I wasn't interested in going into somewhere that it wasn't a priority."
Alabama currently has both James Burnip and Jack Martin set to return for the 2022 season while the LSU Tigers are losing its 2021 punter Avery Atkins, opening the door for Bramblett to immediately impact the Tigers' team in 2022.
Alabama's Top 10 Athletes - Fall 2021
The Alabama Crimson Tide boasts an extremely successful athletic department with amazing athletes playing multiple sports. The top 10 athletes include national champions, an Olympic athlete, SEC champions and various record holders.
SEC Coaches as Thanksgiving Side Dishes
More From Tuscaloosa Thread