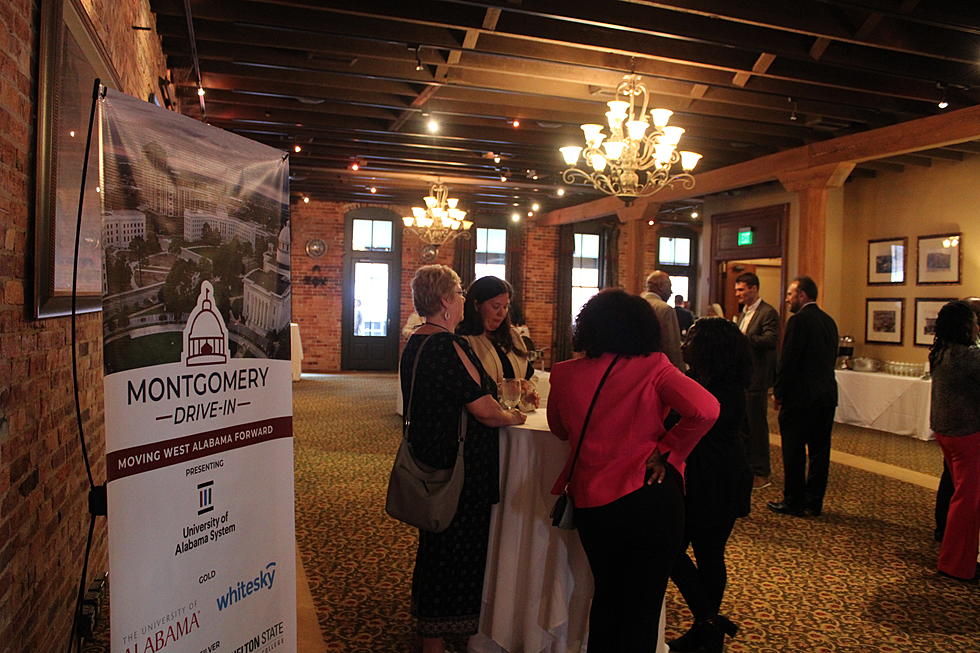 Tuscaloosa Leaders Meet Legislators During Montgomery Drive-In
(Stephen Dethrage | Tuscaloosa Thread)
Leaders from all over West Alabama traveled to Montgomery this week to meet with elected and appointed officials in state government to learn their priorities for this legislative session.
The overnight trip, organized annually by the Chamber of Commerce of West Alabama and sponsored this year by the University of Alabama System, saw around 100 guests from the Tuscaloosa area meet and speak with almost everyone tasked with representing them.
The buses from Tuscaloosa arrived Wednesday morning, and business kicked off immediately with a luncheon featuring two hometown heroes, Alabama Finance Director Bill Poole and Secretary of Labor Fitzgerald Washington.
Poole said he is focused on making sure the state is responsible with how it spends an unusually high budget surplus including $1 billion in federal American Rescue Plan Acts money that has yet to be allocated and a $2.7 billion surplus in the state education budget.
The key, Poole said, is to understand that the state is flush with money because of federal dollars flowing into Montgomery and as an odd consequence of inflation - higher prices on most goods mean tax revenue has been driven up.
Because these salad days are not expected to last, Poole said Governor Kay Ivey and the legislature are trying to avoid funding long-term projects and initiatives with money they expect to dry up soon. Instead, they're looking at one-time expenditures possibly including a tax rebate for the state's citizens
.
Washington talked about the state's remarkable recovery from the devastating effects of the COVID-19 pandemic, which drove the state's record-low unemployment rate to skyrocket to almost 14 percent in Spring 2020.
Washington said that number is down to 2.5 now, the lowest unemployment rate on the books, and that Tuscaloosa County is among the best in the state with an unemployment rate of 2.1 percent.
Wednesday afternoon, the Drive-In group met with a delegation of their legislators from the House and Senate, although the elected officials came and went as both chambers were in session and Committee meetings were calling them away at different intervals.
They heard from Secretary of State Wes Allen, State Senators Gerald Allen, April Weaver and Greg Reed, and from Representatives Kyle South, Cynthia Almond, Bill Lamb, Ron Bolton, Chris England and Curtis Travis.
Senator Allen touted a plan to spend $25 million from the state's Education Trust Fund to improve coal loading at the Port of Mobile, which he said would help miners here in West Alabama.
His son, the newly elected Secretary of State, vowed to never embarrass the people of Alabama.
Weaver, a newcomer to the Senate, is focused on her bill to reduce "good time" given to convicts in Alabama's prison systems who commit new offenses while incarcerated. Weaver represents Bibb County, where Deputy Brad Johnson was fatally shot last year by a felon who had been given early release from prison after earning good time credits.
Bolton and Lamb, both locals who have just arrived in Montgomery, said they were listening and learning as much as possible early in their first terms. Lamb was the longtime finance director of the Tuscaloosa County Commission, and Bolton is a retired Northport Police Captain.
On Wednesday, the Tuscaloosa group met Attorney General Steve Marshall, Agriculture Commissioner Rick Pate and Kimberly Boswell, who heads the Alabama Department of Mental Health.
Marshall discussed a bill to aggressively punish fentanyl traffickers, which Ivey signed into law Wednesday afternoon, a measure to crack down on violent gang crime and his successful track record in lawsuits over federal government overreach.
Pate, amid a half-hour of hilarious anecdotes that made him a group favorite, said he expects to see the price of table eggs drop for consumers soon after Easter ends.
Boswell said around 75 percent of ADMH employees work in Tuscaloosa, which is home to Bryce Hospital, Taylor Hardin Secure Medical Facility and the Mary Stark Harper Geriatric Psychiatry Center. She touted an in-development crisis center, announced last year, which will enhance mental health care in the Tuscaloosa area and relieve pressure on area jails and hospitals.
After a trip to the State House to observe the legislature in session, the group wrapped up the trip at a luncheon with Lt. Governor Will Ainsworth before busing or driving back to Tuscaloosa Thursday afternoon.
Special thanks to the Chamber leadership for organizing the trip and allowing the Thread to attend, and for the University of Alabama System for making the trip possible for dozens of local leaders through their sponsorship.
Top Stories from the Tuscaloosa Thread (3/27 - 4/3)
18 of the Top Stories published by the Tuscaloosa Thread during the week of March 27th, 2023.
More From Tuscaloosa Thread