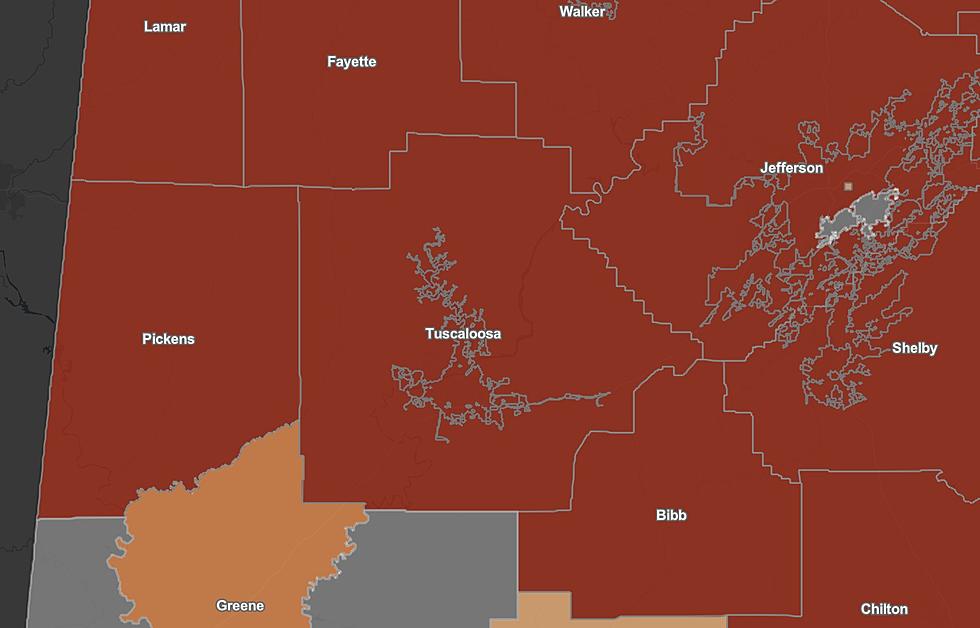 Tuscaloosa County School System Ranks 2nd in State for Highest COVID Cases
(ADPH)
The Alabama Department of Public Health reported Friday that Tuscaloosa County School System ranks as the district with the second highest rate of COVID-19 cases in the state.
According to the ADPH COVID-19 K-12 dashboard, only four school systems throughout the state reported over 1,000 positive cases:
Jefferson County: 1,148
Tuscaloosa County: 1,121 cases
Mobile County: 1,095 cases
Shelby County: 1,072
TCSS serves 19,052 students across its 34 schools, meaning nearly six percent of all students have tested positive for COVID-19.
Although the school system is beaten out in terms of sheer number of cases, TCSS does rank highest in terms of positive cases to student enrollment ratio of the schools listed here. Jefferson County reported roughly three percent of its 36,000 students test positive, Mobile County reported a similar two percent positive test rate among its nearly 54,000 students, and Shelby County came the closest with just above five percent of its 20,991 student body testing positive.
Conversely, Tuscaloosa City Schools reported 274 total cases across its 11,063 students in 19 schools. That positive rate equals roughly 2.48 percent, which is above the one percent threshold the TCS Board of Education implemented back in October of 2021 to serve as guidance to reinstate a mask mandate.
TCS is currently in a two-week "mask required period," which lasts until January 28. Should the positive rate fall below 1%, students and faculty will revert to "masks optional."
However this metric doesn't account for the fact that all Tuscaloosa City Schools are currently closed and will go virtual Monday before returning to in-person on Tuesday. TCS Superintendent Mike Daria explained that the reasoning for this was a staggering teacher shortage throughout the school system.
According to the TCS COVID-19 Dashboard, 41 employees are quarantining due to confirmed exposure.
As of publishing, Tuscaloosa County School System has yet to implement any sort of masking requirements or other measures to slow the spread.
Across the state, schools reported 26,260 positive cases this week. That's up from last week, where schools reported just 16,035 cases.
For the most up to date information on COVID-19 in schools, follow the ADPH COVID-19 K-12 Dashboard here.
READ MORE: 50 resources to help you educate your kids at home
Alabama COVID-19 Vaccine Breakdown (June 2021)
Each graphic shows how many people are vaccinated in all of Alabama's 67 counties, plus the percentage of vaccinated people versus that county's total population. This data was pulled from the Alabama Department of Public Health, county health departments and the Centers for Disease Control and Prevention.
Which School Systems Require Face Masks in West Alabama?
Top Stories From The Tuscaloosa Thread (1/10-1/14)
More From Tuscaloosa Thread