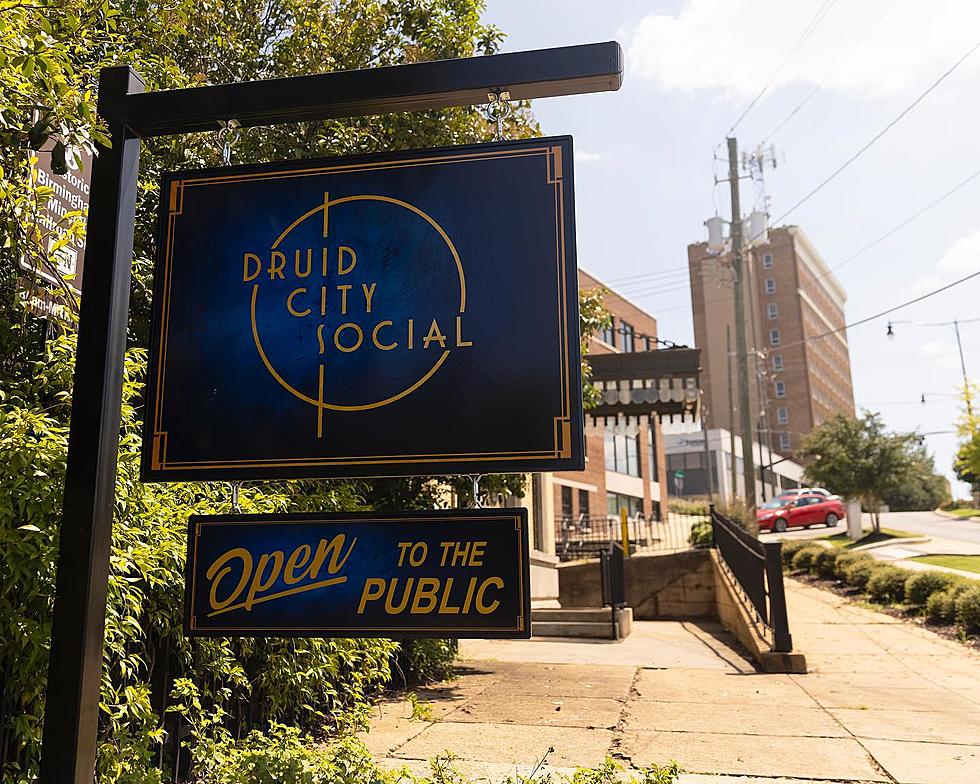 Tuscaloosa Council Shoots Down Another Business Leader's Gastropub
(Druid City Social on Facebook)
For the second week in a row, the Tuscaloosa City Council has told a local restaurateur that he cannot operate as a gastropub because of a perceived threat to public safety.
As the Thread reported last week, the council also voted against allowing a new gastropub to open in the former home of the Hunt Club Honky Tonk that many still know as the Wilhagan's building. 
For those unfamiliar with the terminology, "gastropub" is a legal designation the city created in 2021 to allow a business to function like a restaurant during the day and a bar at night. Among other limitations, a restaurant has to close early at night and a bar can only admit people older than 19 without being OK'd for conditional use as a gastropub.
A city spokesperson said eight businesses have permission to act as gastropubs -- Innisfree, Moe's BBQ, SoCal Cantina, the Rabbit Hole, an in-progress pub planned for the Tuscaloosa Strip called the Standard, the Wheelhouse, Twelve25 and World of Beer.
Last week, though, the council voted against allowing veteran restaurateur Rahjvinder Singh, to open a sports bar called the Grand Stand in the Wilhagan's space as a gastropub, even though the recently closed Honky Tonk operated as one in the same building.
On Tuesday, they voted against giving the special designation to longtime business leader Bill Lloyd and his restaurant on Greensboro Avenue, Druid City Social.
Tuscaloosa Police Chief Brent Blankley, mayor Walt Maddox, Tuscaloosa Fire Chief Randy Smith and several council members have soured on gastropubs recently. Their central argument is that spaces like Druid City Social and the old Wilhagans building are too large to allow to operate as bars at night.
Druid City Social is housed in the renovated L&N Railroad Company train station and the city said its spacious outdoor area allows a maximum capacity of several thousand patrons.
Having that many people drinking after the restaurant becomes a bar at night creates a public safety risk, the city officials have argued.
Lloyd and Tuscaloosa attorney Bryan Winter fought for Druid City Social Tuesday night, trying to emphasize the restaurateur's proven track record at his former businesses including Wilhagans, Green Bar and 301 Bistro. In more than 20 years, they said, there has never been a major problem at any of Lloyd's establishments.
"I think you know Mr. Lloyd's history," Winter told the council. "There's not a finer restaurateur and event planner than he is in the city."
They also said they were willing to limit their outdoor capacity if the city would negotiate with them.
They said Lloyd has been hosting late-night events at Druid City Social by applying for a special event license each time and spent almost $100,000 on private security last year alone to ensure the peace was kept there. Except for one noise complaint, they said, there has never been an issue at the venue.
Most importantly, Winter argued that because a legal framework exists for allowing gastropubs and because many restaurants have already been granted that designation, there was no compelling reason to deny the same to Lloyd and DCS.
"I don't think there's any reason under the code why this can't be approved and why this shouldn't be approved, because they meet the requirements to be a gastropub," Winter said. "It seems that we have a law on the books that we need to abide by and those laws, which are approved by the council. are set forth such that people can abide by them and deal with them. We have a set of rules that are published, codified and are standardized. Now we have somebody who is applying to be a gastropub. There have been no safety issues at this location, they will do what is required to be a gastropub and if there's any reason to turn it down, please let me know."
Lloyd echoed those sentiments, said his establishment is qualified to become a gastropub in every way and asked the council to treat him the same way they treated the qualified entrepreneurs who came before him and found success.
"There's no reason for us not to get this gastropub approval," Lloyd said. "There's really not."
Winter also said if the council is worried about the potential for crime, there are better ways to prevent it than restricting what Lloyd can do at Druid City Social.
"Bars don't cause crime -- and this is not going to be a bar! -- but people cause the crime. If we want to shut anything down because of a crime problem then I would submit to this council that we're really not doing anything to address the real issues of crime by doing so," Winter said. "The real issues of crime are poverty, hopelessness and ignorance. And stopping Mr. Lloyd, who is an exceptional businessman with a clean record because there might be crime -- that is not a valid basis for turning him down."
The council was unswayed. District 1 Councilman Matthew Wilson, who represents the area where Druid City Social is located, asked the other members to consider tabling the vote for two weeks so negotiations could continue. That measure failed 2-4, with only Wilson and District 7's Cassius Lanier in favor of kicking the can a little farther down the road.
When the vote to approve or deny DSC's use as a gastropub proceeded, it failed along the same lines. Councilmembers Raevan Howard, Norman Crow, Kip Tyner and John Faile voted against it.
District 4's Lee Busby was sick Tuesday and did not attend the meeting.
For updates on this ongoing battle at City Hall and for other exclusive stories about restaurant and retail development in West Alabama, stay connected to the Tuscaloosa Thread.
Top Stories from the Tuscaloosa Thread (2/6 - 2/13)
14 of the Top Stories published by the Tuscaloosa Thread during the week of February 6th, 2023.
More From Tuscaloosa Thread