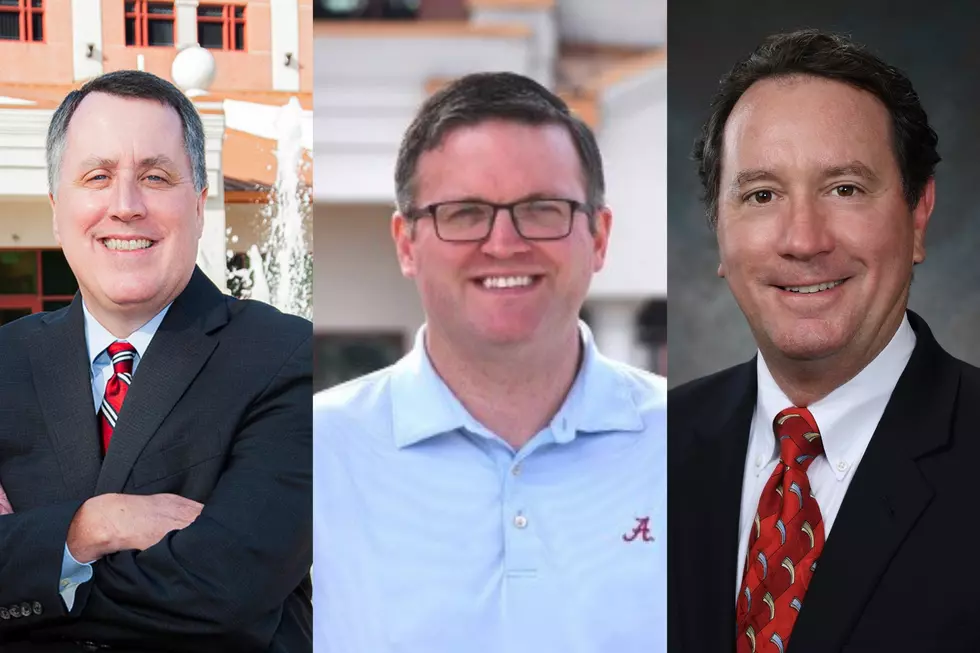 Three Candidates Run for District 3 Seat As Incumbent Steps Back
(Norman Crow| Matt Hood| Bill Hobson Wright)
Enter your number to get our free mobile app
For the first time since 2005, Tuscaloosa's District 3 will have a new representative on the city council as four-term incumbent Cynthia Almond is not seeking reelection when voters go to the polls next month.
Instead, three political newcomers will face off to represent the district, which encompasses northern Tuscaloosa -- candidates Norman Crow, Matt Hood and Bill Hobson Wright.
The Tuscaloosa Thread was able to speak with all three candidates about their plans for the district.
Candidate Norman Crow
Norman Crow, the former owner and acting president of Tuscaloosa-based DT Freight, announced that he was going to be running for the District 3 seat back in October. Crow said he wants to keep the city "fiscally sound" by maintaining a high bond rating as well as being money-conscious and limiting spending.
Crow also stressed the importance of neighborhood safety, denouncing the Defund the Police movement and vowing to prioritize the completion of the McWrights Ferry Road project.
"I am a businessman and a pro-growth conservative guy," Crow said. "I'm running because District 3 needs a leader who can understand the needs and be a voice for the district in my opinion."
Crow has held a public office before, serving on the Tuscaloosa City School's Board of Education from 2013 to 2017. Prior to that, he was a board chairman for the United Way of West Alabama and was the chairman of the board for the Chamber of Commerce of West Alabama in 2015.
"It's an important race, I think it's an important race for our district to vote for the most qualified candidate," Crow said. "I want to bring my experience and leadership to District 3 to help us meet our needs."
Candidate Matt Hood
Matt Hood, a political newcomer and University of Alabama alumnus, announced his candidacy for the District 3 seat last July. The Moulton, Alabama native said he moved to Tuscaloosa to finish his degree and "never left the bubble."
Hood, the Rooms Division Coordinator & Revenue Manager at Hotel Capstone, serves as chair of the Tuscaloosa County Republican Executive Committee, a role he has filled since January 2019. He also volunteers with organizations that serve residents with special needs, such as the Miracle League of Tuscaloosa, Arts 'n Autism and Best Buddies.
"I genuinely do appreciate opportunities to give back to this community and it has given a lot to me," Hood said. "I do appreciate those opportunities where I can serve in some capacity."
Hood said that he is focused on three areas for the district: building stronger neighborhoods, supporting public schools and developing infrastructure for the future. By keying in on these three priorities, Hood said that he is convinced the district will continue to grow.
"I'm in Tuscaloosa by choice, not by birth," Hood said. "With that background in customer service, I know those same principles should apply to city government. I want people in District 3 to know that I'm open and accessible at any time."
Candidate Bill Hobson Wright
A longtime member of the Planning and Zoning Commision and a Tuscaloosa native, Bill Hobson Wright was the first candidate to announce he was running for the council seat last June. Wright said that he wasn't looking for political office when he joined the commission in 2013.
"When I take on a challenge, I don't do it for personal gain or to follow the lead of all the other machine politics that go on in Tuscaloosa," Wright said. "Eight years on Planning and Zoning [Commission] is a statement of my commitment to serve and not just serve one term and look for the next political office. By nature I'm not a politician, I'm a business person."
Wright said that his plans for the district revolve around four key actions: preserve, maintain, protect and plan.
All four values are geared toward his vision for District 3 neighborhoods. Wright said that he wants to preserve "the charm of the city" and neighborhoods in the area. He said one of the only ways to accomplish that is by maintaining the local roads and sewage infrastructure; the other way is by increasing first responder presence in the area. Finally, Wright said the district needs to plan for growth and make way for more restaurants and coffee shops in the district.
"I think my experience in life, business and service, both civic and communal, just differentiates me from my competitors," Wright said.
---
The municipal elections will be held on March 2.
Top Stories From The Tuscaloosa Thread (1/25 - 1/29)
More From Tuscaloosa Thread