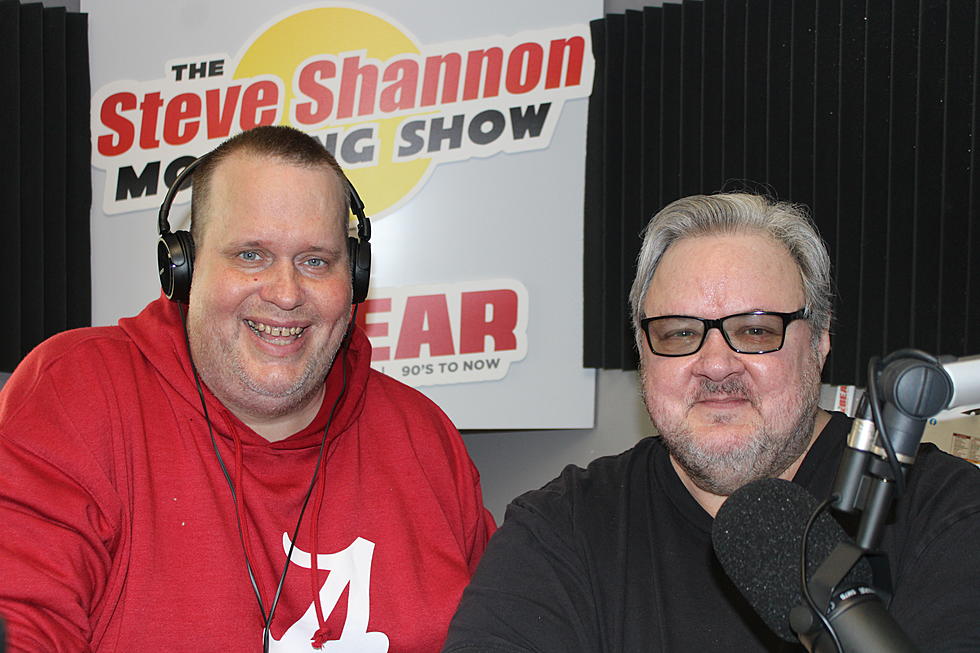 "Like We Never Stopped": Steve & DC Show Returns to Huge Response in Tuscaloosa, Alabama
(Noah Lueker | Tuscaloosa Thread)
Steve Shannon and DC Daniel returned to the airwaves Monday morning with the relaunch of their popular "Steve & DC Show" on Townsquare Media Tuscaloosa's 95.3 The Bear, marking the first time the dynamic duo has hosted a show together since their run in St. Louis ended in 2007.
"Getting back in the booth Monday morning, it was like we'd done the show last week," Daniel said. "You wouldn't be able to tell just by listening that it had been almost 15 years."
Daniel got his start working night shifts in 1991 at 95.7 The Fox in Tuscaloosa, now 95.7 Jamz in Birmingham, while Shannon worked at Z-102.5, the local Top 40 station. The pair quickly got along and a few months later when, a plan was hatched to get them together in the morning drive.
"Nights really used to be a format where morning shows would come from, especially since it wasn't just all music and was more conversational," Daniel said. "Our manager saw we were already friends and suggested putting a morning show together. It really took off."
From there, the two took their show to New Orleans, where at one point Daniel said listener data showed nearly half of all radios in the area regularly tuned in to their show. They eventually settled at a local radio station in St. Louis, where they landed a syndication deal and reached an even wider audience in around 40 markets at their peak.
The show took went on hiatus when Shannon moved back to Alabama to be closer to family, but he couldn't stay away from radio and began working at the Bear in 2016.
Townsquare announced in September the show would make its triumphant return following the promotion of Shannon's morning co-host Meg Dowdy to Regional Director of Content.
Daniel also steps into Dowdy's vacant role of Director of Content for Townsquare Media's Tuscaloosa market, in which he will oversee all of the market's eight local radio stations as well as the Tuscaloosa Thread.
Daniel told The Thread that returning to Tuscaloosa felt like the right step.
"For me, it's one of only two cities that I would say feels like coming home," he said.
On Monday morning, the duo filled their first show back together recalling some of the greatest stories from the sixteen years they spent together. Shannon said he was amazed to see how many listeners called in or reached out digitally with their own favorite memories.
"It was overwhelming. We had people from St. Louis, Florida, North Carolina, Dothan and all over messaging us on the app asking us to tell certain stories. We haven't been in syndication for a while, so people haven't heard us in so long," Shannon said. "I can't believe this, but one person asked 'can you tell DC being a 'naked pooper' story?' We told that story on air 31 years ago, and people can remember parts of it better than us."
As that particular story probably suggests, the show maintains its sense of humor, leaning hard into wacky antics and crude stories. At the end of the day, though, Shannon said the show still feels like two friends sitting down to have a conversation.
The show will broadcast live on weekdays from 5 to 10 a.m. Tune in on 95.3 The Bear, or on the free-to-download mobile app. Shannon also teased that anyone who can't tune in each morning will soon be able to download a podcast version of the show to listen anytime, anywhere.
"Radio's so different now than it was 20 years ago. People listen to things all day all the time now," he said. "We've had so many folks ask if we could also turn the show into a podcast. We're working on getting that together."
Top Stories From The Tuscaloosa Thread (9/27-10/01)
LOOK: TV Locations in Every State
How Many in America: From Guns to Ghost Towns
Can you take a guess as to how many public schools are in the U.S.? Do you have any clue as to how many billionaires might be residing there? Read on to find out—and learn a thing or two about each of these selection's cultural significance and legacy along the way.
More From Tuscaloosa Thread