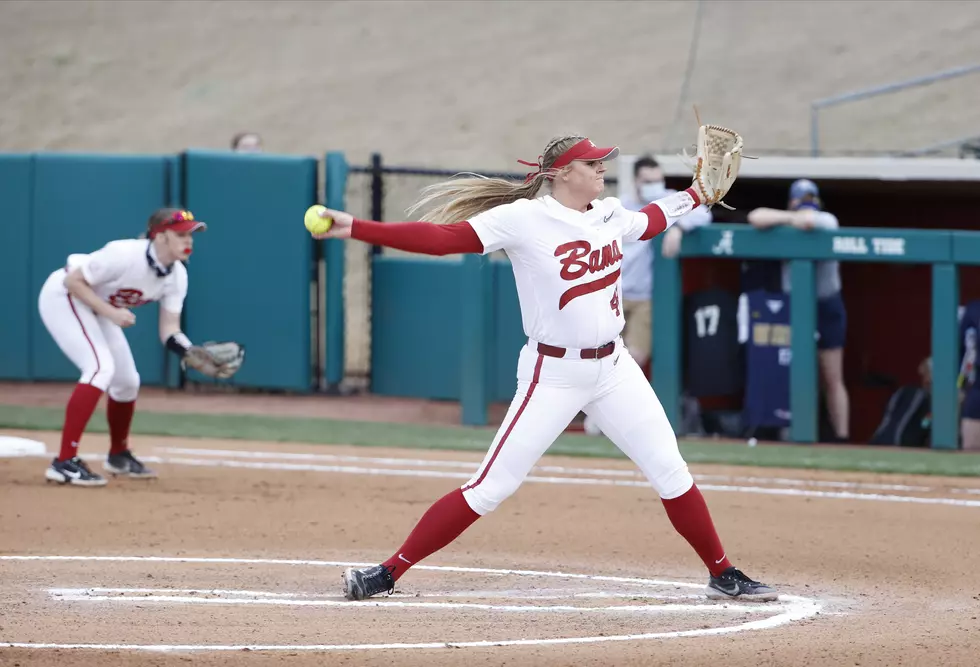 Softball Ties Series with 7-1 Win over Tennessee
Crimson Tide Photos / UA Athletics
The Alabama Crimson Tide (23-2) faced the Tennessee Lady Volunteers (21-4) for the second time and tied the series with a 7-1 win.
Lexi Kilfoyl got the start in the circle for Alabama and was able to hold Tennessee to one run in the second. She gave up two walks and struck out five batters in seven innings.
Kilfoyl gained her tenth win of the season, keeping her with a winning record of 10-0.
Tennessee's starting pitcher Callie Turner was able to keep Alabama scoreless through two innings. But, in the bottom of the third, Elissa Brown got things rolling for the Crimson Tide with a leadoff single.
She reached first on an error, then two outs in a row pushed Brown to third.
Bailey Hemphill drew a six-pitch two-out walk to put runners on the corners for Alabama. Hemphill is now two walks away from breaking Hailey McCleney's (2013-2016) career record of 199 walks.
Kaylee Tow followed Hemphill's walk with an RBI-single to right field which sent the tying run across the plate.
Kilfoyl kept Tennessee at bay for the four-following innings. She struck out four batters, allowed three hits and left four stranded on the bases.
In the bottom of the fourth, Tennessee's Samantha Bender replaced Turner in the circle. Alabama was able to capitalize on the pitching change. The Crimson Tide extended its lead by two after loading the bases twice in the inning.
Hemphill led off the bottom of the fifth inning. She hit a solo home run and added one to the scoreboard. She is now five home runs away from Kelly Kretschman's (1998-2001) career record.
In the bottom of the sixth, a one-out single was followed by a one-out double to put Alexis Mack and KB Sides on second and third base. Hemphill added two more RBIs to her career with a single to left field to send Sides and Mack home and extend Alabama's lead by five.
Hemphill's RBI-double put her 10 RBIs away from Kaila Hunt's (2011-2014) 215 career RBIs.
The final run of the game crossed the plate in the bottom of the sixth giving Alabama a 7-1 win over Tennessee.
Alabama will face Tennessee in the final game of the series on Sunday, March 21 at 1 p.m.
Alabama's Top 10 Athletes: Spring 2021
The 10 Greatest Athletes from Alabama
More From Tuscaloosa Thread