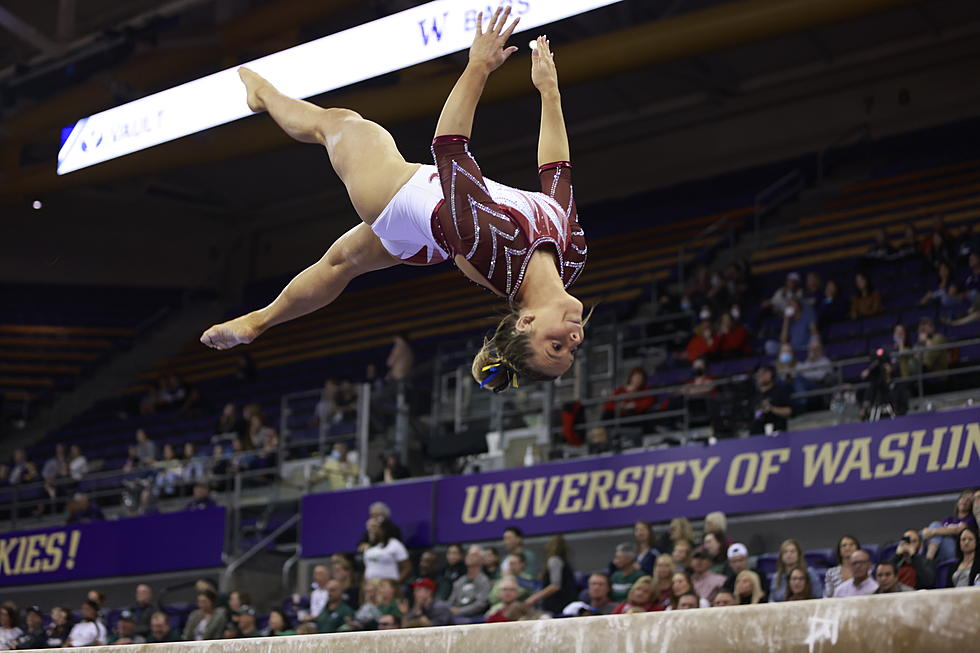 Flipping into Ft. Worth: Alabama Gymnastics Makes Program History
Crimson Tide Photos / UA Athletics
Alabama gymnastics finished in second place at the Seattle Regional Finals. They competed against No. 4 Utah, Stanford and Michigan State Saturday evening. While a score of 198.175 would normally give any team the win, Utah managed to score two perfect 10s on the balance beam in the final rotation to give them a total score of 198.200
Alabama head coach Dana Duckworth constantly emphasizes starting strong, staying strong, and finishing strong. Her team did that and more in Saturday's meet after seven different gymnasts scored a 9.950 including freshman Lilly Hudson who scored a 9.950 in two separate events.
Emily Gaskins led off the night with a stuck Yurchenko-full, a 9.950 start value, which earned her a 9.900.  The contagious stuck landings continued as Kaylee Quinn stuck her Yurchenko-1.5 and scored the first of eight 9.950 on the night. Hudson performed the same vault as Quinn and stuck the landing which mirrored Quinn's score. Alabama dropped one 9.825 to finish the first rotation with a 49.500 and trailed Utah by one-tenth of a point.
The uneven bars which is normally Alabama's best event was the lowest scoring event on the night but still a solid score of 49.400. Makarri Doggette was seen hobbling off the mat the last time competing but appeared to be fine Saturday night as she stuck her dismount and scored a 9.950 on the event. Alabama only had two scores of a 9.900+ on bars.
Stanford and MSU trailed by a good bit the rest of the meet so the real competition was to see who was going to take home first place. Alabama still trailed Utah by a tenth of a point going into the third rotation.
The Crimson Tide were on fire for the final two rotations. Ella Burgess started Bama off with a strong 9.900 on the balance beam and got the stuck landing.  Shallon Olsen continued the momentum and stuck landings with a score of 9.925, her second consecutive score of 9.9+ on beam. Lexi Graber had a balance break which broke the 9.9+ scoring streak; however, she still earned a solid score. Shania Adams performed a stunning beam routine and was rewarded with a career-best score of 9.950. Mati Waligora had a balance check and couldn't quite get the stuck landing, but the Tide was able to drop her score. Hudson anchored the beam lineup with her second 9.950 on the night.
Alabama's beam rotation gave them the lead over Utah with a score of 148.525-148.475 heading into the final rotation. The overall beam score was 49.625 for the Crimson Tide.
Graber's floor routine gave the Tide their third score of 198+ this season. Their 198.175 put this team in the Alabama record books as the first team to score three 198+ in a single season. Olsen led off with a 9.925. Griffin James matched Olsen's score after performing her floor routine for the second time this season in competition. Gaskins lit the floor on fire with her "Sweet Home Alabama" remix routine and also scored a career-high score of 9.950. Cam Machado kept the momentum going with strong tumbling passes and the fourth score of 9.9+ on floor. Hudson stepped out of bounds and took a couple steps after her first tumbling pass. Those two mistakes led to her 9.700; however her routine secured a spot in the NCAA National Championship Semifinals. Hudson's score gave Bama an overall score of 197.925 which was higher than MSU's and Stanford's final overall scores.
The Alabama gymnastics team gets a couple weeks off from competition before traveling to Fort Worth, Texas. The fifth-ranked Crimson Tide competes against No. 1 Oklahoma, No. 8 Minnesota, and No. 4 Utah in the first session of the semifinals. No. 2 Florida, No. 7 Auburn, No. 3 Michigan and No. 11 Missouri compete in the second session of the semifinals.
The only two teams Alabama didn't score higher than in the Regional Finals are Oklahoma and Utah. Unfortunately the Crimson Tide competes against both of them in the semifinals with only the top two teams from each session advancing to the finals.
Session one of the semifinals starts at noon on April 14 and will air on ESPN2.To stay up to date on Alabama gymnastics, follow @julietbrown_tv on twitter.
More From Tuscaloosa Thread