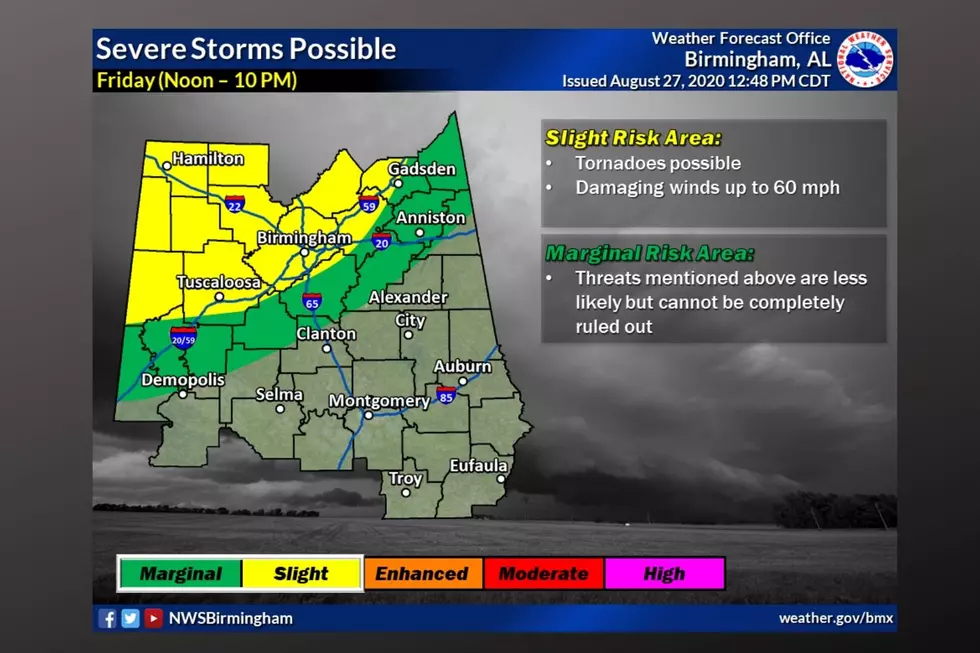 Laura Causes Widespread Damage, Parts of Alabama On Alert Friday
National Weather Service
Laura Causes Widespread Damage, Parts of Alabama On Alert Friday
Earlier this morning Laura made landfall as a category 4 hurricane near Cameron, Louisiana.  Sadly, Laura brought widespread damage and death for those in her path.  Right now, Laura is a dangerous tropical storm with tropical storm force winds, isolated tornadoes, and heavy rains.
Alabama could be affected by Laura on Friday, August 28, 2020.  The National Weather Service has part of our listening areas in a "slight risk area" which means tornadoes are possible along with damaging winds up to 60 mph.  Then other parts of our coverage areas are under a "marginal risk area" which means the slight risk area threats are probable but "are less likely but cannot be completely ruled out.  In addition, guidance from the NWS alerts us that "the remnants of Laura may bring a threat for damaging winds and a few tornadoes from noon Friday through 10 pm Friday night. The threat area is generally along and northwest of a line from Aliceville to Pelham to Jacksonville."  Be sure you download our free app and sign up for breaking news, exclusives, and weather alerts to prepare for Friday.
Enter your number to get our free mobile app
According to CNN, Louisiana Governor John Bel Edwards commented that they "have sustained a tremendous amount of damage," he said at a news conference.  Edwards said a priority was moving people that needed shelter into hotel or motel rooms due to the need to social distance because of Covid-19."  Unfortunately, the death toll in Louisiana is on the rise.  Laura brought storm surge, devastating winds, flooding, many roads are impassable due to flooding/debris, and the list of damage reports is growing.
Laura has also brought power outages along her track. According to the last update from Power Outage U.S., at the time of this story, they are reporting outages for 571,763 residents in Louisiana, 278,242 residents in Texas, and 55,038 residents in Arkansas.
More From Tuscaloosa Thread