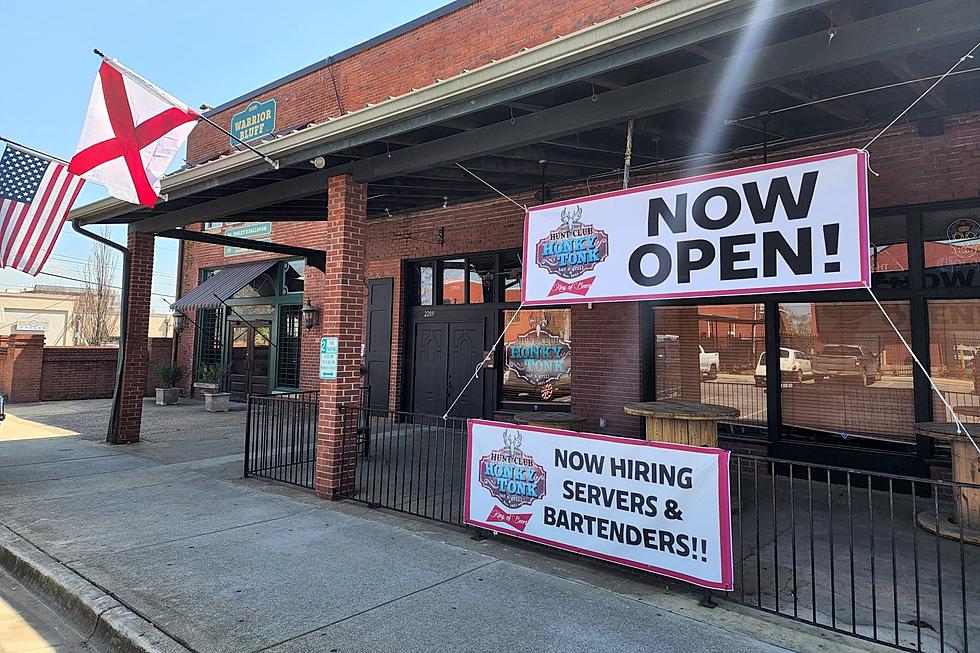 Hunt Club Honky Tonk Opens at Former Wilhagan's Location in Downtown Tuscaloosa
(Stephen Dethrage | Tuscaloosa Thread)
A Tuscaloosa restaurateur who made a splash in the local culinary scene by serving camel, alligator and more at his last establishment is back to business at the new Hunt Club Honky Tonk Bar & Grill in downtown Tuscaloosa.
Bo Lawrence opened the first restaurant, Raised on Country Burgers n' Grill, on University Boulevard downtown in 2019 and specialized in burgers cooked from wild game including camel, elk, bison, alligator and even python.
The business slowed down during the pandemic, though, and Lawrence quietly closed the restaurant permanently in September last year. He didn't stay away long, though, and immediately began work on opening a new concept in the former home of Wilhagan's Grille & Taproom on 4th Street near Temerson Square.
Months later, the new restaurant is open for dinner and offers patrons quality steak options, a selection of cold beers and family-friendly live entertainment.
Lawrence joined the Steve & DC Show on 95.3 the Bear last week to talk about the Hunt Club Honky Tonk and what visitors can expect there now that their doors have finally opened.
"We kind of got together and said, 'You know what we're gonna
come up with a concept down here, something new, something for the
locals, something for date night, something for the parents to come down,
have a nice drink, a beautiful piece of meat and listen to some good music," Lawrence told the morning show hosts. "We brought a little Nashville down but with a higher-end restaurant."
Lawrence said the new restaurant is open just for dinners except on Saturdays and will specialize in steaks of all sizes.
"In the evenings, our entrees are going to be our steaks and they're going to go anywhere from 8 ounces all the way to 47 ounces," Lawrence said. "We'll have some filets, center cuts and we'll have some bison tomahawks, big tomahawks."
The old Wilhagan's space also offers 8,000 square feet, and Lawrence said he and his business partners have installed an old corn silo inside the building where beers will be stored on ice, not in refrigerators, for patrons to order and enjoy.
The venue will also offer regular live music performances, from acoustic sets at dinner to up-and-coming country music stars like Hunstville native Brandon Elder, who played at the Honky Tonk this weekend.
The Hunt Club Honky Tonk Bar n Grill is open now Tuesday through Thursday from 5 p.m. until 10 p.m., on Fridays from 5 until 1 a.m. and all day Saturday, from 11 a.m. until 1 a.m.
They will be closed for business on Sundays and Mondays.
For more exclusive coverage of restaurant and retail development in West Alabama, stay connected to the Tuscaloosa Thread.
New Tuscaloosa Restaurants & Retail in 2021
Tuscaloosa Restaurants and Stores That Closed for Good in 2021
More From Tuscaloosa Thread