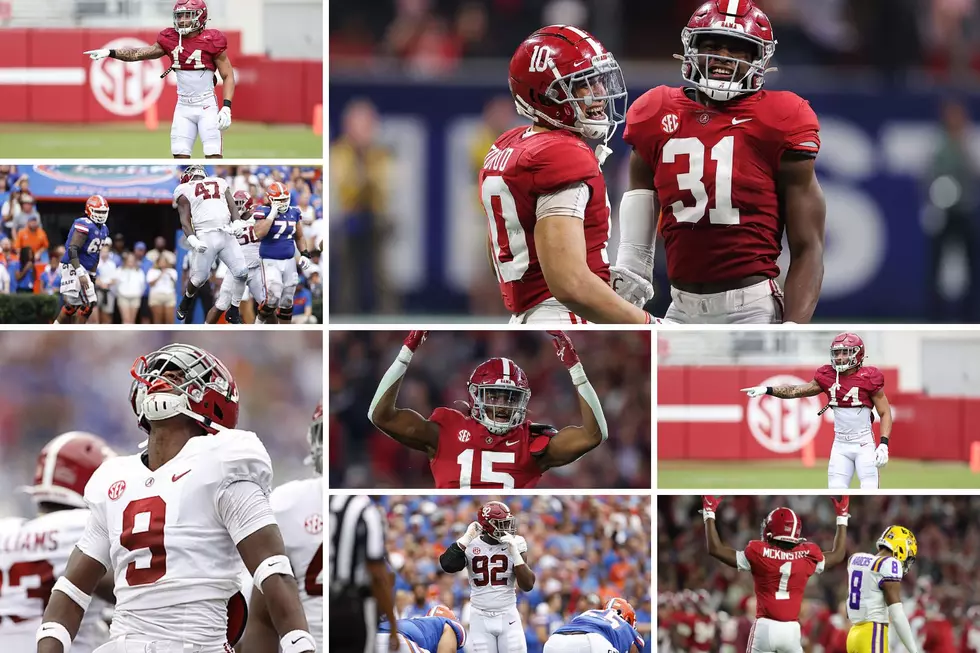 Crimson Tide Fall Camp Preview: Defense
Getty images, Canva
The Alabama Crimson Tide officially begins fall camp on Thursday, August 4. In a two-part series, Mason Woods and Kendell Hollowell will take a deep dive into both sides of the ball and discuss important storylines to follow, players that will generate a lot of buzz and a breakdown of each position group. We'll continue today with the defensive side of the ball.
Important Storylines
Kendell - Battle between Brian Branch and Malachi Moore
Same story, different season. Brian Branch and Malachi Moore have been interchangeable at the Star position (nickel) through two seasons on campus. Moore earned the starting job in fall camp as a true freshman in 2020 and played the first 11 games of the season until a back injury kept him out of the College Football Playoff. He claimed Freshman All-American and Second Team All-SEC recognition that season. Branch stepped in and excelled, recording a career-high three pass breakups against Ohio State in the national championship. 
Moore reclaimed his spot last season and started a majority of the games until Branch took over as the starter in the Iron Bowl. Branch would go onto the start in each of Alabama's final four contest of the 2021 season, once again, shining in the College Football Playoff.
The pair of former four-star recruits in the 2020 class will continue battling in camp for playing time. Branch earned the first-team reps in spring practice and is the favorite to be the starter opening day, but that doesn't take Moore out the race. 
Mason - How will Chris Braswell stack up to Will Anderson, Jr. and Dallas Turner?
It's no secret that the Crimson Tide defense features likely the nation's best pass rush duo in Will Anderson, Jr. and Dallas Turner, but many are unaware of another weapon tucked away behind the incredible duo.
Junior Chris Braswell was a five-star prospect in the 2020 cycle and looks to be yet another elite level pass rusher on an already stacked Alabama defense.
Braswell appeared in 14 games last season, serving mostly on special teams and as a rotational player, but showed flashes of brilliance on several occasions. Standing at 6-foot-3, 240 lbs. Braswell has an excellent build and uses it well to shed blockers and rush the passer.
In the spring game, the Baltimore native flexed his ability, finishing the scrimmage with a dominating performance of five tackles, 2.0 TFL's and 2.0 sacks. While its unlikely he'll see as much time on the field as either Anderson or Turner, Saban said in April he views, "All three starters at their positions."
Braswell is likely to take on a much larger role this season than his previous years with the team; can the junior stack up to his Crimson counterparts?
Kendell - Can Byron Young be Alabama's next dominant defensive lineman?
From the moment Nick Saban has arrived in Tuscaloosa, the Crimson Tide have produced a dominant player in the front of its defense. 
Eight defensive lineman have earned first-team All-SEC recognition under Saban, four of them would also go into become first round picks and the other four would be selected in the second. With Phidarian Mathis and LaBryan Ray off to the NFL, Byron Young is next up. The Laurel, Miss. native enters his fourth year in the program and has seen a rise in tackles, tackles for loss and sacks every season. 
Young appeared in 15 games last season with seven starts. He made is presence known in opposing backfields, producing four games where he registered 1.5 tackles for loss or more. The veteran lineman has a quick off the ball and can overpower single blocks with his strength. Young does needs to improve as a pass rusher to help the create pressure from the interior part of the Alabama defense.
Mason - Where does Khyree Jackson fit into the cornerback rotation?
Alabama added arguably the top transfer prospect in all of college football when it landed former five-star cornerback Eli Ricks from LSU this offseason. While the addition is clearly a positive for the defense overall, the Tide now features at least three starter level players at a position with only two spots.
Kool-Aid McKinstry was a star in the back half of the 2021 season, and as a former five-star recruit ranked as the top corner in his class, he is unlikely to be unseated from his starting spot. Ricks, as previously mentioned, is also a former five-star, and has put together an entire season of high level play in his time at LSU, so he seems like a shoo-in to start this year as well.
That leaves former JUCO transfer Khyree Jackson as the odd-man out. Jackson played sparingly in 2021, seeing most of his time in the Tide's last few games, filling in for an injured Josh Jobe. Against some of Alabama's best competition, the junior played exceptionally well, and seemed to have solidified himself as 2022's starter prior to Ricks' transfer.
While this is certainly a good problem to have for Pete Golding and Travaris Robinson, it does provide some question marks as to how each player's skillset can best be utilized.
Though he doesn't come with the five-star pedigree of Ricks or McKinstry, Jackson is a lengthy, athletic corner that has already proven himself against some of the country's best competition.
Rising Defensive Stars
Kendell - Terrion Arnold
You won't find a more talented group of defensive backs in the country than what Alabama has on its roster. Eli Ricks, Kool-Aid McKinstry and Khyree Jackson are the most likely candidates to start, but Arnold is in the mix to earn second-team reps in the fall. 
Arnold, a five prospect in the 2021 recruiting class, has the versatility to play corner and safety. He shows tremendous ball skills and is a sound tackler in space. Alabama was without its top two cornerbacks in the final stretch of the 2021 season, including the College Football Playoff. It's important to have depth in the backend and Arnold provides that.
Mason - Deontae Lawson
The Crimson Tide lost last year's starter Christian Harris to the NFL Draft, so this season will see a new face at interior linebacker opposite Henry To'oTo'o.
While many expect this role to be filled to be program veteran Jaylen Moody, rising sophomore Deontae Lawson could be the sneaky favorite to win the job.
Lawson is a 6-foot-2, 225 lb. hammer that saw time in just four games last season, but wowed in the spring period. Saban said of the young linebacker in April, "I see maturity in [Lawson]. I see better knowledge and confidence in what he's supposed to do and how he's supposed to do it. I've been pleased with the way he's practiced and developed and the toughness and the instincts that he's showing. So we're encouraged."
Position Previews
Kendell - Cornerbacks
Cornerback will be one of more intriguing battles during fall camp. Eli Ricks, Kool-Aid McKinstry and Khyree Jackson are all in the mix to start this season. Ricks transferred to Alabama in December after two seasons at LSU. The former five-star recruit was the only true freshman in the country to earn All-American honors in 2020. Though he possesses elite physical traits, Ricks is no guarantee to start in the fall. 
McKinstry appeared in all 15 games as a true freshman in 2021, including six starts. The top ranked cornerback in his recruiting cycle earned Freshman All-SEC Team recognition and proved he deserved a spot on the field.
Jackson saw action in 12 games and started each of Alabama's matchups in the College Football Playoff because of injuries to Jalyn Armour-Davis and Josh Jobe. He looked more comfortable in the spring and earned first-team reps opposite of McKinstry. 
Terrion Arnold and Jahquez Robinson will be competing for one of the backup roles. Trequon Fegans and Earl Little Jr. signed with Alabama in the 2022 recruiting class, and will provide extra depth to a stacked unit. 
Brian Branch and Malachi Moore will occupy the the Star and Money position (fifth and sixth defensive backs). The two juniors have been competing for the starting Star position the last two years at Alabama. Moore started 11 games in 2020 and a majority of the games last season, before being hampered by injuries at the end of each year. Branch started the final four contests of the 2021 season and excelled in the College Football Playoff which earned him first-team reps in spring practice. 
Mason - Linebackers
Henry To'o To'o is the quarterback of the Crimson Tide defense. A former Tennessee Volunteer, To'o To'o was a four-star recruit in the 2019 cycle and joined Alabama ahead of the 2021 season. While he showed flashes of greatness in his lone year as a starter, the highly touted transfer left a lot to be desired for many.
Now, with another full offseason of learning the system and becoming familiar with Pete Golding, expect the Concord, CA native to take a massive leap.
Opposite To'o To'o, at the other interior linebacker spot, is a fierce competition between the aforementioned Deontae Lawson and Jaylen Moody. While Moody has the upper hand in experience, he lacks the upside of a player like Lawson. Both could feasibly take over this season, but until Week 1, we likely will not know.
Behind To'o To'o and either Moody or Lawson are former four-star recruits Demouy Kennedy and Kendrick Blackshire. While neither have seen much meaningful experience, both are expected to be high level players.
As for the outside linebackers, Alabama returns the country's best pass rush duo in Will Anderson and Dallas Turner, who combined for a whopping 26.0 sacks last season. Anderson is an early favorite to earn a spot in New York at this year's Heisman ceremony, and Turner showed even greater potential, as a freshman, than the Terminator himself.
Behind Anderson and Turner is another player expected to be a unstoppable force off the edge, Chris Braswell. Braswell, as previously mentioned, was a five-star recruit and possesses all the physical traits of an elite pass rusher.
Backing up the three-headed monster of edge rushers are even more potential stars. Quandarrius Robinson and newcomers Jeremiah Alexander and Jihaad Campbell will all three provide excellent depth.
Kendell - Safeties
Jordan Battle is the unquestioned leader of the Alabama secondary. A veteran of the program, Battle is one of the biggest voices in the Crimson Tide locker room. He has started 32 career games across three seasons. 
He elected to forgo the NFL draft after earning first-team All-SEC and third-team All-American honors last season, and returns to an even stronger than unit than in previous years.  
Battle's counterpart, DeMarcco Hellams, has appeared in 41 career games wearing the Crimson and White. Last season, he became a full-time starter, finished third on the team in tackles and tied for first in interceptions.
Sophomores Kristian Story and DeVonta Smith provide depth behind the experienced duo.
Story, a former high school quarterback has settled into his role at safety. The redshirt sophomore appeared in 12 games last season, working primarily on special teams. He is the biggest safety on the roster listed at 6-foot-1 and 211 pounds.
Smith saw action in nine games last season as a true freshman, also working primarily on special teams. The Tide added Antonio Kite and Jake Pope in the 2022 recruiting class who will both likely see time on special teams this year.
Mason - Defensive Line
Alabama features an underrated group of interior defensive linemen this season, beginning with Byron Young.
Young has experience in 41 career games and has been a consistent disruptor on the Crimson Tide defense in his entire time with the team. Standing at 6-foot-3, 292 lbs. he has more than enough size to clog up running lanes, but is also effective as a pass rusher.
Rounding out the starters, Alabama features fellow seniors D.J. Dale and Justin Eboigbe who also have a lot of combined experience between the duo. Dale and Eboigbe were both four-star members of the Tide's top ranked 2019 recruiting class.
As for the backups, the Tide is, as usual, extremely deep on the defensive front.
Junior Tim Smith will likely lead the rotation, but behind him is a bevy of four and five-star players eager for an opportunity. Jamil Burroughs and Jah-Marien Latham are likely the next two players up with Tim Keenan, Monkell Goodwine, Damon Payne, Jr. and exciting freshmen Jaheim Oatis and Khurtiss Perry falling in behind.
Iconic Photos From Alabama's 18 National Championships
Claimed or recognized, no FBS football program has more national championships than the Tide. Look back on all 18 titles in Alabama history with these photos.
Highest Rated Recruits of the Saban Era By Year
Check out Alabama's highest-rated recruit from each Crimson Tide recruiting class during the Nick Saban era.
More From Tuscaloosa Thread