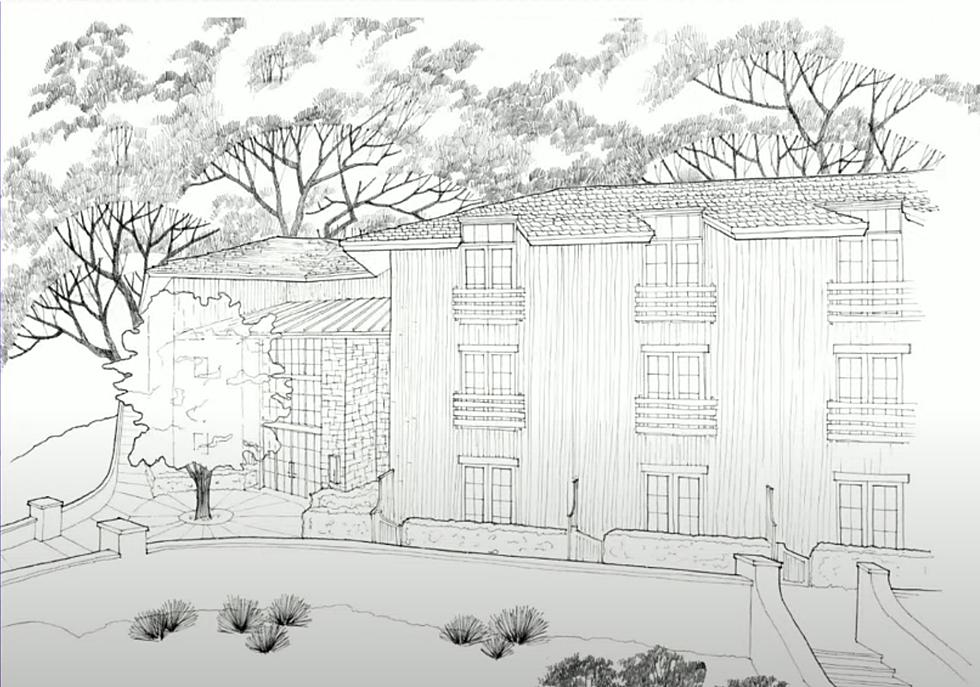 City Hears Pitches for $57 Million Lake Tuscaloosa Resort Hotel, New 15th Street Starbucks
(City of Tuscaloosa)
The Tuscaloosa City Council is weighing whether to grant tax incentives to separate developers proposing vastly different projects - a $57 million resort hotel on Lake Tuscaloosa and a new Starbucks drive-thru on 15th Street.
The council's finance committee met Tuesday afternoon and heard pitches from two groups looking to utilize a seldom-mentioned municipal program called Invest Tuscaloosa to secure tax abatements on these major projects.
Invest Tuscaloosa was proposed in 2017 to incentivize developers to combat blight, create jobs, and provide "catalytic enhancements and place-making change" to areas of the city in need or revitalization - its sudden popularity with developers comes after Stan Pate asked for and received abatements for a new Guthries on Skyland Boulevard earlier this year.
PROJECT GILMORE
The first pitch came from developer Andy Turner, founder and broker of Spaces Management, who asked the council to support "Project Gilmore," a plan to create a $57 million 116-key boutique resort hotel with a mix of rooms and cabins next the NorthRiver Yacht Club.
The yacht club and golf course will continue to be owned and operated by the golf and hospitality specialists at Troon and separate from what the team at Spaces is working on.
Turner said the group aims to develop The Jack Hotel and Spa, the Hill House Condos the Thread reported last year and the renovated Captain's Club Marina, granting access to the massive and beautiful Lake Tuscaloosa.
"Project Gilmore, we've been working on this for quite some time and it's probably the most exciting project I've been a part of in my career," Turner said. "This project is also private development and we acquired the [56-room] Jack Warner Inn that has been there since 1981 and also purchased the Anchorage building, which previously served as the museum at the property."
The new concept would feature around 66 rooms to rent in the renovated inn and 50 new standalone cabins for 116 keys, more or less. Other proposed features include an 11,000-square-foot restaurant, a pool with poolside dining, a fitness center, a speakeasy and a spa.
Turner said the project's price tag of just over $57 million reportedly exceeds the cost to build both downtown Tuscaloosa's Embassy Suites and the ultra-luxe Saban-backed Alamite Hotel combined.
Turner said the concept is similar to other southeastern specialty boutique hotel resorts including High Hampton and the Swag in North Carolina, Blackberry Farms in Tennessee and Palmetto Bluff in South Carolina.
"Those have kind of served for the inspiration for the design and layout of the properties but also the service levels we are seeking to achieve here to really create a national resort destination," Turner said. "We're really trying to build a product that is going to draw, year-round, people to come to Tuscaloosa so they can have an experience and the combination of this with what we're doing at the lakefront and giving people access to that creates a really unique destination."
Turner is asking for an incentive package worth around $8 million through lodging tax abatements, the waiver of building and permit and impact fees and a direct job grant for creating 75 new jobs. He estimated Project Gilmore will generate more than $44.5 million in tax revenue for the city of Tuscaloosa over a 20-year period.
ANOTHER STARBUCKS
After Turner's presentation, attorney James Hill spoke on behalf of RJ Developments with a pitch to open a new drive-through-only Starbucks on 15th Street.
RJ Developments is a Montgomery firm that specializes in developing new locations for national retailers including Publix, Walgreens, Chick-fil-A and, of course, Starbucks coffee.
Brice Johnston, a partner at RJ Development, said Starbucks desperately wants to open another location in that corridor and seeks to replace the old T-Town Tire at 405 15th Street despite the proposed site being only a mile from the existing cafe by CVS across from University Mall.
"This is the direction we were given by the powers that be in the real estate department at Starbucks," Johnston said. "They have an existing store as you know on 15th Street that has got some, frankly, overflow problems. Their sales are very strong, but they do have some traffic issues they want to remedy and it's as much a safety concern as it is an opportunity for them."
The city's other Starbucks cafes across town and on the University of Alabama campus will all remain open, he said.
"In a high-density area like Tuscaloosa with the traffic volumes it has, [stores] can get closer together," Johnston said. "Especially with the student dollars that are moving through Tuscaloosa, they see that as an opportunity in a high-priority area for Starbucks generally and one of their highest priorities even nationwide, believe it or not."
Hill said the coffee giant wants to demolish the tire store, clean up some on-site automotive oil contamination, and build a 1,275-square-foot drive-thru Starbucks at the site next to Domino's Pizza. He said they aim to be open by August 2025.
"The product we're going to put on the ground we think addresses what is some existing blight in the city in that particular area," Hill said.
The developers are asking for a 50 percent sales tax abatement for 10 years, or of a maximum $625,000.
NEXT STEPS
No vote was taken to advance either proposal on Tuesday. Instead, Lee Busby, the chairman of the finance committee, said its members would take time to digest both pitches and decide the next steps.
"We'll now take this presentation, socialize it among ourselves and back in our districts and if a council member wants to bring a proposal to the agenda to start negotiations, we'll entertain that," Busby said. "And if the mayor or staff want to bring it, we'll entertain that as well."
For more updates on the Jack Hotel & Spa and the proposed 15th Street Starbucks as well as other exclusive updates on restaurant and retail development in West Alabama, stay connected to the Tuscaloosa Thread.
Restaurants and Retailers Who Opened or Announced in Tuscaloosa in 2023
A running list from the Tuscaloosa Thread of all restaurants and retailers who have opened, announced plans to come to the area or relocated so far in 2023.
Gallery Credit: (Stephen Dethrage | Tuscaloosa Thread)
Top Stories from the Tuscaloosa Thread (10/23 - 10/30)
13 of the Top Stories published by the Tuscaloosa Thread during the week of October 23rd, 2023)
Gallery Credit: (Stephen Dethrage | Tuscaloosa Thread)
More From Tuscaloosa Thread