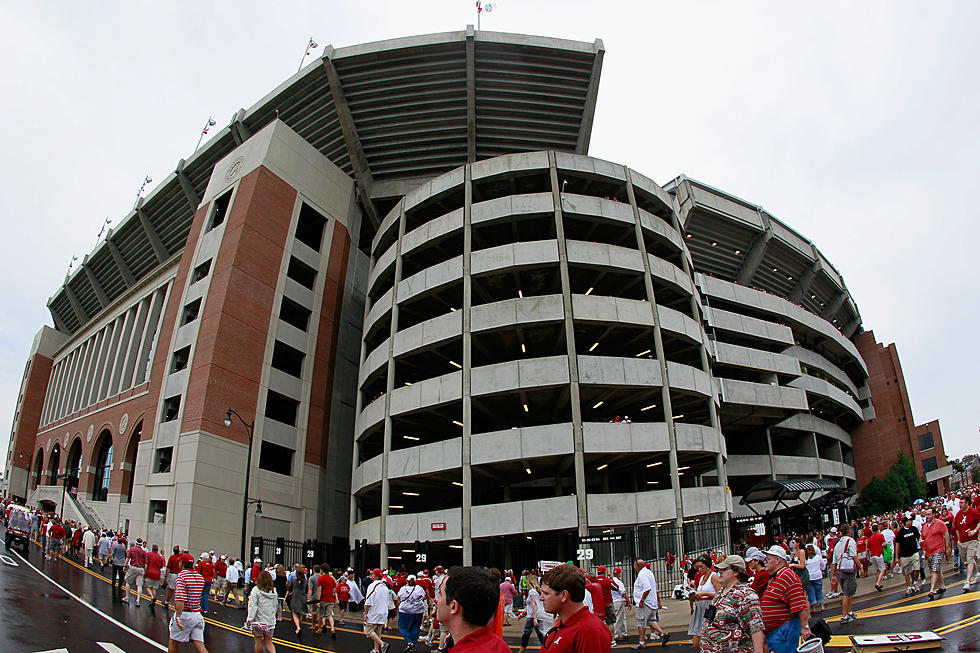 Byrne: 20 New Elevators Coming to Bryant-Denny Stadium — Eventually
Getty Images
Anyone who has hiked up the spiraling ramps of Bryant-Denny Stadium to get to their seats in the venue's upper deck knows it's a long and taxing walk to get there, but relief is coming, even if it's a long way off.
Greg Byrne, the Athletic Director of the University of Alabama, said long-term plans are in the making to add around 20 elevators to the stadium, although it will likely be several years before they come to fruition.
During an information-packed luncheon addressing members of the Chamber of Commerce of West Alabama last Friday, Byrne said the existing system asks a lot of the upper deck audience.
"I'm not being critical of anybody, I understand why we did what we did at the time, but when we did that, upstairs, we mostly just built roundabouts to get everybody up there," Byrne said. "I'm in pretty good shape and that's a walk, right? And so we need to work on that, and we've got to work on our restrooms and concessions."
Byrne said adding elevators to the stadium is included in Phase Three of the Crimson Standard, an ambitious, 10-year, $600 million capital initiative meant to modernize and enhance nearly every athletic facility at the University of Alabama.
"Phase Three is to really do two things when that time comes — and it's going to be in the millions and millions and millions of dollars to do this — including getting our ingress better, to get people up to the upper decks because that's 40 percent of our ticket base and they're aging," Byrne said.
Phase One of the Crimson Standard included the $100 million renovation of Bryant-Denny Stadium and improvements to Rhoads Stadium, UA's golf facilities and the Mal M. Moore Athletic Complex.
Phase Two, which is in its early stages and has been plagued by pandemic-related delays, centers on the complete transformation of 52-year-old Coleman Coliseum, which houses Alabama men's basketball, women's basketball and gymnastics programs.
During the same luncheon, Byrne said fundraising efforts for the Coleman project are underway, and all options are still on the table, including a top-to-bottom remodel or even the construction of an entirely new arena.
As part of Phase Three, the dream of these new elevators inside the Stadium is still years away from being realized, and Byrne said Friday that fundraising efforts will have to continue in earnest to finance the project.
"Every new elevator costs $1 million, and that's pre-COVID," Byrne said. "Each new elevator we add is a million bucks, so all of a sudden, you add 20 new elevators — which probably is what we would need — that's $20 million before COVID."
For more coverage of Byrne's comments at the luncheon, check out the links below.
GREG BYRNE SCRATCHES TWO SONGS FROM THE BRYANT-DENNY STADIUM PLAYLIST
GREG BYRNE: NOT EVEN ALABAMA ATHLETICS IS IMMUNE TO WORKFORCE SHORTAGES
BASEBALL: DBYRNE AIMS AT RETAINING THE STATE'S BEST PROSPECTS
Alabama Athletes With NIL Deals
The biggest evolution in college athletics history is here. Check out which current Alabama athletes hold NIL deals in this ever-expanding and changing photo gallery.
Starting Alabama Quarterbacks Under Nick Saban
Here is every quarterback that has started for the Crimson Tide under Nick Saban.
Top Stories From The Tuscaloosa Thread (9/27-10/01)
More From Tuscaloosa Thread