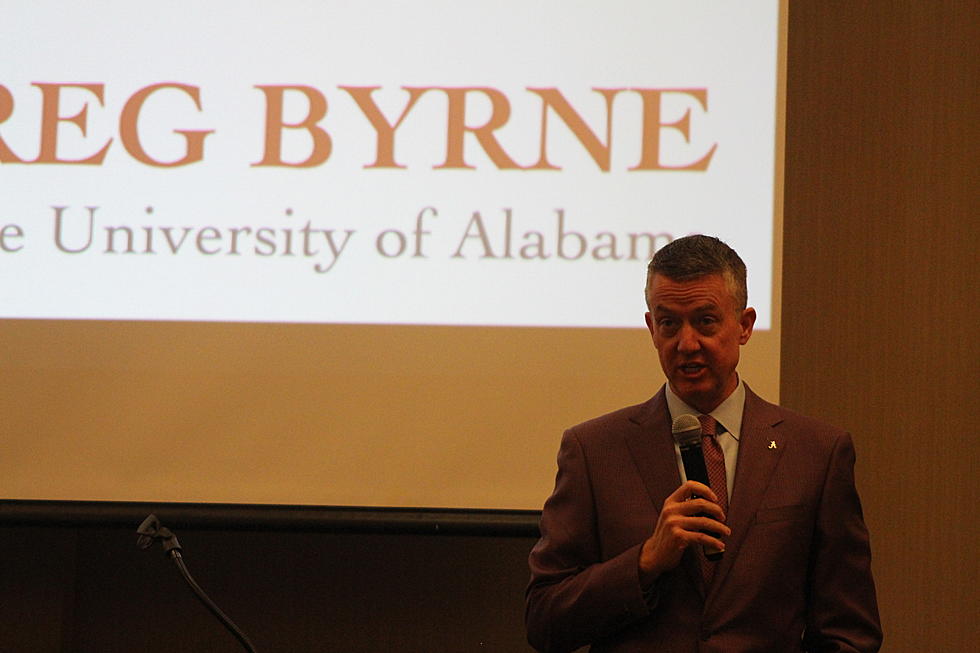 Greg Byrne: Not Even Alabama Athletics Is Immune to Workforce Shortages
(Stephen Dethrage | Tuscaloosa Thread)
Workforce shortages continue to plague employers across the country, and not even the vaunted Alabama Athletics Department is immune to the problem, UA's Athletics Director Greg Byrne said during a luncheon Friday.
While addressing members of the Chamber of Commerce of West Alabama, Byrne said he was shocked when almost half of the department's GameDay event staff failed to show up to work during the Crimson Tide's first home game against the Mercer Bears last month.
"You see restaurants that are not open right now, right?" Byrne asked the business and community leaders gathered to hear him speak at the Embassy Suites. "We had 40 percent of our work staff that were signed up to come work GameDay -- not our staff, but GameDay workers -- they just didn't show up."
That shortage meant a pain point in one places in particular -- at the gates of Bryant Denny Stadium where fans' digital tickets are scanned.
"We're in a new world with electronic tickets and our first game against Mercer, we did not do a good job," Byrne said. "You hear that? We take responsibility and we did not do a good job. That starts with me. That's my leadership and I didn't do a good job with that."
Byrne has never been one to sit on his hands and just lament a bad situation, though. He said after the Mercer game, he and dozens of other Alabama Athletics employees donned yellow shirts and started working shifts at the Stadium themselves.
70 of the department's employees worked the gates for Alabama's matchup with Southern Miss on September 25th, and even more were working when the Tide hosted Ole Miss last Saturday.
"One of the things I believe in -- never ask anybody to do anything that you're not willing to do yourself. If I see trash, I'm going to pick it up and I expect everybody else to do the exact same thing," Byrne said. "When you create a culture where everybody feels that they are doing something to make the organization better, you're going to be as good as you possibly can be."
Byrne also said he is not satisfied with the concessions experience in the Stadium, where some stands were built in the 50s and have not been upgraded in years.
Long-term solutions include better incentivizing GameDay workers, Byrne said, as well as studying how well mobile ticketing has worked this season and evaluating if it's the right fit for the Tide going forward.
Byrne also said fans can expect a modernization of the concession stands in Bryant Denny, but those upgrades are likely still years down the road.
How Do Fans Sing 'Dixieland Delight' in Tuscaloosa, Alabama?
Alabama football fans add
a few extra lyrics
to 'Dixieland Delight' when it's played on the speakers in Bryant-Denny in Tuscaloosa, Alabama. What are they singing? And Why?
Alabama vs. Florida - Week 3 2021
Alabama took down Florida 31-29 in the SEC season opener for both schools.
Top Stories From The Tuscaloosa Thread (9/27-10/01)
More From Tuscaloosa Thread