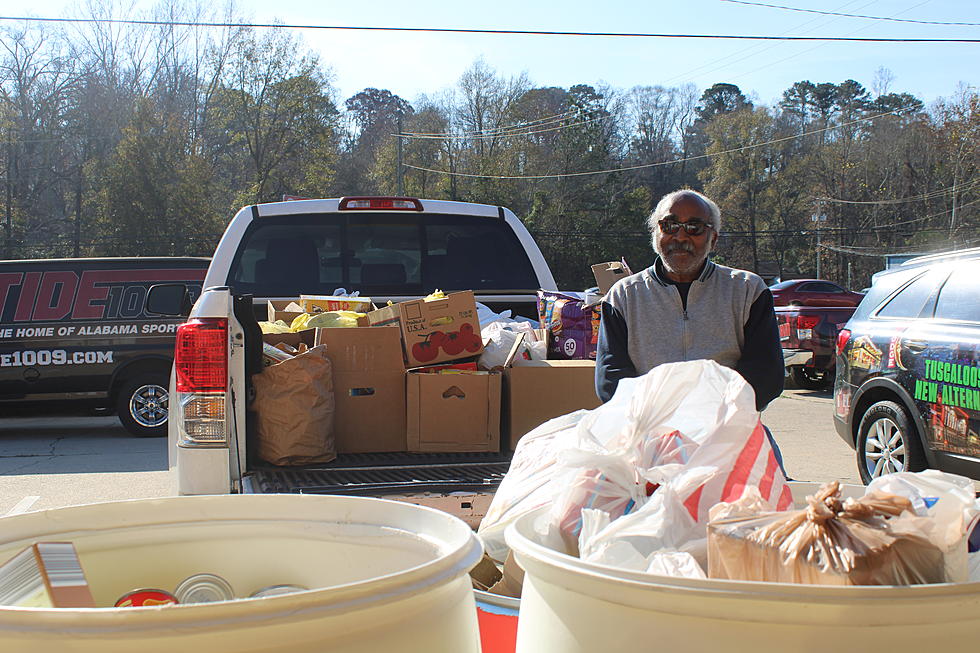 Tuscaloosa Gospel Station Collects 2,000 Pounds of Food For Holiday Donations
(Stephen Dethrage | Tuscaloosa Thread)
A gospel radio station in Tuscaloosa collected a literal ton of food this month during its annual Thanksgiving and Christmas donation drives.
The station, Praise 93.3 WTSK The Truth, has asked its listeners to give to those in need every year since 1965, and this year's event ran for one week before Thanksgiving then again during the first two weeks of December.
Brother J, a longtime host on WTSK, gave 829 pounds of donated non-perishable food items to the West Alabama Food Bank last month after the Thanksgiving food drive.
On Wednesday, a team from the food bank was back at the offices of Townsquare Media Tuscaloosa to pick up another 1,236 pounds of goods that had been donated to the radio station for the December portion of the drive.
All told, listeners donated 2,065 pounds of food during this year's drive, as well as a large supply of toiletries and other items that Brother J said would be sent to parts of Kentucky devastated by deadly tornadoes last weekend.
"I am just so excited we're still doing this great service after 56 years," Brother J said Wednesday. "We are using this Heritage station to continue a really important tradition and doing for those who are unable to do for themselves."
Mary K, the brand manager of WTSK, 92.9 WTUG and 105.1 the Block in Tuscaloosa, praised Brother J for keeping such an important tradition alive and promised that even more charitable events would follow soon.
"Brother J is the heartbeat of the Tuscaloosa community. He has impacted West Alabama with his food drive for 56 years and he looks forward to year 57," Mary K said Thursday. "Praise 93.3 has more donation drives planned in 2022 to help with food and need-based insecurities in our area."
For more on those events as they occur, stay connected to the Tuscaloosa Thread.
Editor's note: WTSK and the other radio stations mentioned in this report are owned and operated by Townsquare Media Tuscaloosa, which is also the parent company of the Tuscaloosa Thread.
Top Stories From The Tuscaloosa Thread (12/06-12/10)
More From Tuscaloosa Thread