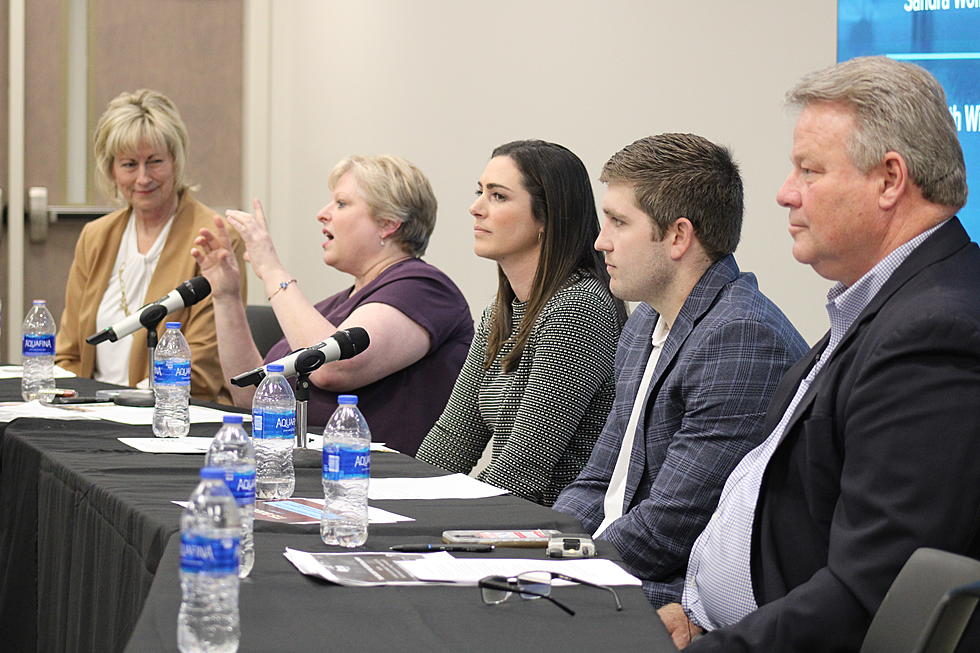 West Alabama's Quality of Life is Good and Getting Better, Experts Say in Panel
(Stephen Dethrage | Tuscaloosa Thread)
Continuing to improve the quality of life in West Alabama is key to recruiting and keeping workers in the area, a panel of experts said Wednesday afternoon.
The conversation was the sixth event in the Chamber of Commerce of West Alabama's Next Level Series — seven different public forums that seek to examine all aspects of life in the Tuscaloosa area through discussions with top leaders from the public, private and non-profit sectors.
The conversation was moderated by Elizabeth Winter, a Regions Bank executive who also served as the chair of the Chamber's board of directors last year.
Winter said discussions about quality of life are paramount for any business community because the majority of young jobseekers are generally choosing the area in which they want to live before trying to find opportunities to work there. If Tuscaloosa wants to continue to grow and thrive, it must always put its best foot forward to draw young talent into West Alabama to fill thousands of existing and soon-to-come job opportunities.
The panel featured Kelsey Rush and Stan Adams from Tuscaloosa Tourism & Sports, Gary Minor, the president of the Tuscaloosa County Park & Recreation Association, Amy Echols, the Executive Director of the Kentuck Art Center and Sandra Wolfe, the Executive Director of the Arts and Humanities Council of Tuscaloosa.
Rush and Adams talked about the evolving role of the "small but mighty" team at TTS, which under the leadership of President & CEO Don Staley has evolved into a premier destination marketing organization that seeks to draw visitors to Tuscaloosa while also providing elite entertainment options for its residents.
"A DMO is seen as a community asset that is responsible for promoting programs that make Tuscaloosa an attractive destination, we enhance our economic position and we promote Tuscaloosa County as a great, dynamic place to live, work, play and visit," Rush said.
TTS also works closely with the quietly titanic hospitality industry in Tuscaloosa, which is often overlooked as a major economic driver locally but employed more than 9,000 people in the area in 2019 before the pandemic caused those numbers to drop.
Minor said PARA operates nearly 50 parks and activity centers in the county and employs 100 full-time workers and 230 part-timers. More than $4 million of PARA's annual revenue comes from its own memberships and activity fees, but another $7 million comes from funding provided by the city of Tuscaloosa and the Tuscaloosa County Commission. Northport also gives PARA funding annually, but significantly less than the other two governments.
Minor said parks and recreation is about more than just giving children and retirees a way to pass the time -- he cited studies linking excellent parks to a healthier, happier population, higher quality of life and reduced rates of violent crime.
"What we do in the future, we want to continue to grow, to evolve into an elite agency," Minor said. "We want to be a part of the experience economy here, to partner with the city and the county and Northport to become a destination and we want to use our unique resources to stand out in the area."
Shifting the conversation to the arts, Echols and Wolfe said the Tuscaloosa area has a sometimes underappreciated embarrassment of riches in its thriving arts scene.
"The arts make Tuscaloosa a special place, so we want to be able to leverage what's happening in our arts community and to support that," Wolfe said. "The Arts Council's mission is to promote and encourage the arts and humanities within Tuscaloosa and West Alabama."
The Council serves as an umbrella organization for 50 member organizations and partners with PARA to operate the historic Bama Theatre in downtown Tuscaloosa as well as the Dinah Washington Cultural Arts Center a block down the road.
Echols talked about the Kentuck Arts Center and their annual Arts Festival, which drew 20,000 to Northport for its in-person return last year.
Rather than rehashing her own talking points about Kentuck, Echols read an email from New York Times journalist Claudia Dreifus, whose praise was effusive.
"The Kentuck Center and its Festival is a special Alabama treasure, and your state is a unique American focal point, an aggregate of history, experience and culture somehow making Alabama remarkably rich in vernacular art," Dreifus wrote. "This is your resource, like oil and gas are to Louisiana, like manufacturing once was to Birmingham."
Leaders from the four organizations represented Wednesday praised the cooperation and connections fostered between themselves, local governments and organizations like the Chamber, all of whom are working together more than ever before to improve life in Tuscaloosa.
Their mood was also universally optimistic about the future, as Tuscaloosa Mayor Walt Maddox's Elevate Tuscaloosa tax plan and the similar Northport First initiative both promise to invest millions of dollars in quality of life improvements in the area in the years to come.
The Next Level Series will wrap up next Wednesday with a conversation about public education and ways the community can support our educators and students.
All the lessons learned in the seven-session Series will culminate in the Next Level Summit, a three-day event at Ross Bridge in Hoover during which the Chamber will shape its next five-year plan.
For more coverage of the Series and Summit as those events unfold, stay connected to the Tuscaloosa Thread.
Top Stories from the Tuscaloosa Thread (3/21 - 3/27)
11 of the Top Stories published by the Tuscaloosa Thread during the week of March 21st, 2022.
More From Tuscaloosa Thread