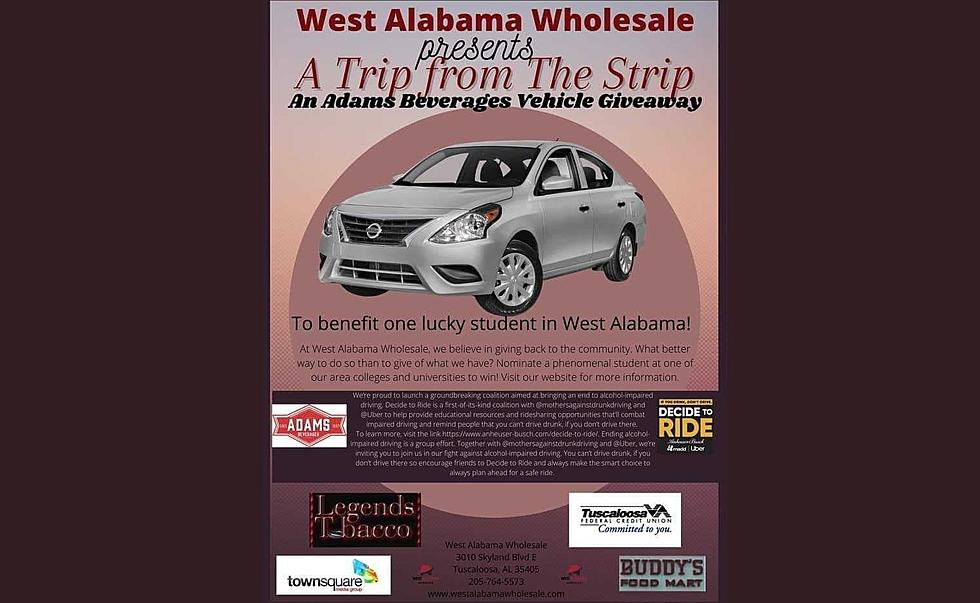 Tuscaloosa Dealership to Give Free Car to Local College Student
(West Alabama Wholesale)
A used car dealership in Tuscaloosa is partnering with several other businesses to give away a free car and more to local college students in need.
Tre Lanier, the director of marketing and a sales consultant for West Alabama Wholesale, said the giveaway will take place on March 25th.
He said the dealership wants to give a reliable vehicle that is inexpensive to maintain to a student in need in the area. The car they choose to give away will depend on what's available at the lot at the time, but Lanier said it will likely be an economical Nissan or Honda sedan.
The dealership will also give away a new computer, a TV, gas cards, a desk and more prizes next month.
To enter the giveaway, the student must be 19 or older, taking college classes and submit an essay of more than 225 words explaining how a vehicle could change their lives.
"We want someone to tell us what a vehicle would do for them," Lanier said. "We're also going to give away a computer, a desk set up with everything that a student needs to help them succeed, to help a local student get past that place where they can breathe a little bit."
Lanier said the car will also come with a warranty and, if possible, free oil changes so that the gift does not create an unintentional financial burden on its recipient.
He thanked all sponsors who have already helped make the giveaway possible, including Adams Beverages, the Tuscaloosa VA Federal Credit Union, Legends Tobacco, Buddy's Food Mart and Townsquare Media Tuscaloosa, the parent company of the Tuscaloosa Thread.
Any other sponsors looking to participate in the giveaway can call the dealership at 205-764-5573 or visit them at 3010 Skyland Boulevard in Tuscaloosa.
Essays for students looking to enter the contest can be submitted at the dealership or to any of the participating sponsors, Lanier said.
Top Stories From the Tuscaloosa Thread (2/21-2/27)
14 of the Top Stories Published by the Tuscaloosa Thread from the week of February 21st, 2022.
More From Tuscaloosa Thread