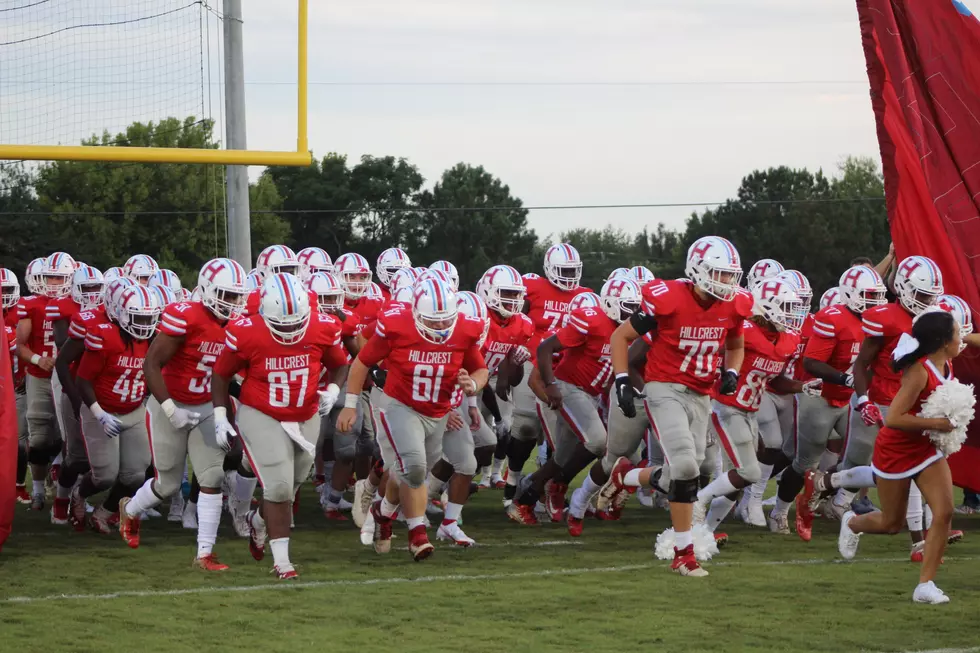 West Alabama High School Football: Week 3 Preview
(James Benedetto)
Last Week's Picks: 4-2
This Season's Picks: 4-2
Week two of Alabama high school football season is in the books, so that means one thing- area play. Nearly every high school in west Alabama is taking on an area foe, and TIDE 100.9 will be covering it.
Northridge Jaguars (2-0, 0-0) @ Paul Bryant Stampede (0-2, 0-0)-
Entering area play, the Jaguars and the Stampede seem to be heading in opposite directions. That being said, it's only week three.
Northridge came out strong in the first two weeks with two big wins over Sipsey Valley and Central Tuscaloosa. The Jaguars' defense has been stifling. They have only given up six total points this whole season. On the other side of the ball, head coach Mike Vickery is insistent on establishing a rushing attack, passing less than ten times last Friday. Northridge has scored all of their touchdowns this season on rushes. In total, Northridge has scored 71 points.
Paul W. Bryant High had a tough week one matchup against a T-County team that has a chip on their shoulder. After being shut out 35-0, the Stampede put up a close fight against Minor High.
Bryant's Pick: While the Stampede has plenty of time to work out kinks, Northridge has two weeks of momentum stored up. Paul Bryant won last year, but Northridge will walk away victors this time around.
Tuscaloosa County Wildcats (1-1, 0-0) @ Thompson Warriors (2-0, 0-0)-
Tuscaloosa County is close- very close to being undefeated heading into week three. A big win against Paul Bryant in week one allowed the Wildcats to flex their muscles. Going into week two though, T-County had a tough rivalry matchup against Hillcrest that they lost in a heartbreaker in the fourth quarter. Unfortunately for the Wildcats, they are running full speed into the buzz saw that is Thompson.
The Warriors have now made it to back-to-back state title game appearances ('18, '19) and they show no sign of slowing down.
Bryant's Pick: While I'm taking Thompson in this matchup, Tuscaloosa County has a big opportunity here. If the Wildcats can give Thompson a fight, then it will give them momentum for the rest of area play.
Brookwood Panthers (0-2, 0-0) @ Hillcrest Patriots (2-0, 0-0)-
Brookwood dropped a game to Gulf Shores High last week. Between that loss and their week one loss to West Blocton, the Panthers have struggled to find their stride. Since 2014, they have only won two area games, but if Brookwood can upset Hillcrest, the Panthers can turn it around.
Hillcrest has started hot this year with two big wins over Homewood and Tuscaloosa County. Where it stands now, the Patriots and Northridge seem to be the two Tuscaloosa teams to beat. That being said, the Patriots need to stay focused. Brookwood could be a trap game, but if head coach Sam Adams can keep the team focused then this could be a huge statement win for Hillcrest as they enter area play.
Bryant's Pick: Hillcrest is a tough team to beat, and while Brookwood is still looking for their first win, I am going to take the Patriots here.
Demopolis Tigers (2-0, 0-0) @ Central Falcons (1-1, 0-0)-
Demopolis has looked dominant so far with two huge wins over 6A teams- Calera and McAdory. The Tigers took down Central last year at home, but this time around, the Tigers will be coming to Tuscaloosa.
Central lost to Northridge last week in a tough game, but don't let that distract you from the Falcons' offensive firepower. Running back Markelious Furr leads the Falcons in rushing yards and is emerging as the star of the team.
Bryant's Pick: While Demopolis is off to a good start, Central is looking for a crucial "turn around" game to keep their season on track. This will be a close one, but Central will walk away with a win here.
Gordo Green Wave (2-0, 0-0) @ Oak Grove Tigers (0-2, 0-0)-
Gordo is Gordo- a strong behemoth of a football team that has won their region five of the last six years. The Green Wave got over the Aliceville hump last week with a commanding win, and this week looks to be the same.
Oak Grove and the Green Wave last played in 1983, and Gordo won 21-10. Oak Grove won the state title that year, but as Region 5 of 4A welcomes the Tigers back, the area is in new hands.
Bryant's Pick: Gordo is on a mission this year. For several years now, they haven't been able to get to their allusive "blue map." This is why I am taking Gordo in a big win this week.
American Christian Patriots (2-0, 0-0) @ Montevallo Bulldogs (0-2, 0-0)-
All-time against the Bulldogs, ACA is 3-1. Last year, the Patriots put on a show with an 84-30 beatdown over Montevallo. Yeah- you read that right. Like last year, the Patriots' offense is powerful. In two games, they have scored 80 points.
As of recently, the Bulldogs have struggled. In week one, they gave up a game to Marbury in a forfeit. Last week, they lost a close one to Shelby County. Head coach Blake Boren has a tough first season ahead of him as the head of the Bulldogs. That being said, in 2020, anything can happen.
Bryant's Pick: While ACA will be hitting the road down to Montevallo this week, the bus ride back will be a victorious one. The Patriots will win another big one- just not an "80-burger."
Also in the Tuscaloosa area, Tuscaloosa Academy (0-1, 0-0) will look to avenge their loss last week when they host the Fort Dale Academy Eagles (0-1, 0-0).
Northside High (2-0, 0-0) will look to keep their unblemished season hopes alive with a home matchup against Haleyville High (2-0, 0-0).
Finally, after only winning a single game last year, Hale County will look to flip the script against a strong Montgomery Academy (2-0, 0-0) team.
Enter your number to get our free mobile app
Top-10 All-Time Rushers
More From Tuscaloosa Thread