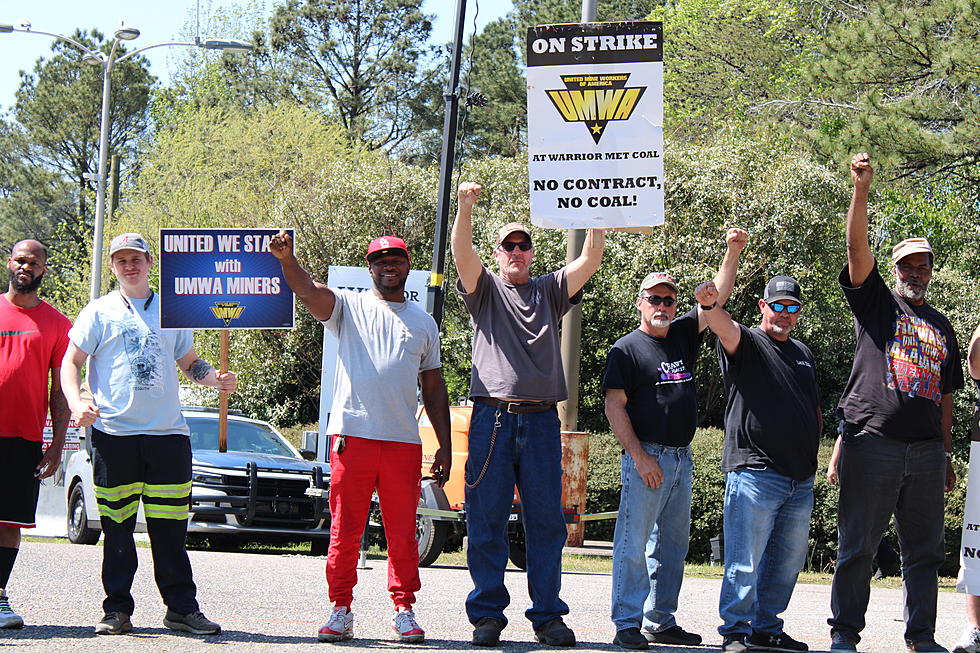 Tuscaloosa County Coal Miner Strike Continues, End May Be Near
Tessa Worley, Townsquare Media
Workers at the Warrior Met Coal mine in Brookwood have been on strike since last Thursday to fight back against what they consider "unfair labor practices" such as having pay deducted for lunch breaks and being forced to work almost every holiday.
Jeff Fleenor is a heavy equipment operator who has been an employee at the company for 16 years. He said that Walter Energy, the company that owned the mine before Warrior Met Coal, went bankrupt in 2015, which forced the workers to sign contacts they now see as unfair.
"[When] Warrior Met Coal took over [the company,] part of the deal was we took concessions to keep the company going they said if we didn't take it, then they weren't going to take over the company and they would just close [the mines] down," Fleenor said.
Now that the company has prospered, the employees want back what they had to give up.
"A lot of us guys that were leftover from the Jim Walter days took a lot of concessions and stuff to get this company back on their feet and [now that] they've gotten back on their feet, and they've prospered we want to be respected," said Fleenor. "We don't want to be worked like a mule, and we want to start getting [back] some of the stuff that we give up to make sure that the company was prosperous."
Dwayne Mitchem has worked as an electrician in the mines for 25 years and says he is striking "because the company is getting all the wealth and [the workers are] getting all the crumbs."
"They're not even giving us a lunch, they deduct 30 minutes out of our pay for lunch," Mitchem said.
Another worker, Charles Bauer, said, "We drop 1,800 feet underground, go two and a half miles out to work, and they expect you to be at your workstation and eat your lunch. If you can, whatever. If you can't, you don't get they still gonna dock you."
Bauer said he has worked at the mine for around 10 years.
Mitchem said that his lunch deductions add up to $5,000 - $7,000 a year, depending on a worker's salary.
Another practice that the workers consider unfair is the lack of time off. Rily Houghlett has been a roof bolter for 13 years and said that as an active member of his church congregation, it is important to him to have Sundays off.
"When you work six days a week, 10 -11 hours a day, Sunday is a day you spend with your family. I mean, that's the only time you get [because] you're here every waking hour almost," said Houghlett.
Houghlett also says that the employees have lost their grad days.
"After you've been here five years in the union, you get an extra day off," said Houghlett. "Mine work is not only dangerous, it's hard, and there's a certain amount of fairness [that] should be given to all of us."
Mike Sexton, a motorman at the mine for nearly a decade, said workers only have three holidays off work each year.
"Holidays, man, they make us work Fourth of July, and you can't replace Fourth of July," Sexton said.
"The only holidays that we don't work are Thanksgiving, Christmas Eve and Christmas," Fleeson said.
Mike Wright, a 16-year employee who works as a mine operator and serves as the chairman of safety, said that workers are also not given any extra pay for working holidays.
Moses Moore, a 15-year employee who works as a long wall helper and is a member of the mine committee, said that not having Veterans Day off is "a slap in the face."
Moore said he has four brothers in four different branches of the military.
"They're not honoring those veterans that that fight for this country," said Wright. "They don't even honor the people that are going to fight for them for the freedoms that they are able to enjoy."
Mitchem says that he wants sick days back.
"When you turn even a sick day in, if you're sick and you don't give them two-hour notice, you come to work sick, or you get a strike," said Mitchem.
According to employees, if you receive four strikes in a year, you get fired.
The miners also want better pay.
"Our wages are about $4 [an hour] behind all other union coal mines," said Bauer.
Moore said workers at other coal mines, including nearby Oak Grove and Shoal Creek mines, receive better benefits and pay for the same jobs.
Wright says that these mines have insurance policies that cover 100 percent of expenses, but at Warrior Met, the policies only cover 80 percent.
"That doesn't work for a coal miner," Wright said. "80/ 20 don't work for us."
Moore says that as coal miners, they need better insurance.
"Coal miners take their bodies through a lot of changes, and it takes a special somebody to go down there in that ground and do what we do every day," Moore said. "Most of us do it because it's something that we love doing."
Moore said coal mining creates a brotherhood like no other, and that the miners at Warrior Met have received a lot of community support.
"The city of Brookwood, I think, was birthed in like 1972, but it really wasn't recognized until like 1976 when the coal mines came into this city and built it up from nothing," Moore said. "So I think that's one reason why the community and the people in this area come around and they donate, they give bags of chips."
Rodderick Nalls, who has worked at the mine for 11 years, said what the miners want is "a voice and a place at the negotiation table."
The Union representing the miners, the United Mine Workers of America, announced Monday afternoon that they have reached a tentative agreement with Warrior Met Coal to end the strike. The deal will be presented to the workers Thursday and a ratification vote will take place on Friday.
UMWA International President Cecil E. Roberts said, "I am so very proud of our members at Warrior Met for standing up for themselves, their families and their communities."
Hughlett said that he has heard that the tentative deal might include pay cuts for the workers and if that proves true, he will vote against it.
"[Apparently] they want to start us five dollars less an hour and give us one dollar a year raise for five years that will bring us back to what we are making now," Houghlett said. He also hasn't heard whether the deal will include more days off.
The workers all want more time with their families.
"People are greatly suffering, having family time, because they're here all the time, working 10-12 hour shifts, sometimes 16," Fleeson said.
The employees are in high hopes that they will get what they are asking for.
"I really don't care what the company has said, all I'm saying is that we are going to get what we're supposed to have," Wright said. "They might as well just go ahead and bow down and humble themselves and give us what we're supposed to have because it's going to happen."
The workers plan to stay on strike until something changes.
"I'm going to be out here until we get some reckoning," Nall said.
Top Stories From The Tuscaloosa Thread (3/29-4/02)
More From Tuscaloosa Thread