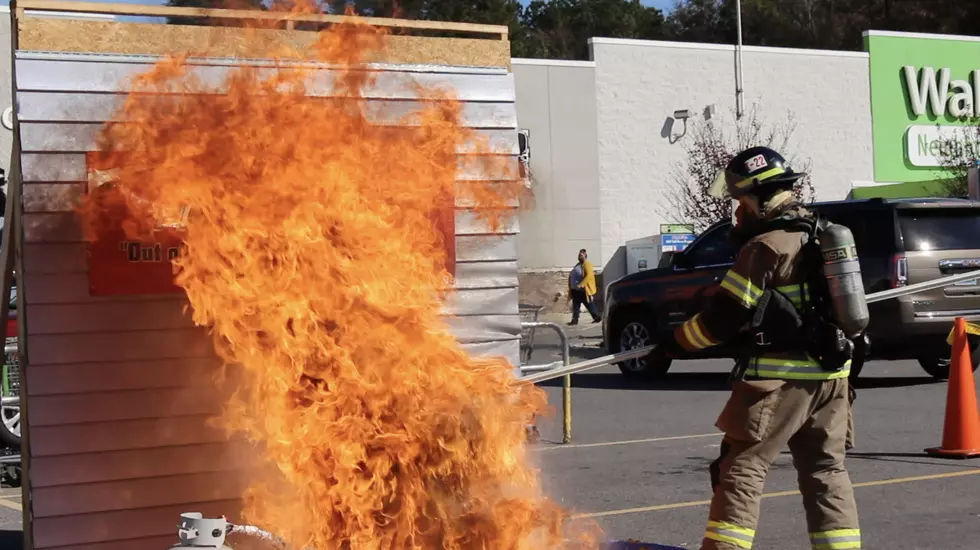 VIDEO: Northport Fire Shows Danger of "Turkey Fry Gone Wrong"
(Noah Lueker, Townsquare Media)
Northport Fire Rescue held a live demonstration Tuesday morning showing the dangers of improperly cooking a Thanksgiving turkey.
NFR's seventh annual "Turkey Fry Gone Wrong" demonstration outside the Northport Wal-Mart Neighborhood Market involved two firefighters in full uniform dropping a still-frozen turkey into fry oil.
When a turkey doesn't have enough time to thaw, the ice and water accumulated on the will cause the oil in a deep fryer to spew out of its container and immediately catch fire.
From a safe distance, a firefighter dipped the turkey slowly into a boiling pot of oil, and immediately the flames shot up -- the tips of the flames reached over seven feet tall and a sign hanging behind the pot was incinerated in seconds, demonstrating how quickly the fire could have spread to flammable household objects and fixtures.
NFR Captain Roger Potter said approximately 1,600 kitchen fires occur in the US each year due to improper turkey preparation and can often lead to loss of life, the devastation of property damage and major burns.
"What we saw here today was preparation gone wrong," said Potter. "Normally it takes about a week for a turkey to properly thaw."
Enter your number to get our free mobile app
Potter said Northport has not seen many turkey-related fires, though, which he believes is due in large part to the department's annual demonstrations.
"We haven't seen [an uptick in fires] thanks to our public education and everything we've been doing the last seven years," Potter said. "Hopefully we'll start seeing it throughout the United States... That's a big thing that all fire departments do. Public education and fire prevention is starting to build up."
"Top
More From Tuscaloosa Thread