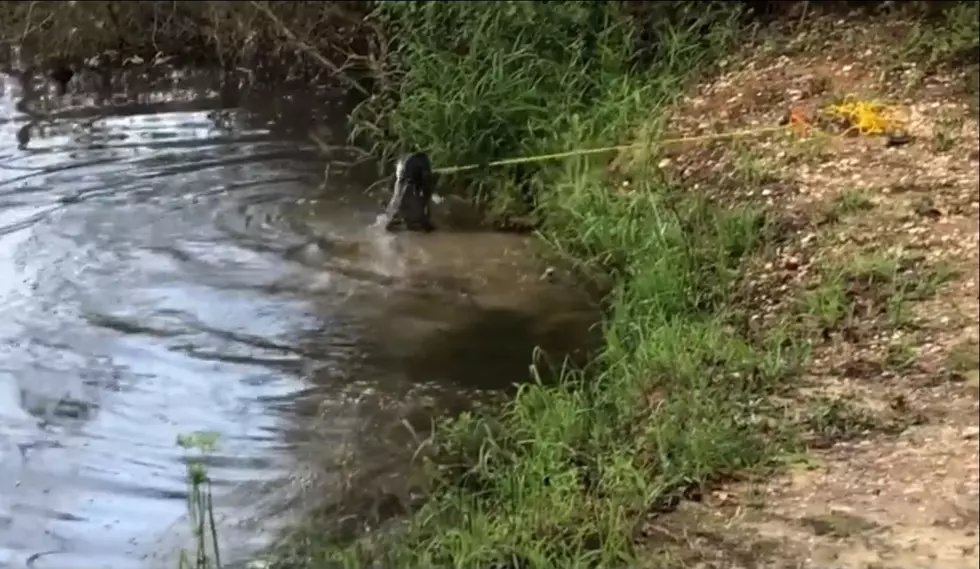 VIDEO: Alligator Steals Fisherman's Catch at Tuscaloosa's Van de Graaff Park
(Scott Rucker)
A fisherman at Tuscaloosa's Van de Graaff Park was surprised and frightened Saturday when a young alligator swam up to the bank on which he was fishing and stole a bass the Tuscaloosa native caught earlier in the day.
Scott Rucker, 51, said he was at the semi-primitive park Saturday to do some fishing from the banks of its ponds. Rucker said he usually fishes with his father on a bass boat, but the two have sacrified that time together lately because of the COVID-19 pandemic.
Instead, Rucker visited Van de Graaff Park alone, where he caught a small bass in its lower lake before asking Rangers with the Tuscaloosa Park and Recreation Authority where he might have better luck.
Enter your number to get our free mobile app
The rangers directed Rucker to the large body of water at the end of a short hike through the park's winding, rustic trails, and after the angler arrived, he set the bass he'd caught earlier on a "stringer" line, which keeps fish hooked but in the water. Rucker said he hadn't decided if he would throw the bass back or take it home and clean it for eating, so he set it on the stringer, placed it in the water and got back to casting.
"I had cast maybe three times and happened to look to my right and saw that alligator," Rucker said. "I was standing right there, a couple of feet to the left of the stringer, and as soon as I saw where he was headed, I knew what he was about to do. I just tried to give him room to work and got out of his way and got out my phone."
Rucker captured video of the alligator, which he guessed was around four-feet long, swim up to the bank and grab the bass right off the stringer line before swimming back toward deeper water, away from Rucker.
Rucker said the reptile may not look like a behemoth in the video, but in the moment it was big enough to thoroughly spook him.
"I'm not going to lie, it scared me -- it's a predator. I just moved out the way," Rucker said. "In retrospect, looking at it, I'm not too worried about it, but as any fisherman will tell you, everything looks bigger in the water."
Rucker said he doesn't mind losing his catch since the alligator was in its natural habitat doing the same thing its species has done for millennia. Still, the encounter was enough for Rucker to decide to pack up his gear and call it quits.
"Yeah, that ended my trip that day," Rucker said. "When you get hints like that from nature, sometimes it's best to just go on."
Rucker said he will probably still fish at the park, but wanted people to be aware of his experience so they know a run-in is possible. He said he's seen signage there warning of the possibility, but never believed there were actually alligators around.
"My only concern is people walking their dogs out there," Rucker said after seeing a half-dozen or so on leashes or running free at the park Saturday. "I think people need to really take that sign seriously. I have been told that's an alligator's favorite things to eat if they get too close to a bank."
Check out the Rucker's of the alligator stealing his catch below.
Top 9 Tuscaloosa Thread Stories of Last Week (8/24-8/29)
More From Tuscaloosa Thread