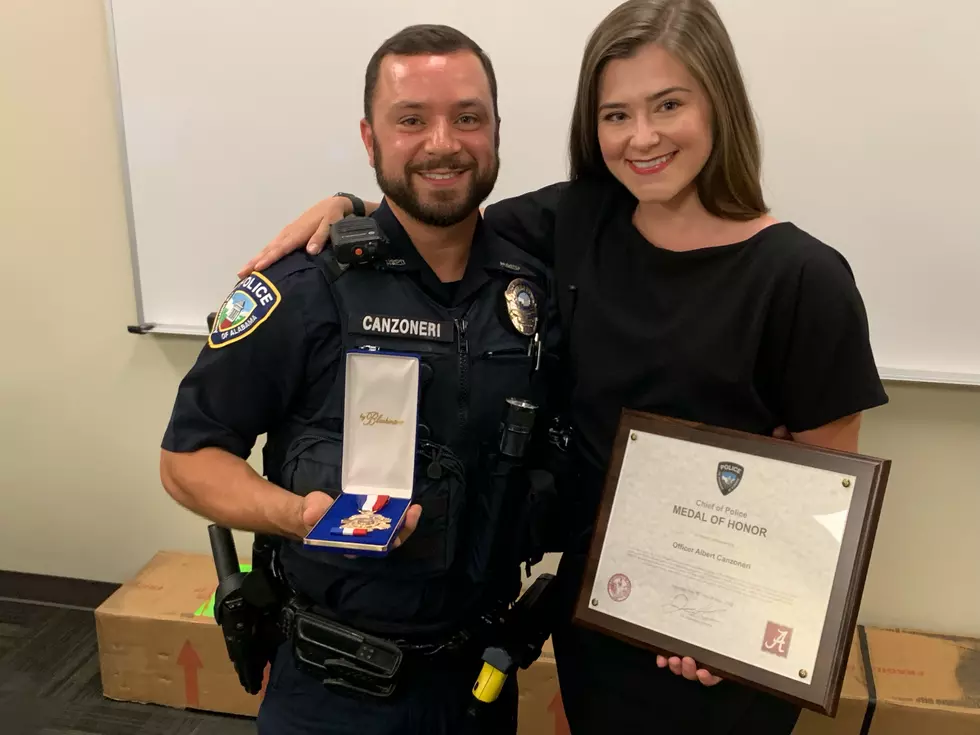 UAPD Officer Awarded "Medal of Honor" After Saving Woman from Black Warrior River
The University of Alabama
Albert Canzoneri, an officer with the University of Alabama Police Department, was honored earlier this week for his heroic actions that saved a distressed woman who jumped into the Black Warrior River.
According to a release given to the Tuscaloosa Thread by a University spokesperson, UAPD responded to a call on May 10th of a mentally distressed woman who was standing on a concrete ledge over the Black Warrior River at Manderson Landing, located on the outskirts of campus.
The release stated Officer Canzoneri was the first to respond to the scene, followed by additional officers, who were able to talk to the woman, who climbed back over the railing and was no longer in danger of jumping or falling into the river.
UAPD officers sat with the woman on a bench and began to talk with her about her problems and called for paramedics to conduct an evaluation after she agreed to be checked out.
A paramedic stepped away after talking with her to contact a doctor when the woman quickly ran to the railing and jumped into the river.
Officer Canzoneri removed his utility belt and vest and jumped in after the woman, who was "very emotional because she couldn't swim." He grabbed her and brought her back to the shallow water where the assisting officers were able to get the woman out of the river.
The woman was unharmed and taken by ambulance to receive further care
UAPD Chief John Hooks awarded Officer Canzoneri with a "Medal of Honor" in a ceremony on Monday for his heroic efforts, with his family, friends, supervisors and peers in attendance of the special event.
Canzoneri, a former UA cheerleader, has been with UAPD for seven and a half years and is a part of the K-9 unit where his partner dog Joki patrols with him.
Top Stories from the Tuscaloosa Thread (5/9 - 5/16)
15 of the Top Stories published by the Tuscaloosa Thread during the week of May 9th, 2022.
More From Tuscaloosa Thread