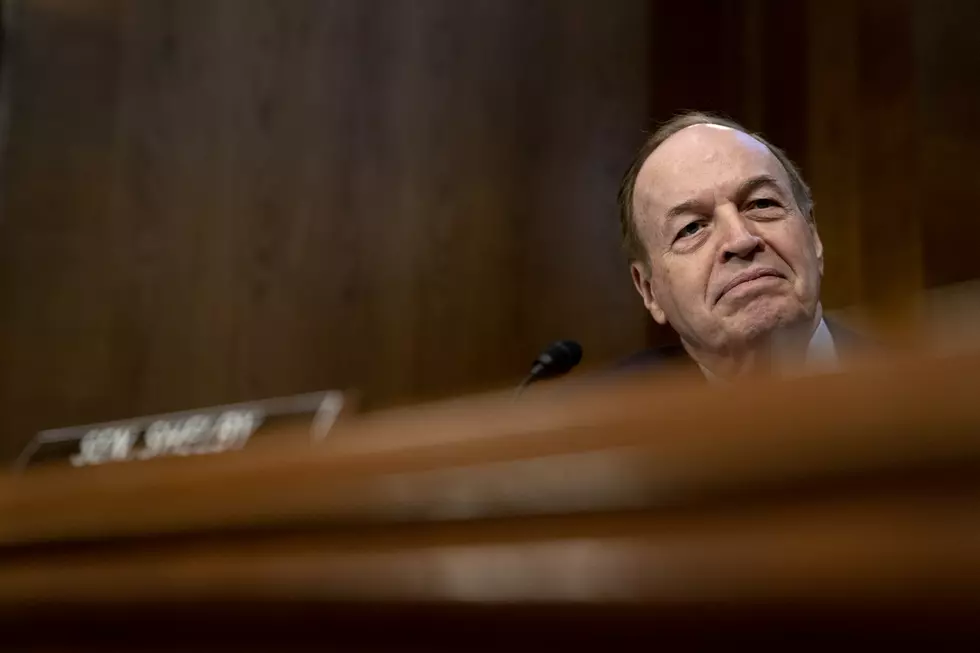 UA Board of Trustees Honor Senator With $100 Million Endowment, New Shelby Institute
Getty Images
The University of Alabama will honor the legendary career of former US Senator Richard Shelby with a new $100 million endowment for STEM faculty and the creation of a learning center in his name.
Both measures were approved Friday morning by the UA System Board of Trustees, who met in Birmingham this week.
Shelby represented the Yellowhammer State in Washington DC for 44 years, first in the House of Representatives and as a Senator since 1987.
Shelby chose not to seek election last year, and after passing the reins to his hand-picked successor Katie Britt, he has officially retired back here in his home of Tuscaloosa.
The first of the two measures creates a permanent endowment to fund the employment of faculty teaching science, technology, engineering and mathematics.
UA System Chancellor Finis St. John IV said one of Shelby's last acts in office was to secure $100 million for the record-setting endowment.
"This permanent endowment is funded by a $100 million appropriation from Congress to support and provide for exceptional STEM faculty at the University of Alabama. This unprecedented appropriation is the largest single contribution to the endowment in the history of the University of Alabama System," he said. "It will allow the University to pursue its mission of excellence in teaching and research in perpetuity. Senator Shelby has said he worked on this idea, this vision, for 14 years and succeeded in the last week of his tenure as a United States Senator. We will do our best to see that the results meet his vision."
The Board also approved the creation of a new leadership institute, where students can study official notes, papers and documents from Shelby's time in D.C., which he has donated to the University for that purpose.
"We are asking the board to approve the establishment of the Shelby Institute for Policy and Leadership at the University of Alabama. Closely related to the donation of Senator Shelby's official papers, this institute will offer leadership and policy training in ways the University has never provided before," St. John said. "It is our hope that this Institute will train and enlighten generators of leaders for the future benefit of our state."
The Board approved both measures, and leaders including UA President Stuart Bell took the opportunity to praise and thank Shelby for his decades of service.
"Senator Richard Shelby and Dr. Annette Shelby have been making our country, making our state and certainly the University of Alabama better for more than 50 years and today as we recognize these items, they have done that again -- not just once, but they've done it twice," Bell said. "The Shelby Institute for Policy and Leadership will provide a tremendous opportunity for the University of Alabama to continue its longstanding tradition of educating leaders for our state and for our country and the fact that our students will be able to learn directly from the Senator's papers -- we're thrilled that our students will be able to hear from leaders across the country, national speakers -- all that will be supported from this Institute."
"The Shelby Endowment for Distinguished Faculty provides an unmatched opportunity for the University of Alabama to continue to teach in the areas of STEM and also to provide research and service," he continued. "This $100 endowment will support our faculty to allow their research in areas that are important to our state and important to our country to continue to be improved within our students."
The honors follow a night of celebrating Shelby's career at the West Alabama Chamber of Commerce's Annual Award ceremony Thursday. 
"Education is key to unlocking opportunity, which is why I believe one of the most important investments we can make is in our classrooms and is why I dedicated several years to securing a permanent endowment that will allow The University of Alabama to multiply its impact in STEM," Sen. Shelby said. "This will be critical to innovation that advances success and security across Alabama and the nation. My wife Annette and I are also honored by the University's establishment of the Shelby Institute for Policy and Leadership, which will train generations of future leaders with a shared passion for policy and public service."
Top Stories from the Tuscaloosa Thread (1/23 - 1/30)
16 of the Top Stories published by the Tuscaloosa Thread during the week of January 23rd, 2023.
More From Tuscaloosa Thread