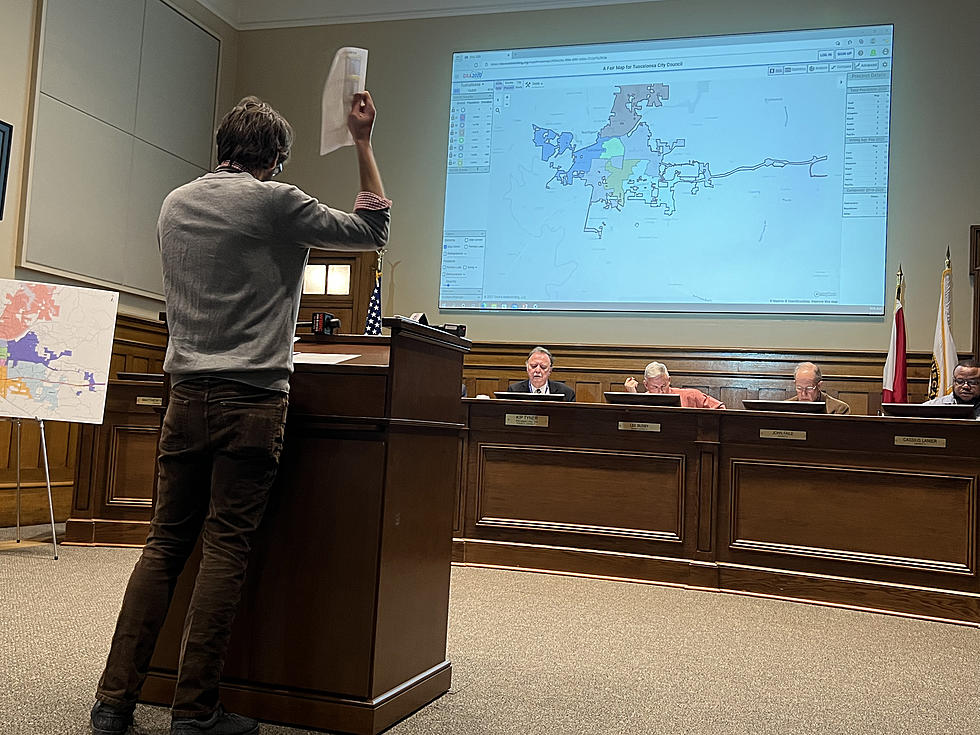 Tuscaloosa Council OKs Redistricting Map Despite Gerrymandering Accusations
(Noah Lueker | Tuscaloosa Thread)
A divided Tuscaloosa City Council voted to approve the realignment of its seven districts Monday night over allegations of racial gerrymandering from local activists.
The action is required every 10 years, after each U.S. Census, to ensure the city's population is more or less equally divided into seven municipal districts, each of which elects one city council member and one member to the Tuscaloosa City Schools board of education.
The normally routine process became the subject of much contention this year, though, over the issue of how to divide the city's white and non-white citizens.
Opponents of the redistricting map adopted Tuesday said it "packs" Black citizens into city Districts 1, 2 and especially 7. They proposed a map that relocated many Black residents into District 6, which would create four Black-majority districts in the city and better reflect the demographics reported in the Census.
For weeks, those voices have called on city leaders to take more time to consider other redistricting options -- the council had until April to finalize maps -- but they pressed on and introduced a map last week that did little to change the current status quo in the demographics of the districts.
After the proposal was introduced last week, the council voted to suspend normal rules to vote for its adoption, but the measure required unanimous consent, and District 1's Matthew Wilson and District 7's Cassius Lanier voted against the measure.
The vote to adopt the map Tuesday required only a simple majority to vote, and it passed along the same lines -- Lanier and Wilson voted against it, and all other council members voted in favor.
District 2's Raevan Howard, who is Black, voted in favor of the proposal and said she did so because redrawing the lines in Districts 6 and 7 would leave the margins between white residents and non-white residents razor-thin in both districts. She said she believes the likely outcome of that map would be the election of five white council members, leaving only two minorities on the council instead of the three holding seats there now in Districts 1, 2 and 7.
Councilmen Norman Crow, John Faile and Lanier declined to comment on the matter, but District 4's Lee Busby said he hoped by the time the council draws new lines after the 2030 Census, it will have done away with the notion that people vote based on the color of their skin.
The new maps will go into affect for the next round of municipal elections, which will be held in 2025.
Top Stories From the Tuscaloosa Thread (2/7-2/13)
12 of the Top Stories Published by the Tuscaloosa Thread from the week of February 7th, 2022.
More From Tuscaloosa Thread