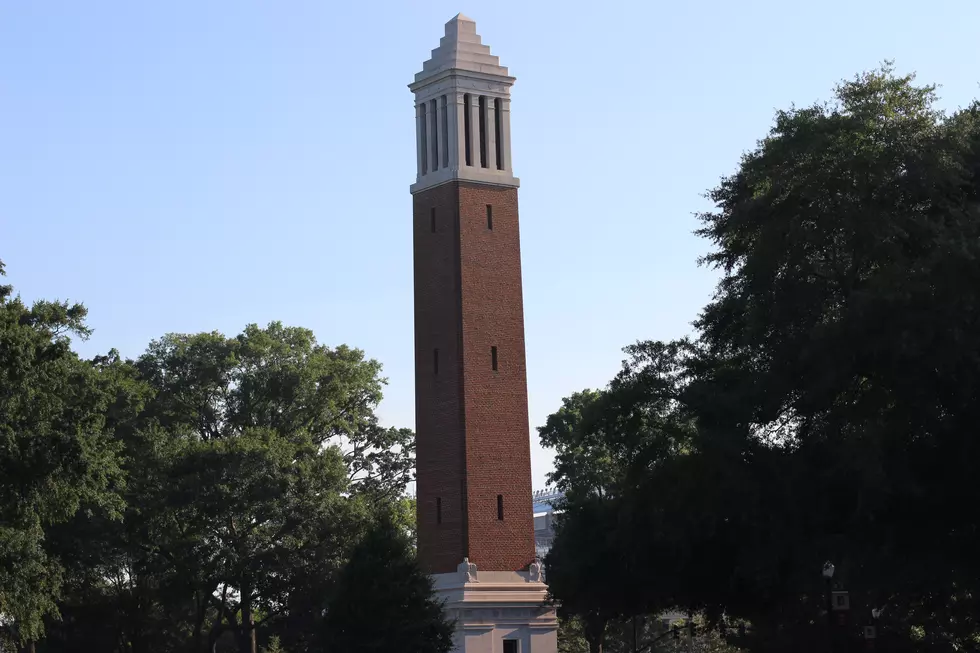 Student Group Sues University of Alabama System for Restricting Free Speech
(Noah Lueker, Townsquare Media)
A student activist group at The University of Alabama is suing the UA System, alleging that the University and the System have deliberately kept policies in place that limit their students' right to free speech.
On May 21 the Alliance Defending Freedom filed the suit on behalf of The Young Americans for Liberty (YAL) at UA because of the school's Facilities and Grounds Use Policy. Instituted in July 2014, the rules essentially require students to receive official approval from the University five business days in advance of holding any public demonstration.
In addition to this restriction, the University of Alabama now has seven designated areas in which these sorts of demonstrations can be held. These "speech zones" make up less than 1% of campus.
The State of Alabama passed the Campus Free Speech Act in June 2019, which guarantees all students at public universities the right to speak freely and express themselves in any outdoor areas on campus without requiring prior approval. The umbrella of protected expressive activities includes any organized peaceful protests, speeches, carrying signs, distributing literature or circulating petitions.
The Act required that by January of this year, all public institutions for higher education must have reworked their policies to account for this. Although the System Board of Trustees has final policymaking authority, they still have not modified rules regarding student expression to adhere to the new state law.
In fact, the Board passed a resolution in June 2020 reaffirming their existing prior permission policies, and adding the verbiage establishing "speech zones." Their decision coincided with a nationwide spike in protests against police brutality in the wake of the deaths of George Floyd and Breonna Taylor.
This updated Facilities and Grounds Use Policy does not mention Alabama's Campus Free Speech Act in any regard.
Young Americans for Liberty is a nonpartisan student-led organization with nearly 500 chapters across the nation. YAL's goal with this suit is to strike down the University's prior approval policy and eliminate designated speech zones.
"[YAL] has refrained from engaging in their desired expressive activity," the suit reads. "[YAL] have not been able to recruit as effectively. This has resulted in lower attendance and less visibility for their organization. This has also led to fewer donations and less funding for their organization."
The suit specifically names the members of the UA System Board of Trustees as defendants, as well as several representatives from the University of Alabama, including current president Stuart Bell, UA System Chancellor Finis St. John IV, and several UA employees that oversee the Facilities and Grounds Department including Matthew Fajack, Cheryl Mowdy, Duane Lamb and Donna McGray.
These specific defendants are all being sued in both their individual and official capacities.
The University's grounds use policy does contain an exception to its prior approval rule for "spontaneous speech," which is defined as an event "generally prompted by news or affairs coming into public knowledge less than 48 hours prior to the Event," according to the suit.
"This definition fails to explain what types of expression are 'prompted by news or affairs' or what kind of news is important or widespread enough to rise to 'public knowledge,' thus giving University officials unbridled discretion to restrict speech" the suit reads. "[UA] even threaten(s) disciplinary action for any student who attempts to "circumvent this policy by claiming something to be spontaneous. This allows officials to punish speech based on an audience's reaction, which is not a viewpoint-neutral or content-neutral reason for regulating speech."
The suit expresses worries that restricting activism on campus to these designated speech zones limits discussion and demonstration about important and immediate news topics, in essence sanitizing large portions of the campus from topics of substance.
If YAL wins this case, they hope the organization will be able to talk freely about key issues of public policy including gun control and the size and power of the federal government.
A spokesperson for the University provided the Tuscaloosa Thread with a brief statement but declined to discuss the details of the case Tuesday afternoon.
"We do not comment on the specifics of pending litigation; however, The University of Alabama System Board of Trustees, the UA System, and The University of Alabama remain committed to freedom of speech and expression for campus community members," the statement read.
Stay connected to the Tuscaloosa Thread for more details as this case develops.
6 Songs You Will Hear At Any HBCU
Top Stories From The Tuscaloosa Thread (5/17-5/21)
More From Tuscaloosa Thread