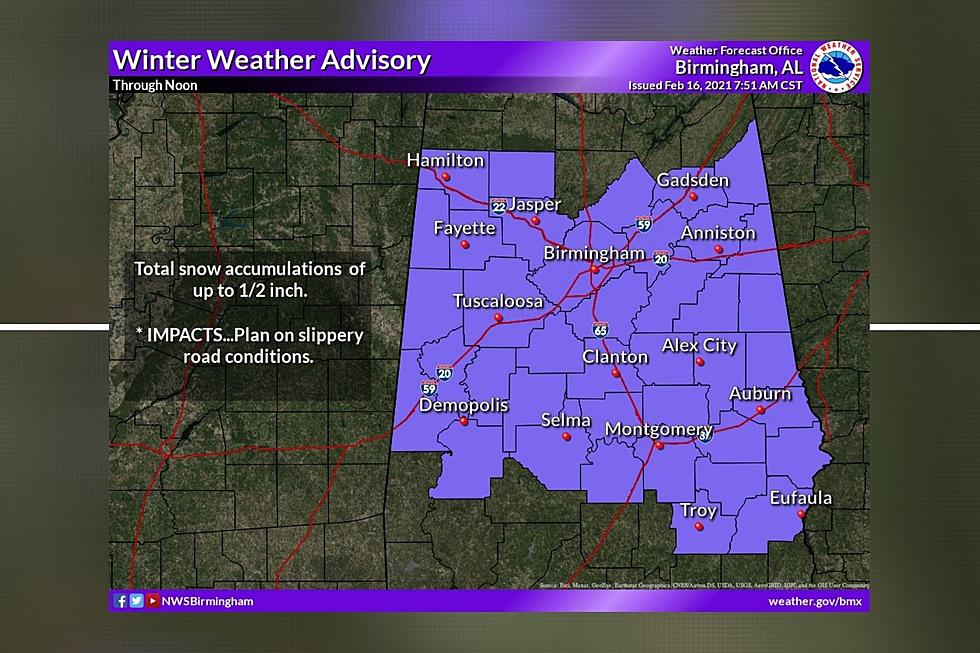 Snow Arrives in Alabama, Winter Weather Advisory Issued
National Weather Service
The snow that is coming down in parts of Alabama is absolutely beautiful. Here at Townsquare Media, the snowflakes are nice and fluffy. However, it is still extremely cold.
The National Weather Service has issued a Winter Weather Advisory of parts of Alabama until Noon.  "We are getting some quick burst of snow across the area. With the cold temperatures in place, we are seeing some accumulations of 1/4 to 1/2 inch. An additional 1/4 to 1/2 inch will be possible through Noon."
There will be light snow through our coverage areas coming from Tupelo, MS. This will be moving through the area this morning through Noon. It could bring a possible additional half an inch of snow.
The Winter Weather Advisory is for the following counties:
Autauga
Barbour
Bibb
Blount
Bullock
Calhoun
Chambers
Cherokee
Chilton
Clay
Cleburne
Coosa
Dallas
Elmore
Etowah
Fayette
Greene
Hale
Jefferson
Lamar
Lee
Lowndes
Macon
Marengo
Marion
Montgomery
Perry
Pickens
Pike
Randolph
Russell
Shelby
St. Clair
Sumter
Talladega
Tallapoosa
Tuscaloosa
Walker
Winston
It is extremely cold in portions of Alabama. Currently, we are still under the freezing level. Here are the current temperatures for our coverage areas:
Bibb: 16 degrees
Fayette: 16 degrees
Greene: 18 degrees
Hale: 18 degrees
Lamar: 14 degrees
Perry: 18 degrees
Pickens: 16 degrees
Sumter: 18 degrees
Tuscaloosa: 16 degrees
Walker: 16 degrees
(Source) For more information from the National Weather Service, click here.
Cheers to Mardi Gras!
More From Tuscaloosa Thread