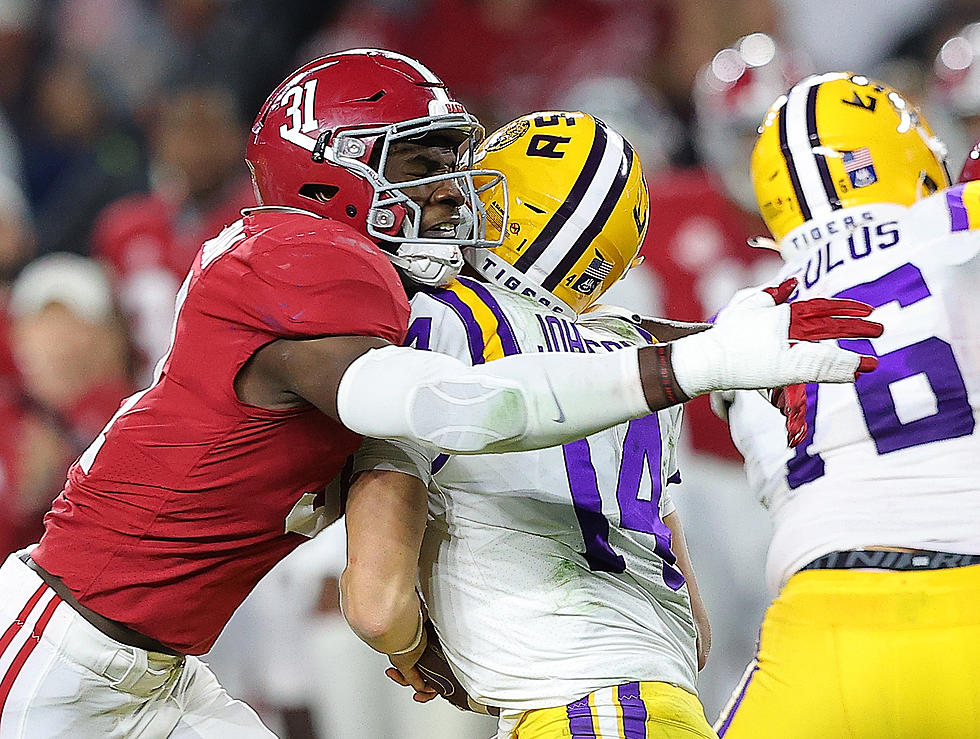 Sloppy Tide Holds Off Scrappy Tigers
Getty Images
Ed Orgeron may or may not have found out the hard way it's too late to take back 24-month old words. He found out his team still has some heart, for sure, during a too-close-for-comfort 20-14 defeat at a sold-out Bryant Denny.
Orgeron's Tigers came to play. Alabama seemed stunned.
Said Tide Coach Nick Saban: "We got stops when we needed to get stops. There was no way we were going to let them score at the end. Our players showed competitive character.
"I'm proud of how our guys competed in the game to be able to win. The stops they got… the way they competed was really good. We affected the quarterback. We had batted balls. We had sacks. We had pressures, especially at the end of the game when we needed it.
"The focus is to get our players to play better. Parts of the team are very good at times and other parts are not. We didn't get done what we needed to get done to have consistency on offense."
Orgeron, coaching his final game in Tuscaloosa for the Tigers, "I thought our defensive guys really got the better of their offense.
"Our guys came to play, by God."
And that they did. And that would explain why the Tide managed but 308 yards while holding the visitors to 205.
Injury-wise, Saban said center Darrien Dalcourt sprained an ankle, and Chris Owens moved to center. "I thought Damieon George blocked well at right tackle when he went in."
Things didn't start swimmingly for Alabama. LSU converted a fake punt and turned it into a touchdowns pass from Max Johnson to Brian Thomas, Jr., of eight yards.
Alabama answered in the final three minutes of the half with a two-yard Brian Robinson plunge. Moments later Jalyn Armour-Davis picked Johnson off at the Tiger 39. After a pair of Jameson Williams grabs, Alabama took its first lead of the night with 48 seconds left on a pass of eight yards from Bryce Young to John Metchie.
Alabama led 14-7 at intermission.
Kool-Aid McKinstry got the start at left cornerback over veteran Josh Jobe, who did play the second half. Saban said, "Josh Jobe missed a lot of practice with turf toe. When Jalyn [Armour-Davis, brusied ribs] went down, we thought he was the best option."
Henry To'o To'o caused a fumble on LSU's opening second-half drive and Phil Mathis recovered at the Tide 42. Two plays later, Young hit Jameson Williams for a 59-yard touchdown strike and the Tide moved up two scores with a 20-7 lead at the 12:51 mark of the third quarter. Shockingly, Reichard was wide right on the PAT.
A personal foul on safety Jordan Battle led to a Johnson to Jack Bech touchdown pass to put the Tigers back in the game. With 2:27 left in the third period. The score capped an 89-yard Tiger drive and Bama's lead was cut to 20-14.
That score held through three periods. And four, though no one knew that at the time.
Tyrion Davis Price ran 37 yards to the eight, then on third-and-goal from the seven, Johnson was stripped by Mathis who seemingly recovered at the 20, possibly saving his team's season. A review said no and ruled the quarterback's arm was going forward.
Orgeron went for it, but the pass was incomplete and the Tide took over on downs at its own eight with 6:46 left.
Young scrambled for 15 and got belted by LSU's Jay Ward. The crowd screamed for targeting to no avail.
Young fumbled on a sack at his own 42. LSU had life with 3:25 left. On fourth-and-nine from the 41, the Tigers again went for the gusto and Johnson was pressured into an early and incomplete pass. The Tide took over at its 41 with 2:36 to go.
Five seconds later LSU took its final time out. With three tight ends in, Bama needed one first down to clinch the game.
That didn't happen, and James Burnup needed to get a punt off with just over a minute left. With 50 ticks left, Bama took its last time out.
Burnup got it off and LSU took over at its 38. Dallas Turner sacked Johnson. With 18 seconds left, LSU faced a fourth-and-nine. Two first downs later, LSU moved to the Tide 30 but as time expired, Johnson's end-zone heave was incomplete. A flag flew but it was an offensive face mask.
Final in a barn-Buner, Alabama 20, LSU 14.
Young didn't have his best game- far from it – but finished with 302 yards on 24-37 passing. Williams caught 10 balls for 160 yards and Metchie added nine for 73.
The Tigers held Brian Robinson to 18 yards on 13 carries.
Defensively, Will Anderson again looked like a modern-day Derrick Thomas. The sophomore had 12 tackles, four for a loss and 1.5 sacks.
Next up for the Crimson Tide is a home game against New Mexico State at 11 a.m. next week. The game will be shown on the SEC Network.
Alabama Crimson Tide All-Time Passing Leaders
Alabama Football Players in the Hall-of-Fame
More From Tuscaloosa Thread