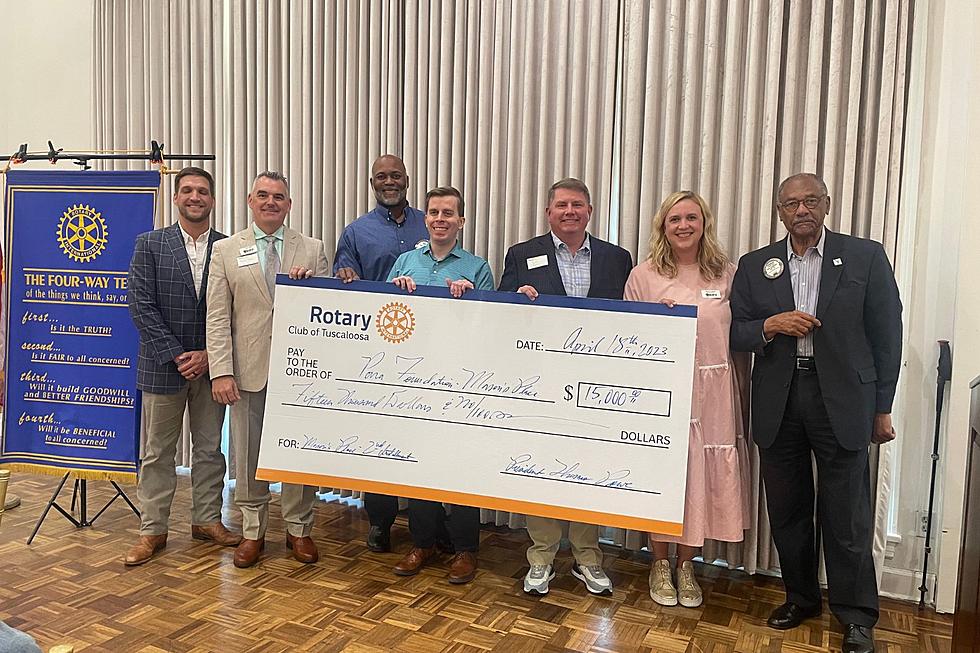 Tuscaloosa Rotary Club Donates Second Installment of Mason's Place Pledge
(Brittany Marshall|Tuscaloosa Thread)
The PARA Foundation received the second installment of funds from the Tuscaloosa Rotary Club apart of the pledge they made to assist with the additions to Mason's Place Park.
The club presented the local foundation with a check for $15,000 Tuesday. The club pledged a total of $50,000 and gave the first installment of $20,000 in September 2022.
Caroline Lasseter, the director of development for the PARA Foundation, said they are grateful to receive the funds from the club that will be used to begin the second phase of expansions at Mason's Place, an all-inclusive playground that is one of the most used parks in the PARA organization.
"Y'all do amazing for our Tuscaloosa community and I'm grateful for everyone here," Lasseter said. "It takes people, like you, to get behind a project like this that will provide a place where everyone, no matter their abilities, can come together and play."
Lasseter said they have received almost all of the funded needed to break ground on phase two, which they hope to begin before the end of the year. Mason's Place will be the largest park of it's kind in the state of Alabama after its completion.
Thomas Powe, Tuscaloosa Rotary Club president, said the members of the organization are honored to support this cause. Powe said the organization hopes to be able to raise the remaining $15,000 of their pledge by the end of the summer and hopes they
"It's important because we get to see our lasting impact for our children and our grandchildren and this is something that will be here long after we're gone," Powe said.
Top Stories from the Tuscaloosa Thread (4/10 - 4/17)
17 of the Top Stories published by the Tuscaloosa Thread during the week of April 10th, 2023.
More From Tuscaloosa Thread