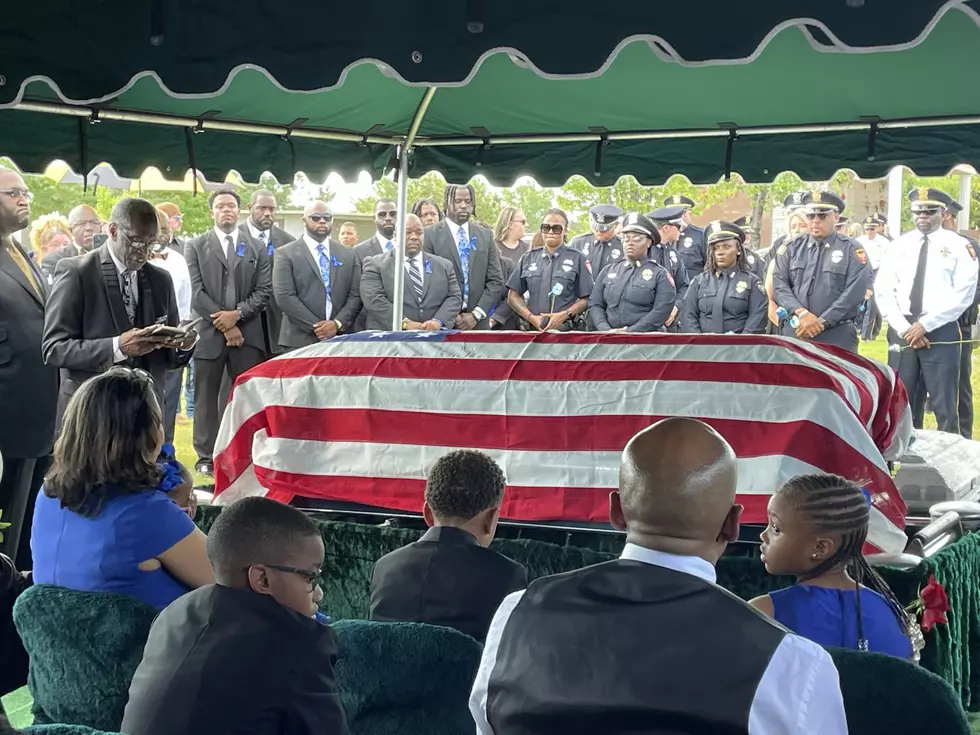 Officer Kennis Croom Honored with Celebration of Life Held Saturday
(Brittany Marshall|Tuscaloosa Thread)
Family, friends, community members and law enforcement agencies from around Alabama and Mississippi came together Saturday afternoon to pay their final respects to Officer Kennis Croom.
Hundreds of people gathered to celebrate Croom's life at Shelton State Community College to honor Croom's memory and legacy.
Croom, a Tuscaloosa native and Meridian, Mississippi police officer was killed in the line of duty on June 9 while responding to a domestic situation where a woman was also shot and killed. Croom was protecting the woman's children from danger from the suspect in the case when he was fatally wounded.
Several speakers, including Deputy Chief "Sebo" Sanders of the Tuscaloosa Police Department and Chief Deborah Naylor-Young of the Meridian Police Department, described Croom as a "hero" and a "man of integrity."  Sanders took Croom on a ride-along when he was a teenager and said Croom expressed his interest in law enforcement to him.
"He wanted to become a police officer and a member of Alpha Phi Alpha fraternity," Sanders said. "Kennis fulfilled both of those dreams and I was proud of him. I was even prouder to see the man he became."
Naylor-Young told a story of the last time she spoke to Croom, which was on the Tuesday prior to the shooting, where he offered to trade his day-shift position to one of his female co-workers and opted to work nights instead.
"I told Croom, 'you know what, you're an awesome guy,' and we sat and talked and he was so grateful for that," Naylor-Young said.
Secretary of State John Merrill gave words of comfort to Croom's family, whom he described as friends from his time of living in Tuscaloosa and working closely with the fallen officer's mother, Tracy Croom, who served as Tuscaloosa's city clerk for nearly a decade.
Merrill described the Crooms as the "royal family' of Tuscaloosa and an example of success.
"It's been such a privilege and an honor for us to know this family, to watch them grow to become more successful and to share their success with our community," Merrill said. "It did not surprise me when I later learned that Kennis' tragic incident occurred on his day off. Who else but a Croom would be working on his day off trying to help somebody."
Mayor Walt Maddox said words are "inadequate" to describe the impact of Croom's homegoing.
"There's profound loss. There's overwhelming grief. There's this debilitating disbelief of 'how can something bad happen to someone good'," Maddox said. "We gather here today to give voice to hope and heroism and because of that hope and heroism, because Kenneth lived, others had the opportunity to continue living."
Croom was honored with several memorial proclamations from various entities, including Governor Kay Ivey, Jackson State University, Croom's alma mater, the Paul W. Bryant High School Alumni Association, Alpha Phi Alpha Fraternity, Inc. and the Mississippi State Senate.
Croom's body was carried in a processional from Shelton State to Memory Hills Gardens on Skyland Boulevard where he was buried.
The family asked in lieu of flowers, supporters can donate to the Croom Foundation at www.thecroomfoundation.com.
Top Stories from the Tuscaloosa Thread (6/6 - 6/13)
14 of the Top Stories published by the Tuscaloosa Thread During the week of June 6th, 2022.
More From Tuscaloosa Thread