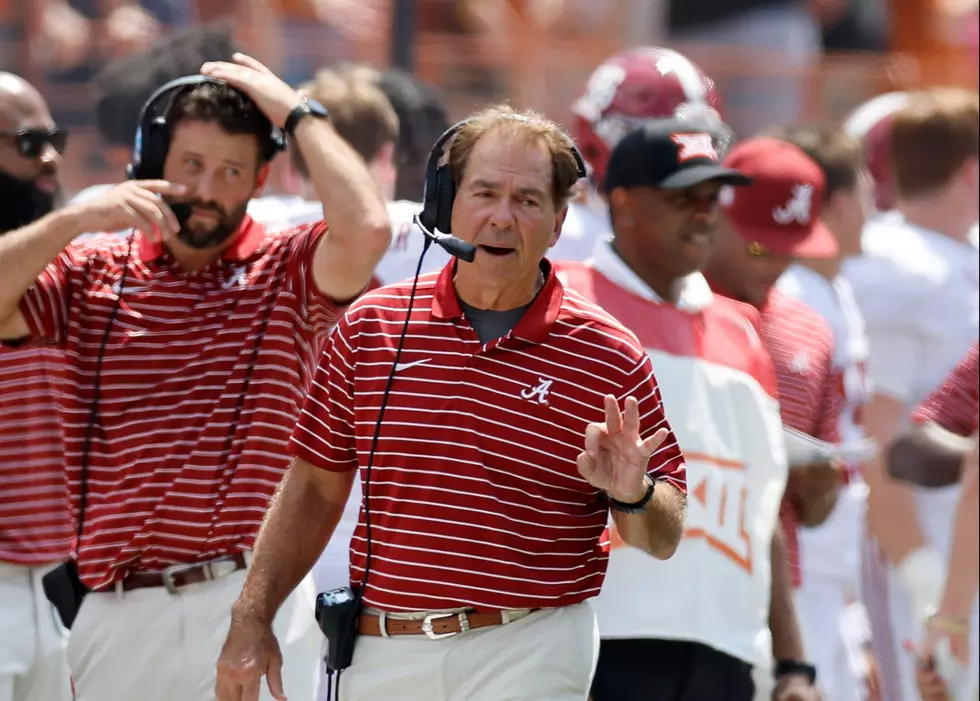 Nick Saban Doesn't Care About Inferior Opponents On the Schedule
Getty Images
The Alabama Crimson Tide is set to host the Louisiana Monroe Warhawks on Saturday at 3 p.m. CT in Bryant-Denny Stadium. Its the Crimson Tide's third non-conference matchup of the season and the second non-power 5 opponent Alabama plays before it jumps into SEC play the following week.
Alabama is averaging 466 yards per game offensively, which is good for 40th in the nation but the Tide ended up with two vastly different offensive outputs in two weeks, leaving several questions as Bama enters week 3.
Bryce Young and the offense dropped a whopping 559 yards against the now 1-3 Utah State Aggies. The following week Alabama went to Austin and was held to 374 yards against the Big 12's Texas Longhorns. As far as the scoreboard goes the Tide put up 55 points on the Aggies and just 20 on the Longhorns
The Warhawks enter Bryant-Denny coming off a 52-10 loss to Texas and a 35-7 win over the Nicholls Colonels. Louisiana-Monroe held Texas to 383 offensive yards and forced one interception off the Longhorns offense but was still soundly beaten.
So does the team, led by the reigning Heisman Trophy winner, really have offensive problems?
If the answer is yes, and Bama follows up by dominating Lousiana-Monroe will that signify that things have been fixed?
Just how difficult is it to evaluate the perceived problems on the offensive side of the football when playing varying levels of competition?
"Well, but, that's your opinion on quality of opponent it's not mine. I respect all the people that we play, and I respect winning and what you have to do to win. And every player should not be focused on who they're playing against, relative to their motivation, but every player should want to be the best player they can be. So why would it matter whether we're playing Texas or playing somebody else? That's how you get good. That's how you develop the right habits. That's how you're consistent," said Nick Saban on Wednesday. 
"You know, I've told you guys more than once, when I was in the NFL, I'd watch players I didn't know who they were playing against. I was just evaluating them. So that means when we play a team that's not as good as somebody else you don't play as good? So, you let the opponent determine how you play? You let the score determine how you play? You determine where you're playing, that determines how you play? So, when you get evaluated, what's somebody think? 'Oh, this guy plays pretty good at home, I don't think we'll draft him'. Does that make sense? 
"So, I respect what it takes to win. Didn't I say this on Monday? What does what you're favored in a game mean? When you're favored by 20 points and you lose, like two teams did this week. What does it mean? It means the people favoring you either don't know what you're talking about or the players playing got affected by that. Neither one of them are good." 
The seven-time national championship winning coach did what he always does during media sessions. He side-stepped the question and preached the coaching points that he wanted to get across to his team. Play to a standard no matter the quality of the opponent.
Alabama vs Texas Week 2 2022
Alabama vs Utah State Week 1 2022
More From Tuscaloosa Thread