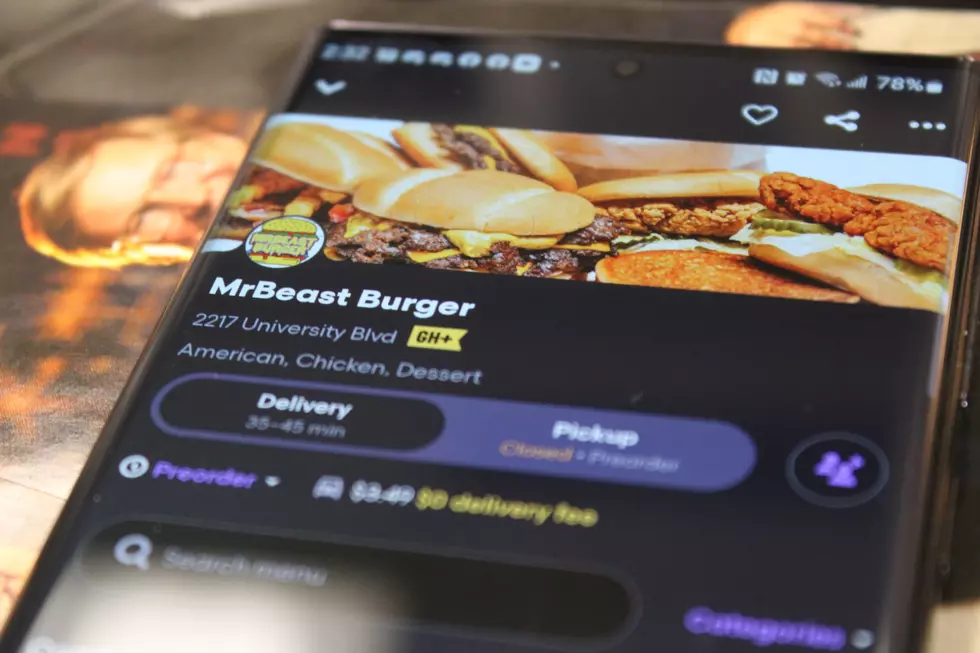 YouTube Star's MrBeast Burger Now Available for Delivery in Tuscaloosa
(Stephen Dethrage | Tuscaloosa Thread)
MrBeast Burger, another celebrity's online-only ghost kitchen, is delivering to patrons in Tuscaloosa now -- and if none of those words make sense, stick with us.
For the uninitiated, a ghost kitchen refers to a brand that sets up shop in an already-open brick-and-mortar and delivers food through apps like GrubHub, Waitr or DoorDash without ever creating their own sit-down space. The host restaurant doesn't have to do much to prepare the new offerings for delivery and the ghost restaurant avoids the costly overheard of opening an independent space.
Wrestling legend Ric Flair is already in Tuscaloosa, for example, selling Wooooo! Wings out of Broadway Pizzeria South on McFarland Boulevard. 
MrBeast Burger is a new offering from Jimmy "MrBeast" Donaldson, whose YouTube channel boasts more than 130 million subscribers -- the highest number ever attained by any individual, non-corporate content creator and No. 4 overall on the platform.
For context, his YouTube audience exceeds that of international superstar Justin Beiber (No. 16 overall) and rapper Eminem (No. 32 overall) combined.
With all that out of the way, on to the food. Donaldson launched his virtual restaurant, MrBeast Burger, in December 2020.
A single brick-and-mortar restaurant opened in New Jersey last year, and its grand opening reportedly drew a crowd of 10,000.
Their menu is now reportedly available at more than 600 locations across the U.S., including Huntsville and Trussville, Alabama.
Tuscaloosa joined that number this week as MrBeast Burgers are available now for delivery from 2217 University Boulevard, which houses Bistro 17 in downtown Tuscaloosa.
The menu available for delivery here will include four options for takes on hamburgers which will also be offered with Impossible™ meatless patties for anyone looking to skip the beef.
Also available are a grilled cheese sandwich, a crispy chicken sandwich, a Nashville hot chicken sandwich, crinkle fries three ways and chocolate chip cookies.
For more exclusive stories about restaurant and retail development in and around West Alabama, stay connected to the Tuscaloosa Thread.
29 Tuscaloosa Restaurants and Retailers Opened or Announced This Year
2022 has been exciting for residents of and visitors to the Tuscaloosa area as dozens of new restaurants and retailers either opened new spaces here or announced plans to do so soon. As the year winds down, here's a look back at all the new spaces the Druid City can enjoy in 2023!
Top Stories from the Tuscaloosa Thread (1/23 - 1/30)
16 of the Top Stories published by the Tuscaloosa Thread during the week of January 23rd, 2023.
More From Tuscaloosa Thread