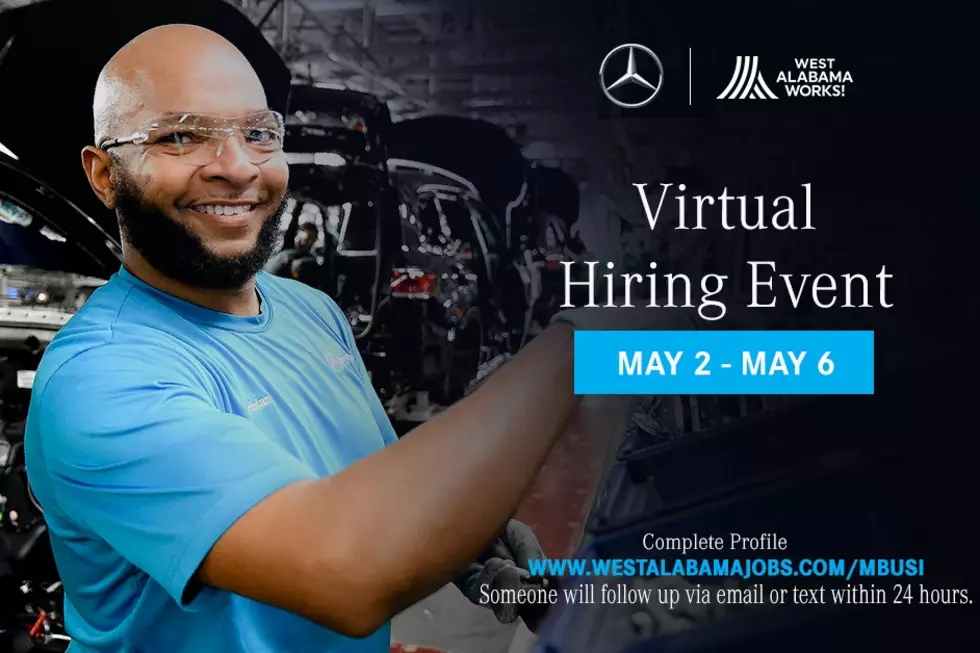 Mercedes Looks to Hire Hundreds This Week During Virtual Job Fair
(West AlabamaWorks!)
Mercedes-Benz U.S. International is looking to hire hundreds of new Team Members during a virtual job fair hosted in partnership with West AlabamaWorks! this week.
Donny Jones, the executive director at WAW, said in a press release that MBUSI has already hired several hundred employees in the last six months and is looking to hundreds of more positions at their vehicle plant in Tuscaloosa and their recently opened battery plant in Bibb County.
The job openings offer full-time employment, competitive salaries and day-one eligibility for MBUSI's various benefit programs.
"Our production continues to accelerate and evolve, and we are constantly growing the team we've built," said Wade Smith, a Human Resources Specialist for Mechatronics Technical Programs at MBUSI. "I've been here 27 years and I wouldn't change a thing. MBUSI is seeking to reach workers with production experience, especially those in the auto industry, and less-experienced workers who have completed manufacturing training programs."
The virtual hiring event will run from Monday until Friday, and WAW says anyone who applies at westalabamajobs.com/mbusi will receive a follow-up from MBUSI within 24 hours of completing their profile.
Last month, Mercedes officially unveiled its new all-electric EQS SUV, which will be built in Tuscaloosa and use batteries made in Bibb County. Rolf Wrona, the Virce President of Human Resources at MBUSI, said those innovations mean the jobs the manufacturer is looking to fill are safe bets for long-term employment.
"We have exciting times ahead of us," Wrong said. "We recently celebrated 25 years of production in Alabama and the transformation we have seen is astounding. Our being able to offer future-proof jobs to build all-electric SUVs for all global markets is something worth celebrating."
Top Stories from the Tuscaloosa Thread (4/18 - 4/25)
15 of the Top Stories published by the Tuscaloosa Thread during the week of April 18th, 2022.
More From Tuscaloosa Thread