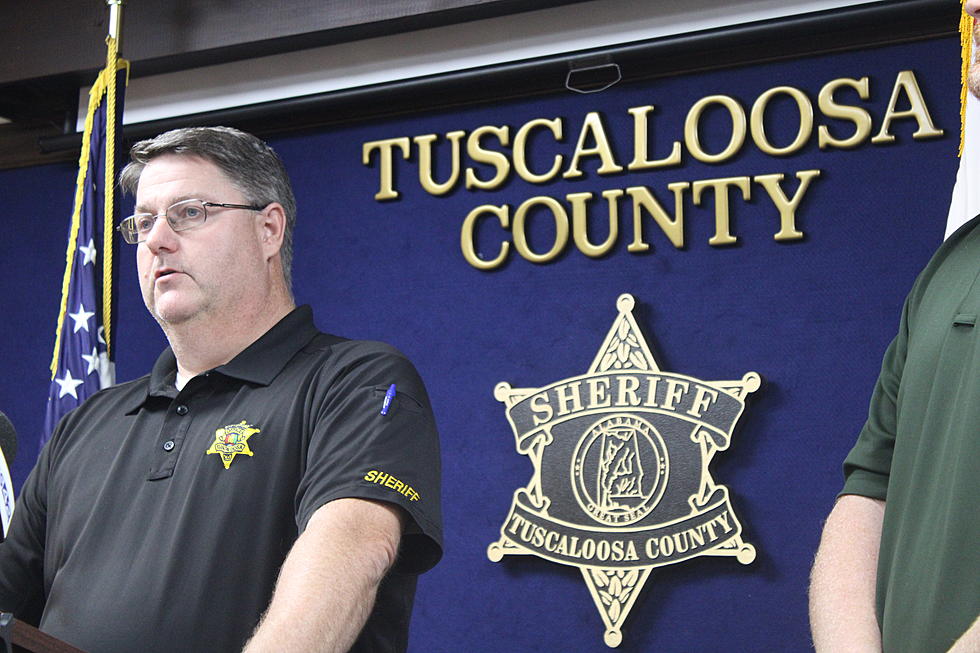 Man Shot by Police in Tuscaloosa, Alabama Wednesday Aimed AR-15 at Officers
(Stephen Dethrage | Tuscaloosa Thread)
A man who was shot by Tuscaloosa Police officers early Wednesday morning pointed an assault rifle at them before they opened fire, investigators said in a press conference later that day.
Captain Jack Kennedy, the commander of the multi-agency Tuscaloosa Violent Crimes Unit, said the incident began around 2 a.m. Wednesday, when employees at Harry's Bar on Hargrove Road called police to report an unruly patron.
By the time officers arrived at the scene, the suspect, a 29-year-old while man whose identity has not yet been released, was leaving the area in a vehicle, driving erratically.
Kennedy said TPD officers attempted to pull the man over, but he refused to stop and eventually bailed out of the vehicle at the Bent Tree Apartments complex further down Hargrove Road, where he ran inside a residence there.
Officers continued to try to make contact with the man, who refused to come out of the apartment. Two roommates left the unit, though, and informed police that the man had armed himself with n AR-15 and a pistol and was acting erratically.
TPD's Special Response Team was dispatched to the apartments and set up a perimeter while they worked to evacuate nearby residents and continued to try to make contact with the suspect inside.
Suddenly, Kennedy said, the man opened the door to the apartment and pointed the "fully-loaded" assault rifle at police officers, who opened fire and struck the suspect several times.
Emergency first-aid was rendered at the scene, Kennedy said, and the man was transported to a nearby hospital with life-threatening injuries. As of 4 p.m. Wednesday, the suspect was still alive but in critical condition as doctors work to treat his injuries.
"At this time, we don't know what was in his mind or the reasons behind this, all we can do is judge the case by his physical actions, Kennedy said. "What we do know is he fled from police officers on a traffic stop, armed himself, and there's some other actions that I'm not going to discuss right now that occurred in his apartment with his roommates before they left. After he armed himself, he did point a fully-loaded weapon with the safety off at a police officer on a perimeter that he knew to be police. Those physical actions alone, those are what we're judging him on."
Brent Blankley, the chief of the Tuscaloosa Police Department, said four TPD officers fired shots at the man, and eight total officers are on administrative leave per department policy while VCU detectives unaffiliated with the department investigate the shooting.
"Any time officers are involved in something like this, their mental health is one of our top concerns. This is traumatic, nobody wants to shoot anybody. When the suspects force us to do that, these officers take that to heart, their families take it to heart and we want to make sure they get the best care possible until they're ready to come back to work."
Blankley said he could not say when the officers involved in the shooting would be back to work with the department.
"We're just going to judge by their mental health, we want to get them counseling," he said. "We'll continue to the department, the shifts that they were on, but we want to make sure they're ready to come back. We don't want to put an officer that needs more counseling back on the street to soon. They're our primary responsibility."
Kennedy said investigators are working with the district attorney's office to bring charges against the man if he survives his injuries, and said the VCU would not identify the man by name until he was formally charged.
The VCU is made up of investigators from TPD, the Tuscaloosa County Sheriff's Office, the University of Alabama Police Department and the Northport Police Department. Whenever an officer of the law is involved in a use-of-force situation in Tuscaloosa County, the VCU investigates the case using unit members who are not affiliated with the associated department, so no TPD detectives will be assigned to this case.
Stay connected to the Tuscaloosa Thread for more details on this case as they become available.
All Homicides in Tuscaloosa County So Far in 2021
Top Stories From The Tuscaloosa Thread (11/8-11/12)
More From Tuscaloosa Thread