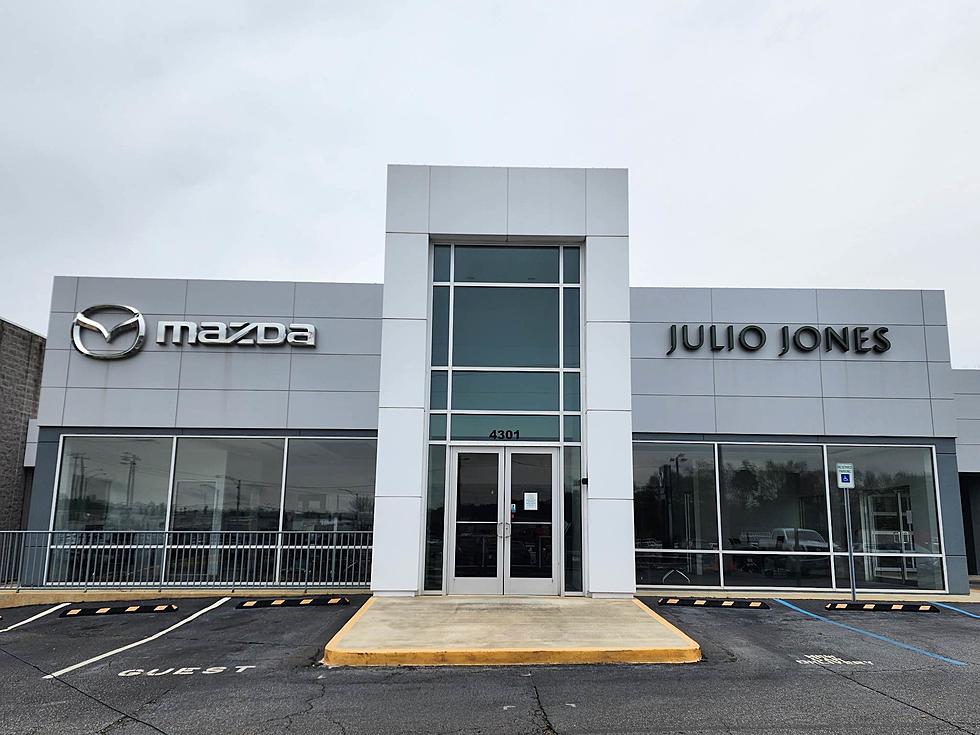 Julio Jones Sells Off Mazda Dealership, New Owners' Lot Already Open
(Stephen Dethrage | Tuscaloosa Thread)
Major changes are underway at two Tuscaloosa car dealerships after management at Julio Jones Kia sold the Mazda side of their business to other owners in town.
Alabama football and NFL star Julio Jones first opened his Kia and Mazda dealerships on Skyland Boulevard in April 2018.
General Manager Chris Smith told the Thread that they sold their Mazda business to the Smith Auto Group in a deal that closed on March 1st.
The Smith group already runs Mercedes Benz of Tuscaloosa and Tuscaloosa Chrysler Dodge Jeep Ram.
The former Julio Jones Mazda is now closed, and its inventory of vehicles has been moved up the road to the already-open Tuscaloosa Mazda up the road at 3100 Skyland Boulevard East.
On the Kia side of the lot, minor renovations and signage changes are underway to bring branding at the dealership up to date with the new Kia logo.
Daniel Stronge, Smith's Tuscaloosa Platform Manager and the GM at the Mercedes dealership, said he will also manage Tuscaloosa Mazda.
"We are very excited to operate and have the Mazda brand here in Tuscaloosa," Stronge said. "We are looking forward to making an impact with Mazda's beauty, its initial quality and more."
The new lot was open for business under a temporary banner the day the deal closed last week, but Stronge said much more is to come, including a total renovation of the showroom and the construction of an all-new, state-of-the-art Mazda service center.
"We're investing in this brand, in the new service center and great techs because that's what our Mazda customers deserve," Stronge said.
Anyone who bought a Mazda at the Julio Jones will see very little change and continue making payments if they still owe on the vehicle. Stronge said as the certified Mazda dealer in town, they will take over all warranty work and regular service for any customer who wants to make the switch.
Smith said the team at Julio Jones Kia would continue to perform routine, non-warranty service for any driver who appreciated the work done when they still owned the Mazda business.
For more exclusive stories about restaurant and retail development in the area, stay connected to the Tuscaloosa Thread.
Top Stories from the Tuscaloosa Thread (2/27 - 3/6)
13 of the Top Stories published by the Tuscaloosa Thread during the week of February 27th, 2023.
More From Tuscaloosa Thread