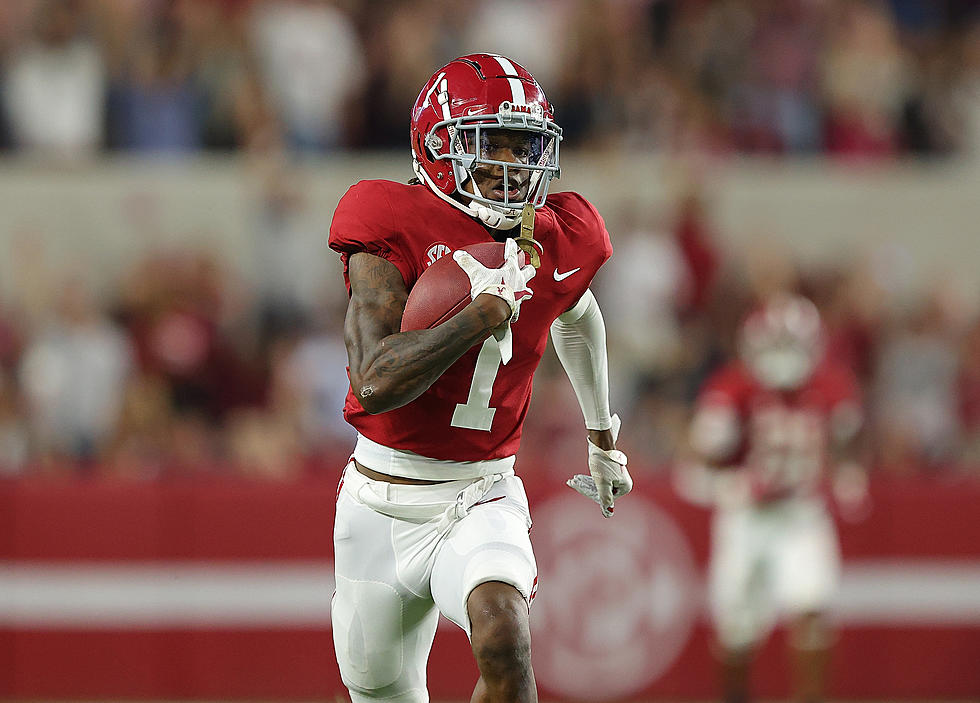 Jameson Williams Added to Biletnikoff Award Watchlist
Getty Images
Alabama wide receiver Jameson Williams has been added to the Biletnikoff Award watchlist, annually awarded to the nation's most outstanding receiver in college football.
Williams has caught 27 passes for 510 yards and five touchdowns through six games with two kickoff return touchdowns against Southern Mississippi.
Despite the Crimson Tide's loss to the Texas A&M Aggies and a contagious case of drops among the Crimson Tide pass catchers, Willaims caught 10 passes for 146 yards and two touchdowns.
Williams has caught a touchdown pass in four of Alabama's games this season, and the two he didn't score in he caught at least four passes for at least 60 yards.
Williams transferred from Ohio State prior to the 2021 season to join the Crimson Tide. He caught nine passes for 154 yards and three touchdowns in his lone season contributing for the Buckeyes.
Williams has proven himself to be a dynamic playmaker for the Crimson Tide through the first half of the season. He leads the team in receiving yards and is second in scrimmage yards and total touchdowns behind Brian Robinson.
Alabama Crimson Tide All-Time Receiving Leaderboard
Meet The 2021 Alabama Offense
The 2021 Alabama offense only brings back three returning starters from the 2020 squad. Get ready for the new season by getting familiar with this year's Crimson Tide offense.
How Do Fans Sing 'Dixieland Delight' in Tuscaloosa, Alabama?
Alabama football fans add
a few extra lyrics
to 'Dixieland Delight' when it's played on the speakers in Bryant-Denny in Tuscaloosa, Alabama. What are they singing? And Why?
More From Tuscaloosa Thread