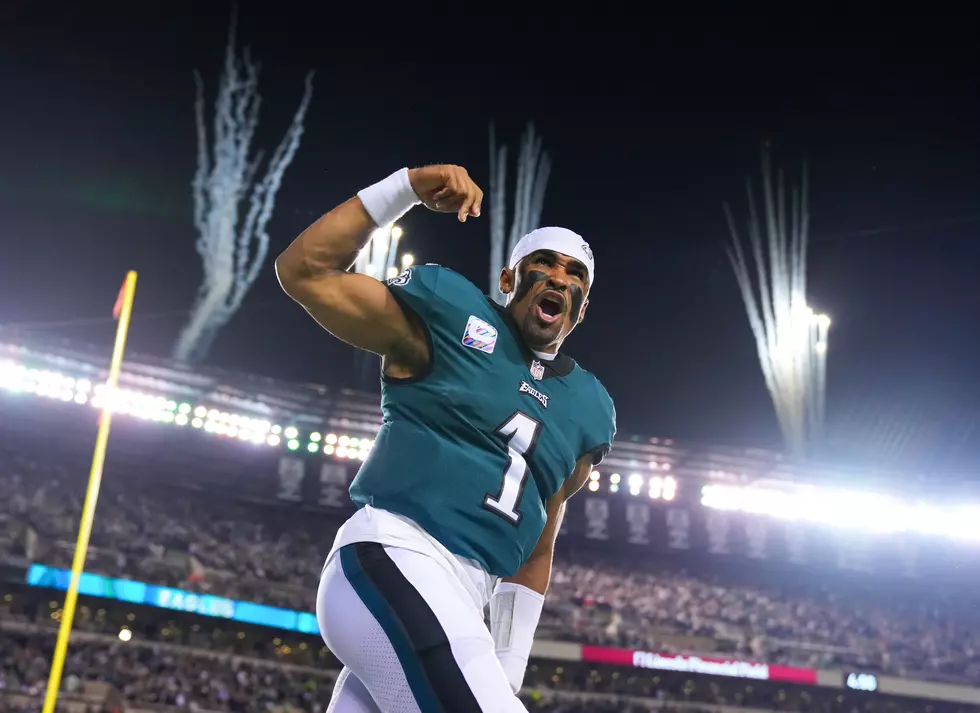 Jalen Hurts Makes A Statement With His Management Team
Getty Images
Jalen Hurts is on fire in 2022. The third-year quarterback is at the helm of the only undefeated team in the NFL through six weeks. He's breaking and setting records as a dual-threat quarterback while proving himself to be a true face of the franchise for the Philadelphia Eagles.
On top of leading the Eagles to the top of the NFC East standings, he's also making his mark by supporting women in sports.
Front Office Sports and Sports Illustrated recently reported on Hurts and his unique management team. His off the field support system consists solely of women in sports, something that sets him apart from the typical NFL player.
Hurts hired his agent, Nicole Lynn during the draft process and has since hired a female team around her to handle communications, marketing and more. Lynn has worked her way into a premiere sports
Lynn, who also represents former Alabama player Quinnen Williams, is a graduate of Oklahoma and became the first female to represent PlayersRep, a top NFL agency. PlayersRep was purchased by Young Money APAA Sports Agency in 2021.
Hurts told Sports Illustrated that he often feels discredited and overlooked as a football player and thus he relates to the hunger that the women on his staff have by nature.
"I admire anyone who puts their head down and works for what they want. And I know women who do that daily, but they don't get the same praise as men—they don't get the praise that they deserve," Hurts told Sports Illustrated. "I've seen that now with tons of different women in my life that are hustlers. Athletes, coaches, women in the business world of sports. I see it all the time. And they deserve their flowers too. So if me saying something about it brings more attention to it, then I'm all for that."
The Philadelphia Eagles are 6-0 in the NFL and Hurts is having a strong year, ranking 5th in the league in passing yards and has the 2nd most rushing yards for any quarterback. But it is his leadership, both in the locker room, and off the field in society that makes Hurts stand out above the rest.
Alabama vs Tennessee Week 7 2022
Alabama vs Texas A&M Week 6 2022
More From Tuscaloosa Thread