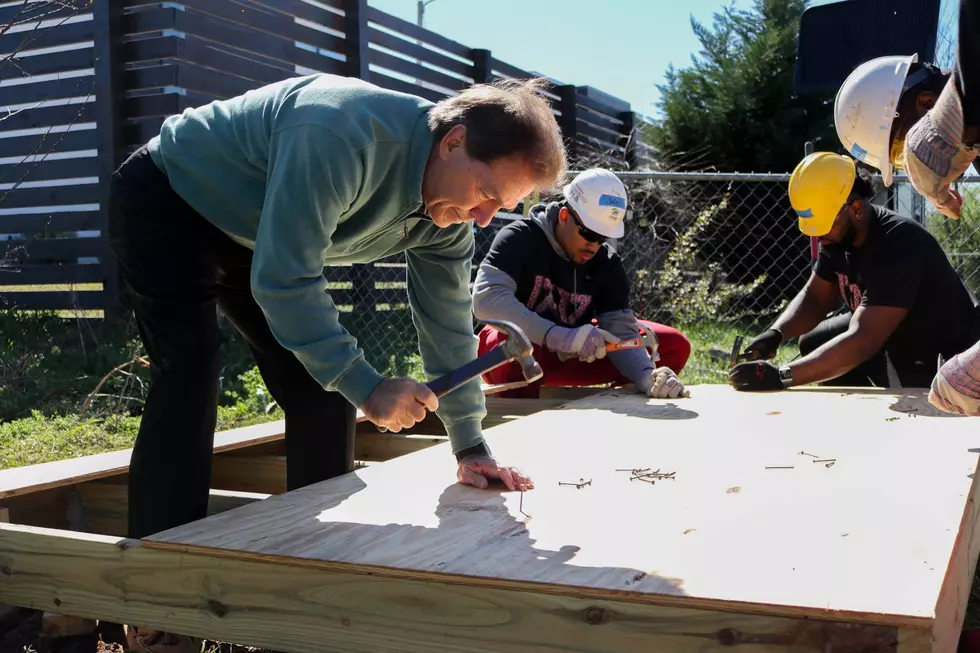 Habitat for Humanity To Join with Nick's Kid's to Build 18th Home
Habitat for Humanity |Jake Stevens
Nick Saban and, by extension, the Alabama Football program operate on traditions.
Whether it's leading the team onto the field with "Thunderstruck" blaring throughout Bryant-Denny Stadium or his pregame walk across the field capped off with a kiss from his wife Terry, Saban is meticulous about his routines.
Now that the Crimson Tide has secured its 18th national title, another esteemed tradition will continue. Saban's foundation, Nick's Kid's, will once again partner with Habitat for Humanity to build a home for a local family.
Ellen Potts, the Executive Director for Habitat for Humanity in Tuscaloosa, said the tradition started after the April 27, 2011 EF-4 tornado tore through the Druid City.
Thanks to donations from the Nick Kid's Foundation, Habitat volunteers built 13 houses to commemorate each of the national championships the Crimson Tide had won to that point.
The two charity organizations have teamed up four times since to commemorate four more championships as Saban continues to build his legacy at the University of Alabama.
Enter your number to get our free mobile app
For house No. 18, Potts said she didn't have to wait long at all to begin planning for the next build.
"I think it was about eight hours after the ballgame ended, at 6:57 a.m. on Tuesday morning," Potts said. "Terry Saban emailed me the day after the national championship game to say we're excited about the 18th house, we'll be in touch soon."
The house is being built for Jocelyn Hamner, a mother of two working in Environmental Services at The University of Alabama.
Potts said that Habitat homes that are built in partnership with the Nick's Kid's Foundation generally go toward helping families with young children and that rewarding the Hamner family was especially appropriate in light of the COVID-19 pandemic.
"I think it's very fitting that not only we honor this amazing team and their incredible accomplishments, but it's also fitting that we would build for a homeowner who is on the front lines making sure that the faculty and staff, students, coaches and players stay safe," Potts said. "I'm married to a physician so I'm all about honoring the healthcare workers but sometimes our janitorial staff and people like that get forgotten, but their contribution is critical."
In addition to partnering with Nick's Kid's, Habitat for Humanity will also partner with David Robertson's foundation "High Socks for Hope" to help furnish the home. Robertson, a relief pitcher for the Philadelphia Phillies, is a Tuscaloosa native and began his foundation to help furnish homes for victims of the 2011 tornado.
"It was a beautiful God thing that this is what we ended up having," Potts said. "Her family has lost a family member to COVID-19. I'm so glad that we can build for her."
Top Stories From The Tuscaloosa Thread (1/25 - 1/29)
More From Tuscaloosa Thread