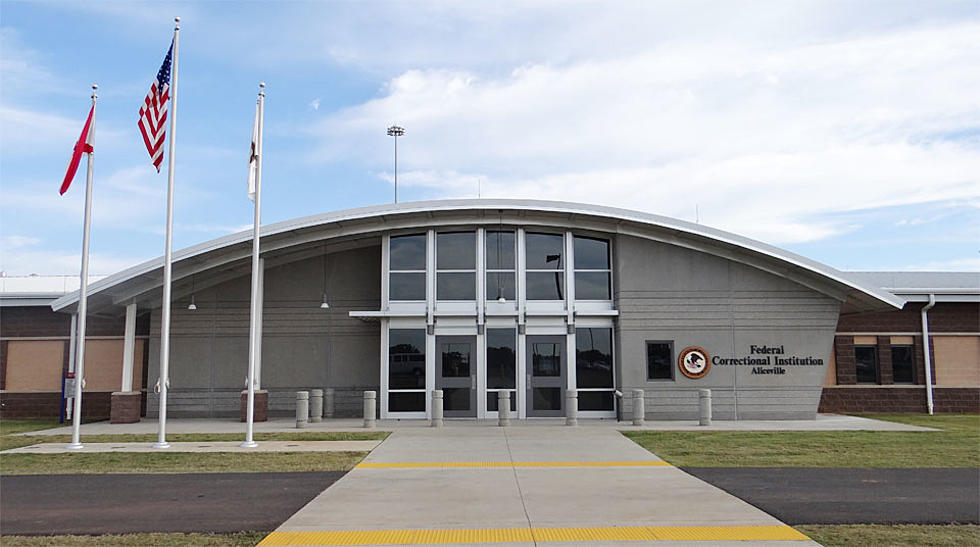 Guard Sentenced For Sexual Abuse of Inmate, Coverup at Pickens County Prison
(Federal Bureau of Prisons)
A former corrections officer at a federal prison in Pickens County, Alabama was sentenced to 18 months in prison this week for sexually abusing an inmate then trying to cover it up, according to the U.S. Attorney's Office for the Northern District of Alabama.
In a Tuesday press release, the U.S. Attorney's office said 32-year-old Eric Todd Ellis was a corrections officer at the Federal Correctional Institution Aliceville facility in the summer of 2020 when "he knowingly engaged in a sexual act with a female inmate while in the back of the laundry room of the prison."
Ellis was on-duty at the time, and the inmate was under his custodial authority.
The officer then admitted to the crime in a conversation with another officer, who he later asked to lie about the matter.
"On a recorded call, Ellis said: 'Just tell [the Office of Inspector General agents], yeah, we're friends, but, I mean, you hadn't really talked to me about it. And when you have it's – I've just told you that nothing happened,'" the U.S. Attorney's office said in a release.
Ellis ultimately pleaded guilty to one count of sexual abuse of a ward and one count of tampering with a witness.
He was sentenced to 18 months in prison and five years of supervised release at the end of his time behind bars.
"Prison employees who abuse their positions of power to sexually assault individuals in their custody, and then attempt to cover up their crimes, will be held accountable," said Assistant Attorney General Kristen Clarke for the Justice Department's Civil Rights Division. "The Civil Rights Division will continue to secure justice for sexual assault victims, including those held in the custody and control of law enforcement officials."
"The sexual abuse of prison inmates by federal corrections officers is intolerable," said U.S. Attorney Prim F. Escalona of the Northern District of Alabama. "My office will vigorously investigate and prosecute any such officers who violate their oath of office. As today's sentence makes plain, officers who abuse inmates face significant prison time for their offense."
"Ellis sexually abused an inmate and then tried to cover it up," said Special Agent in Charge James F. Boyersmith of the Justice Department's Office of the Inspector General (OIG) Miami Field Office. "Today's sentencing sends a clear message that prison staff who abuse their power and assault inmates in their custody will be brought to justice."
13 Most Notorious Crimes in West Alabama
Murders, hostage situations, and a peanut butter jailbreak--take a look at some of the most shocking crimes in Tuscaloosa, Northport, and West Alabama.
Top Stories of The Tuscaloosa Thread (10/18-10/22)
More From Tuscaloosa Thread