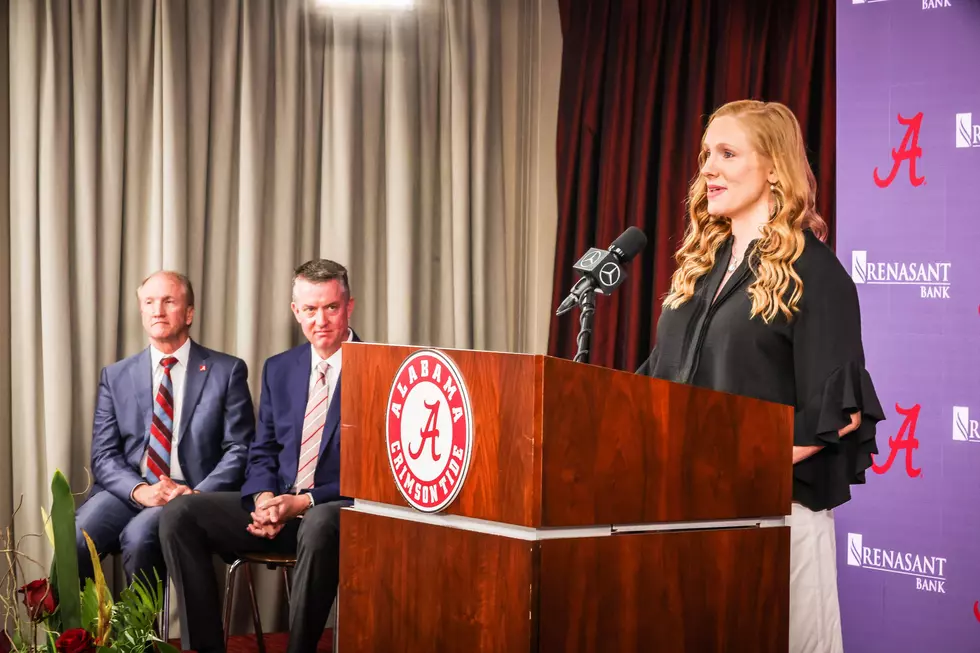 Greg Byrne Speaks Recruitment of Alabama's New Gymnastics Coach
Courtesy of @BamaGymnastics via Twitter
Alabama's Director of Athletics Greg Byrne spoke at a press conference on Friday, officially introducing the new Crimson Tide gymnastics head coach, Ashley Priess-Johnston.
While discussing exactly how he landed on Johnston to take over for Alabama's most recent head coach, Dana Duckworth, who stepped down last week, Byrne gave a funny story about the process of gathering information on her.
"Some of you may have heard me say in the past when you go through a coaching search, you're trying to gather information, while at the same time of being discrete through that process," Byrne said. "Well one of the tricks I kind of invented on my own way back when was I would ask the candidate, 'hey, give me a couple names of former student athletes who competed for you.'"
Byrne noted while this process had always went smoothly in the past, this time became the exception.
"I called a young woman named Drew Watson, who's an accomplished gymnast, and I block my number and I say, 'Hey my name is Greg, I like to research coaches, I'm calling about whatever coach it is.'"
Watson, however, wasn't making it easy on Byrne to obtain information about Johnston.
"She's like 'who are you?'... 'why are you calling me?' and I said 'I'm calling about your coach Ashley Johnston,' and she's like 'does she know you're calling me.'"
Watson continued to press Byrne, while not giving him any answers, with questions like what was his phone number and his last name, the latter of which he gave to her begrudgingly after she asked for it twice.
"I was like, please don't google B-Y-R-N-E, but luckily I found out today that she googled 'Burn'."
"Anyways, I got to be better and be a step ahead and be on my toes in the future on this one so Drew taught me a lesson the other day," Byrne said. "After she called Ashley and Ashley gave her the blessing for her to talk to me, I called her back and got great insight from her and some of the other people that she's worked with in the past. Nothing but positive feedback."
Johnston is a two-time NCAA gymnastics champion with the Crimson Tide (2011, 2012) as an athlete, and was most recently at Auburn for the past four years as an associate head coach, where she helped the Tigers finish fourth-place in the 2022 NCAA gymnastics national championship.
Lies Auburn Fans Tell Themselves About Bama Football
The 10 Greatest Athletes from Alabama
More From Tuscaloosa Thread