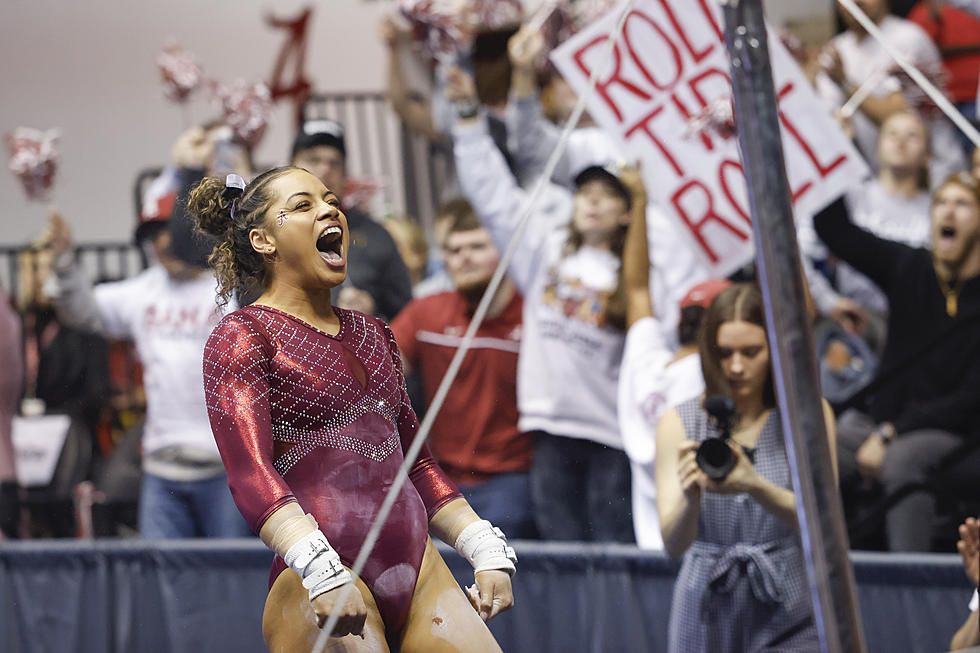 Makarri Doggette's Return Highlights Friday's Victory
Crimson Tide Photos / UA Athletics
Coming off a tough loss at LSU last week, the Alabama gymnastics team was seeking redemption at home against the Missouri Tigers.
Alabama didn't have many flashy scores in the vault lineup this week; however, they quietly put together a strong vault lineup highlighted by Luisa Blanco's season best 9.925 Yurchenko 1.5.  While that score for any gymnast is amazing, it meant more to Blanco because getting back to where her vaulting scores last year has been a challenge.
"She landed that vault, I'm not sure if y'all saw her, but she kind of looked and she goes 'finally,'" head coach Dana Duckworth said. "That was such an expression of relief because that's the one event post her shoulder surgery that's really taken some time."
The uneven bars rotation got a needed boost Friday night. After missing last week's meet, junior Makarri Doggette returned to the uneven bars lineup and gave the Tide a much needed 9.900 on bars.  Luisa Blanco said that having Doggette back was incredible.
"She's such a strong person, and I say that because she's my best friend, she's my roommate.  I see the good, bad and the ugly and I'm just so proud of her for coming out there and doing her job tonight," Blanco said.
Blanco followed her roommate's 9.900 with a 9.950 herself on the uneven bars which ties her season high on the event.
The Crimson Tide's beam lineup didn't have as much success as last week's meet, however three gymnasts scored a 9.900 on the event.  Alabama fans haven't been known for their enthusiasm in past gymnastic meets, but something changed on student night in Coleman Coliseum. Students let their feelings be heard as boos poured in from the student section after what looked like two solid beam routines by Shallon Olsen and Mati Waligora. Olsen scored a 9.800 and Waligora scored a 9.775 which displeased the Alabama fans.
Alabama finished the night out strong with a 49.525 overall score on the floor exercise. The last two routines got the crowd fired up. Blanco scored a 9.950 and super-senior Lexi Graber finished with a 9.975 causing fans to go crazy.
Duckworth, a usual critique of the fans, was pleased with the crowd's energy tonight. She hopes it will continue into next week which is senior night.
"Our fans were on fire! Our girls felt it, we felt it, and I'm gonna tell you... we have senior night next Friday and it's gonna be even more electric... Go fans! Go cheer! Go students!" Duckworth said.
Coach also took a minute to thank the staff for all they do. She said it makes all of their (the coaches and gymnasts) lives easier.
Alabama gymnastics competes against the Arkansas Razorback next Friday.  The senior night meet starts at 7 p.m. and will air on SECN+.
Notable Bama Players to Play in the WNBA
The Top 10 Hottest Alabama Players from the 2021 Season
Alabama has seen its fair share of smoke shows and the 2021 team is no exception. We look back on the season and rank our top 10 hottest players; some we will see next year, and others we will mourn not seeing in Crimson again.
More From Tuscaloosa Thread