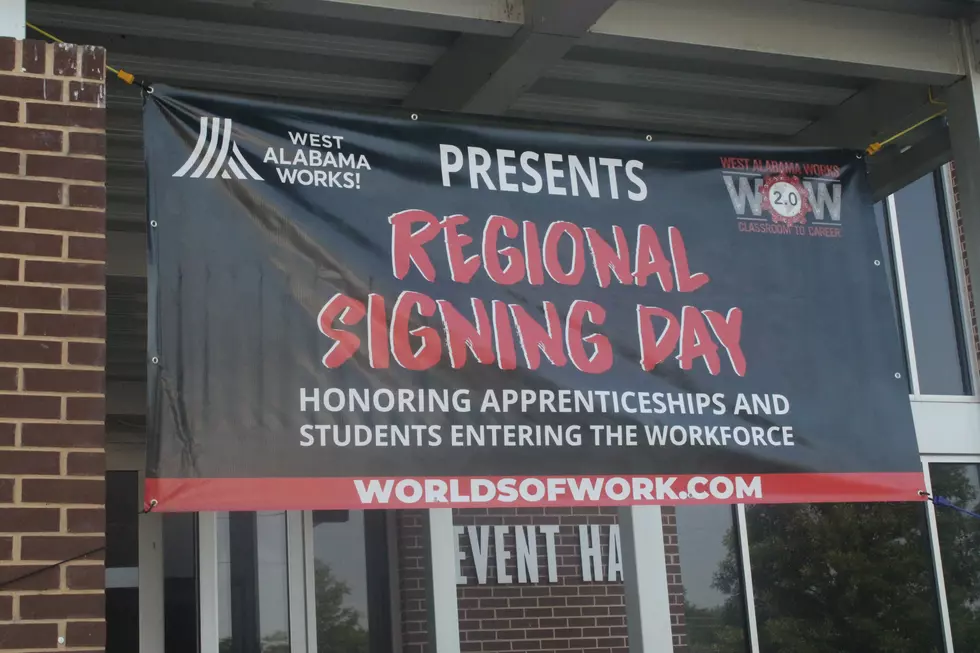 West Alabama High School Graduates Accept Job Offers at Regional Signing Day
(Brittany Marshall|Tuscaloosa Thread)
Graduating seniors representing several high schools in West Alabama formally signed with various apprenticeships and career opportunities at West AlabamaWorks! Regional Signing Day on Wednesday evening.
Students represented 14 schools across seven districts, including Tuscaloosa City, Tuscaloosa County, Greene, Bibb, Hale, and Fayette counties. The goal of the event was to ensure that as many graduating seniors as possible had opportunities secured before crossing the stage this month.
This year's event made its return following a hiatus caused by the COVID-19 pandemic.
"The last time we had this ceremony was in 2019 pre-COVID era and we're so glad to bring this event back to honor the students from West Alabama and their families as they entered apprenticeships and accept contingent job offers with some amazing companies," said Dr. Mike Daria, superintendent of Tuscaloosa City Schools.
Mercedes Benz U.S. International, B.F. Goodrich, SMP Automotive, DCH Health Systems and Premier Service Company were among the local companies who offered jobs to graduating students at the event.
Jennifer Simon watched her son, Patrick Campos Jr., sign his offer with SMP Automotive in Cottondale. Campos, a senior at Northridge High School, plans to pursue a career in welding.
"As a single parent, I'm very excited because this is the opportunity a lot of mothers don't live to actually see their son graduate and send them off into the workforce right after the high school. It's awesome," Simon said.
West AlabamaWorks! executive director Donny Jones said the students in this program are receiving great perks for participating.
"I mean these kids are going into full-time jobs. They're going into apprenticeships where the company is paying for their college," Jones said. "They're going to have no debt. They're all going to have benefits and great pay."
Top Stories from the Tuscaloosa Thread (5/2 - 5/9)
19 of the Top Stories published by the Tuscaloosa Thread during the week of April 25th, 2022.
More From Tuscaloosa Thread