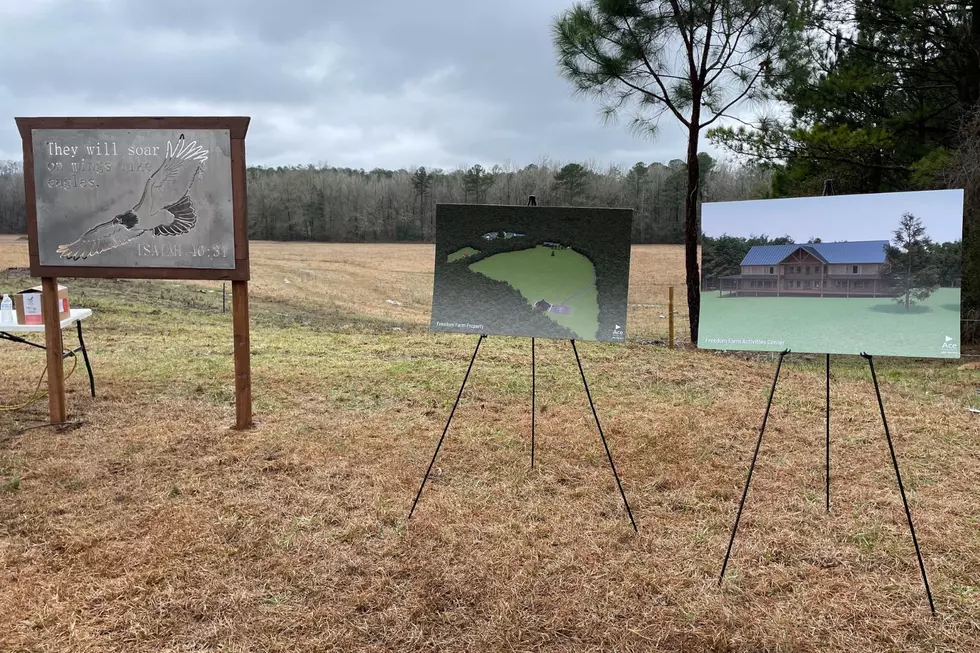 Dedication Hosted Monday for Soon-to-Come Freedom Farm Children's Home in Coker
(Brittany Marshall|Tuscaloosa Thread)
Tuscaloosa county community members gathered to celebrate the dedication of the Freedom Farm in Coker, which will house abused, abandoned and at-risk children once completed.
The Freedom Farm is a Christian-based home that will give children in foster care through the Department of Human Resources a safe haven with parents that will teach and guide them to maturity.
The farm will feature seven homes where Joseph and Erica Deason will serve as on-site directors. The Deasons currently live with their 21 children adjacent to the farm and have fostered over 100 children over the past 10 years.
The farm will also include a chapel, activity center and farm house once completed.
Dr. John Waits, founder and CEO of Freedom Farm said the concept behind the program came to him over 30 years ago and decided there was a great need to assist abandoned and abused children in the area.
Waits said he will pledge the funds to build the Freedom Chapel, which is expected to begin construction in two weeks and the Hewson family Foundation will pledge funds to build the first home, which will begin construction in the next month.
Waits said the need for this home is vital to remove foster children who are in state custody and place them in a loving environment to provide strength and unity to foster children and families.
"We are hopeful to become a child-placement agency and we also want to work with the DHR," Waits said. "We hope the greatest beneficiaries are the children in need but we also want to help our state, which has a tremendous job of helping these 6,000 or more children who are in need."
The event featured appearances from Tuscaloosa County Probate Judge, Rob Robertson and County Commissioner Reginald Murray, who played a key role in bringing the home to Tuscaloosa County.
"We have along way to go and the need is overwhelming," Robertson said. "This is unique and this is another special asset that we hope Tuscaloosa County will see come to full fruition over the time coming forth."
Weldon Cole, Freedom Farm's board chair, said he got involved with the program in April 2021 to "simply help children" and give them a stable environment to grow.
"I had a great mom and dad and I want to help other little kids who didn't," Cole said. "More and more, children are not living with their biological parents and with over 6,000 kids in foster care in the state and only about 2,300 homes, kids need role models. They need a mom and a dad to raise them so they can become responsible adults."
Freedom Farm will receive guidance from the Big Oak Ranch, a similar home for youth located in Springville.
Brodie Croyle, president and CEO of Big Oak Ranch, said the branch of their ministry, Planting Oaks, decided to partner with the Freedom Farms to bring the idea to West Alabama.
"When Dr. Waits and Freedom Farm came along, we had an opportunity and these people have a tremendous vision and we are going to try to provide as much as we can, from a mentorship standpoint, to help fill that gap," Croyle said. "They have taken it and ran with it, to see the beauty of this place and I can't wait to see what God's going to do here."
Waits said once the project is complete, they will be able to fulfill their mission of providing three components to children in need.
"We want to give them three things that every child needs: an anchor so they feel save and secure, a compass so they know the right direction and hope and the best symbol for that is the cross," Waits said.
The farm is collecting funds to assist with the operation costs and other needs to complete the project. To assist with funding, checks can be made payable to Freedom Farm or by contacting 205-736-4001 for more information.
Top Stories from the Tuscaloosa Thread (1/23 - 1/30)
16 of the Top Stories published by the Tuscaloosa Thread during the week of January 23rd, 2023.
More From Tuscaloosa Thread